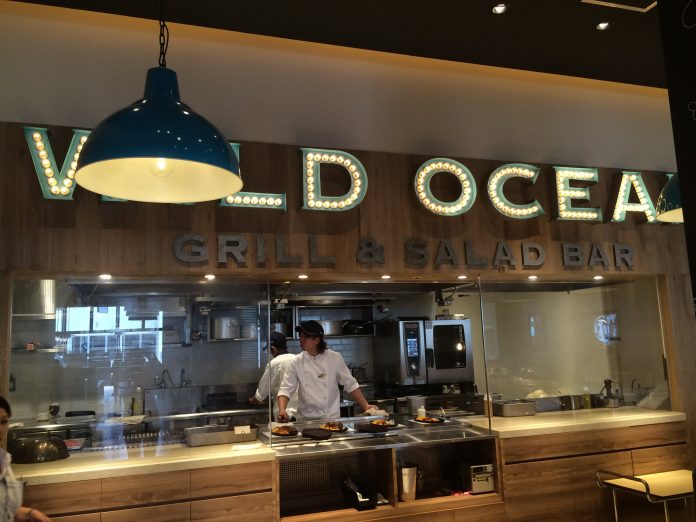 CONTRIBUTED BY BRANDI JAKUBOWICZ
It was a rainy Thursday afternoon when my husband unexpectedly had the day off of work. We planned to do some outside activities, but the weather quickly changed those plans. We decided that rather than venturing outside in the rain, we would go explore the new Aeon Okinawa Rycom Mall, hoping that it would be less busy during the week. We worked up quite the appetite as we worked our way through the mall, and after touring the various food court style lunch options decided to go to the fifth floor "Sky Diner" to see what they had to offer. The scenic views from the top are breathtaking and the smells are quite enticing– a great advertisement for the selection of restaurants that are on this floor.
After completing a round on the fifth floor to look at the different dining options, we ended up deciding to eat at Wild Ocean, a wonderful dine-in seafood and steak restaurant. From the outside, the restaurant has a very modern look with a wall of windows and glass that nicely display the sleek and stylish décor. Inside there is a fully stocked bar, a large amount of booths and tables, and a fresh salad bar. There are also windows framing the grill section so you can watch your food being prepared before it is brought to your table.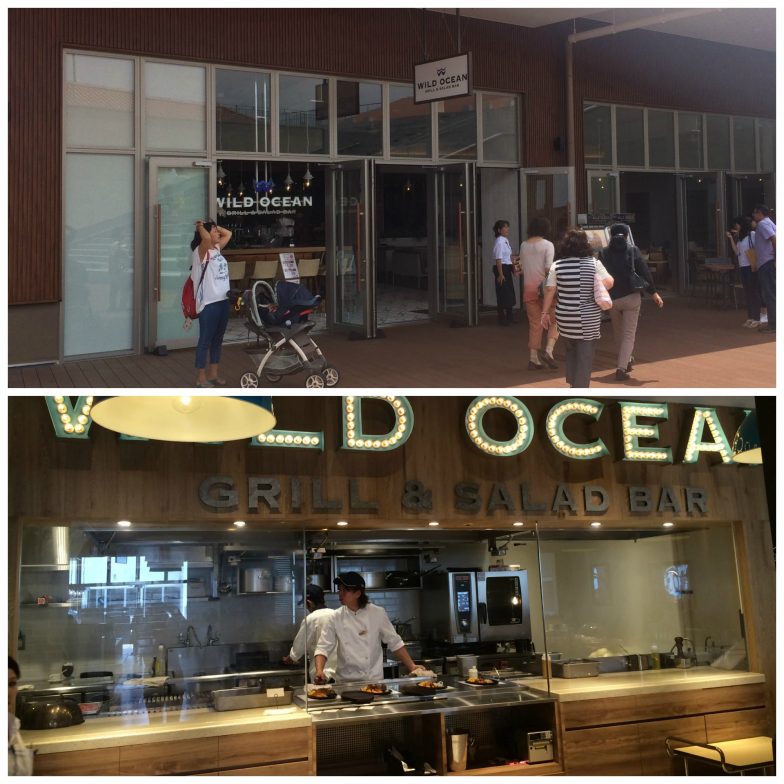 We were seated immediately and presented with English menus. The menu had a variety of foo, including: steak, chicken, pork, salmon, hamburgers and various combinations of the meats. All of the meals came with corn, potatoes and the salad/dessert bar, plus the prices were very reasonable. There is also a children's menu and a unique drink menu with beer, wine, and tropical cocktails to choose from. There is also an optional drink bar that you can add on to your meals for 2.50 yen that includes coffee, tea, or an assortment of fresh fruit juices. The staff's English was poor but they had written "cheat sheets" and were actively utilizing them. They were very attentive and worked hard to ensure that all of our needs were met despite the language barrier. There was a bit of confusion when only one of us wanted the drink bar, but the staff was quick to fix the error and very apologetic.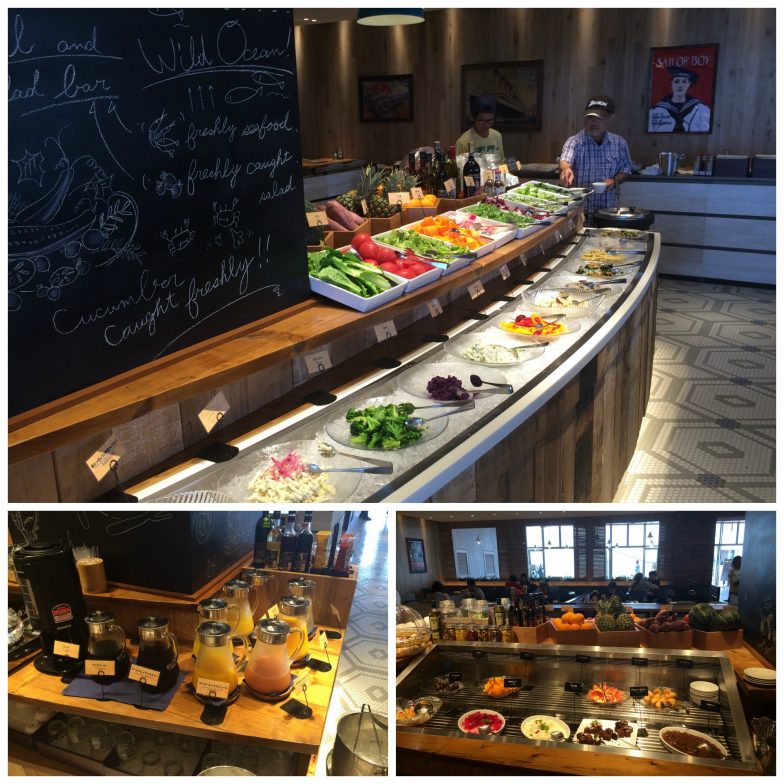 I chose the salmon meal, and my husband ordered the steak and hamburger platter. The salmon was delicious and perfectly cooked, and my husband's food was delicious as well. The hamburger was more of the typical Japanese smothered burger, that is a bit reminiscent of Salisbury steak as opposed to an American style hamburger, but he very much enjoyed it.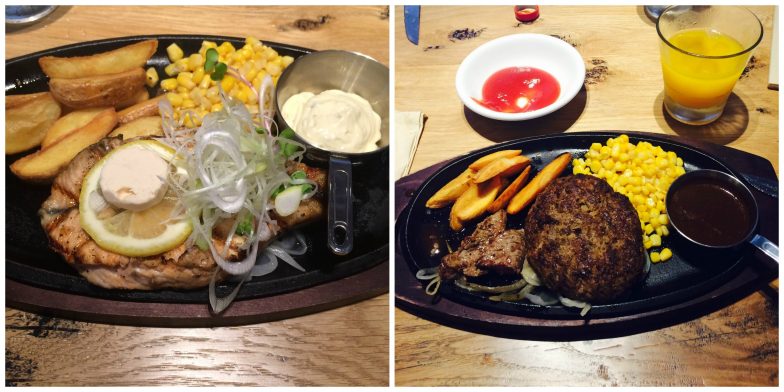 As good as the food was, I must say, the highlight of the meal is really the salad bar, which you are guided to after ordering so that you can enjoy it while you wait for your entrée. There is a large selection of fresh chopped vegetables and salad toppings, as well as various prepared salads with four different dressings to choose from. There are also three different kinds of soup, two different kinds of rice, bread, curry and a dessert section. The hot items were hot and everything tasted very fresh. The curry and the garlic rice on the salad bar were, in my opinion, the best curry that I have had on the island thus far. It had large chunks of tender meat in it and the garlic rice was the perfect complement to it. The dessert bar, not that you really have room, consisted of sliced fruit, three different kinds of jello, and a few brownie/cake like bars.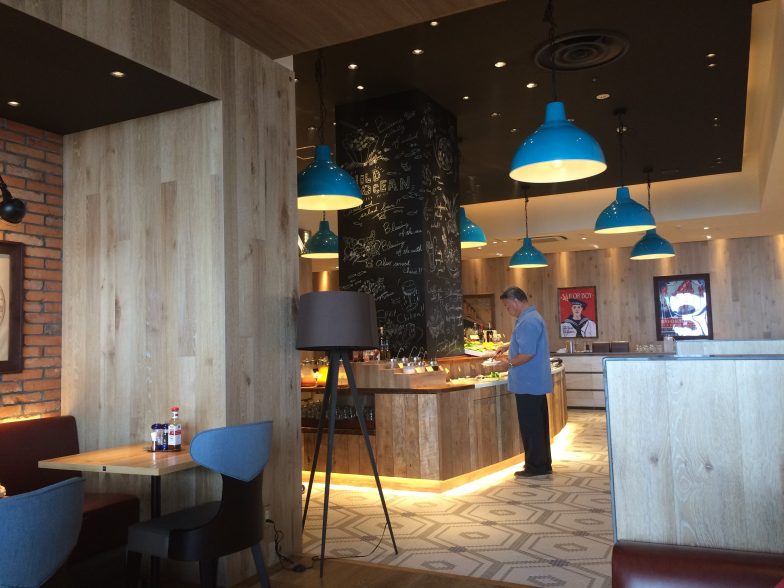 Our bill was a little over 4,000 yen for two entrees and all of the extras that came with it. Overall it was a very good experience and I would definitely recommend it to others if you are looking for a more upscale sit down meal or just want to take in the sweeping views of the island over a deliciously crafted cocktail.
Hours: 1000-2200 7 days a week
Phone Number: 098-982-2051
Payment: Yen and Credit Cards
Address:  Japan, 〒901-2305 Okinawa-ken, Nakagami-gun, Kitanakagusuku-son, Higa 県道85号線
Directions: Located on 5th floor of the Aeon Mall Okinawa Rycom which is known as the "Sky Diner".  Aeon Mall Okinawa Rycom is located near the intersection of 85 and 330.
From Kadena Gate 2
Turn right at Koza Music Center onto 330.
Continue on 330 and you will see the mall on the left hand side.
From Kadena Gate 1
Head south on 58 and then turn left onto 23
Turn right onto 85
Right before the mall you cross 330.
The mall will be clearly visible from that intersection.
Coordinates: 26.314286238611693, 127.79647502090143