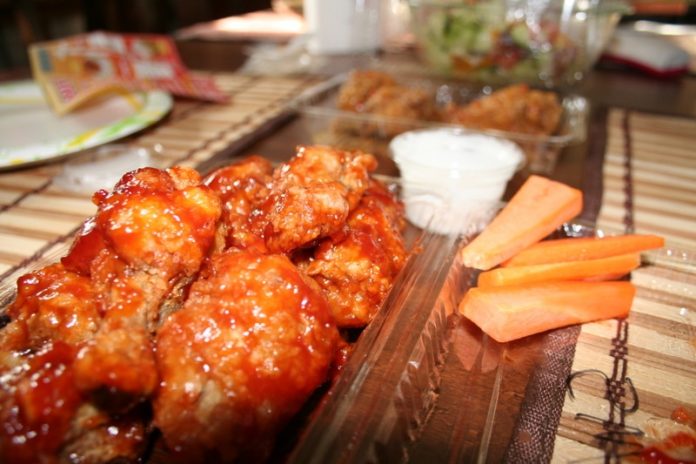 CONTRIBUTED BY KELLYERACE
Sometimes I feel like I could do just fine as a vegetarian. Other times I eat Wing King. Something about that little plastic box 'o saucy wings brings out the animal in me and before you know it I've got nothing but a plate of meatless bones.
But who can resist, with flavors like spicy coconut, honey BBQ, lemon pepper, Hawaiian heat, and more? Plus, it's oh so easy. They've got takeout. Call your order in, pick it up (you can pay in dollars or yen), get your paper napkins, and bam – dinner on the table. They even throw in a little baggy of carrots, so you can feel healthy.

(top # is for Kadena Wing King, bottom for Foster)
I have to admit, I've never actually been the picker-upper of the Wing King. (Although I tried on Monday. And waddya know it was closed.) So the only info I can give you about its interior is what I saw as I peeped through the windows – functional, fastfood looking dining room – what you'd expect a wing joint to look like.
Below, we have a picture of the menu. As you can see, very English friendly. Also, you might notice that there are actually two Wing Kings. One near Kadena and another near Foster. I only have the directions to the Kadena one, since I didn't even know there was one near Foster previous to today. But, I guess you can figure out how to get ther from the picture (it says "Convention Center bottom left). Or just call and ask.
So, now that we are on the subject of takeout, I'm hoping that someone might drop a suggestion or two for other takeout options on the island? Uh-hum…anyone?!
DIRECTIONS (to the Kadena one, for the Foster WK, see map pictured or just call 'm and ask):
(From 58) Turn onto Rt 23. Look for an AU building on your right. Wing King is just after that on the left hand side of the road, right after "The Eagle Lodge". It's in a little strip mall thing.
HOURS AND PHONE
Kadena WK: 098-936-8986
11am-9pm CLOSED Monday
Foster WK: 090-2855-0102
Tues-Fri: 5pm-10pm (last order), Sat-Sun: 3pm-10pm CLOSED Monday