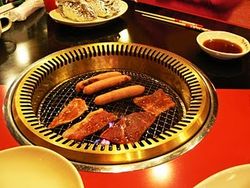 CONTRIBUTED BY ANALICIA MCCLELLAN

One of my favorite places to eat on island is at Goen, a Korean BBQ. Ever seen a orange, red, and yellow building with the strobe lights at night? That's Goen. Really gets your attention, doesn't it? I first went there with a friend and now go there at least once a month!

It's yakiniku style (where you grill your own items) and it is all you can eat for 1998Y (Adults). For an extra 700Y they have an All You Can Drink (in one hour) menu.  You can choose from a variety of meats (chicken, beef & pork) and sides and eat as much as you want. They bring the marinated meats and veggies to your table where you cook it on a small grill in the middle of your table. The only seafood I've seen is Cuttlefish as a side. There are also alot of sides to choose from like corn, veggies, soup, ramen, salad, and naan. They also usually have a "soup of the day" that you can help yourself to as well. Oh yes, and soft serve ice cream machines!
It's easy and tastes great and I've never left there hungry. If you order too much, they will charge you for the leftovers, so make sure you can eat what you order! Click here to buy dinner vouchers.

[adrotate banner="161″]
Hours: Noon to midnight, daily
Phone: 098-921-7529
Address: 545-3 Kamisedo, Chata
Google Maps Coordinates: 26.3297914, 127.77700970000001
Directions:  To get to the Chatan one, Go out Gate 2 and take your first right onto the 85. Pass the Entrance 4 to the Expressway and it'll be on your right a few light down.
For the Courtney/McT folks, there is one on the 75 inbetween the Courtney housing Gate (224) and the 8. Going south on the 75, it's on your right.
Website: goen.tokukei.co.jp – Check it out for more locations and hours. There are quite a few of them and most are open from noon-midnight.  Click below to see the menu.