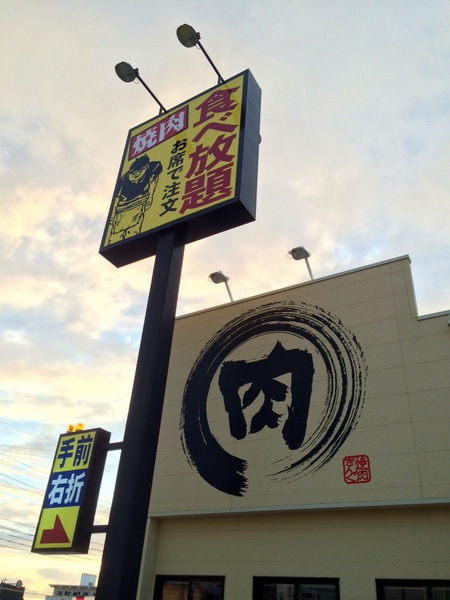 CONTRIBUTED BY KARI F.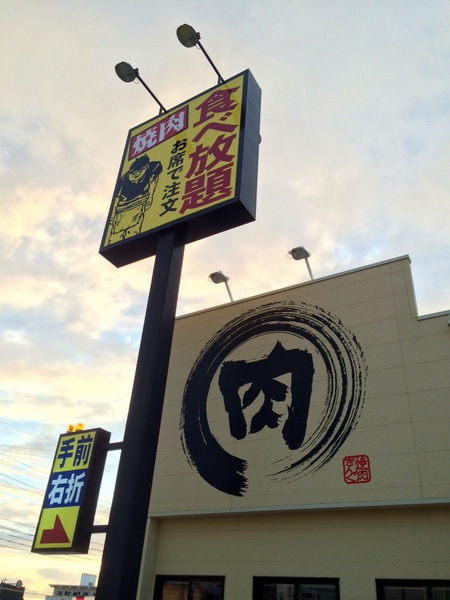 If you've been in Japan for very long, you will probably have heard about yakiniku. If you're new to Japanese cuisine, yakiniku is translated as "grilled meat" and refers to a broad variety of bite-sized meats cooked on a grill. It's very easy to make yakiniku at home, and you'll often see locals cooking in this style with portable grills during festivals.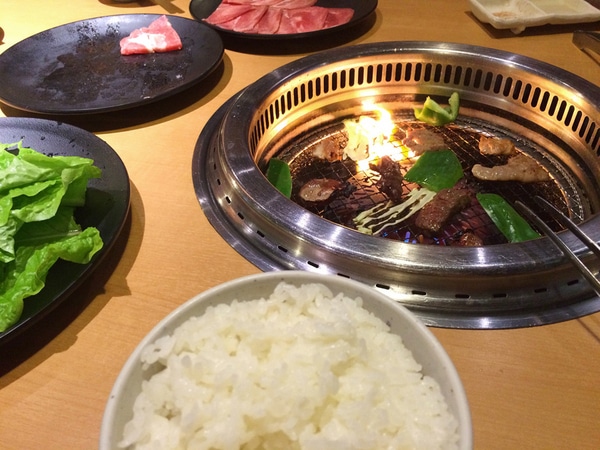 This style of cooking is also popular in restaurants, and as many have discovered, not all yakiniku restaurants are considered equal. Many of these establishments include all-you-can-eat buffets or sets, where diners can choose their style of raw meats and veggies to cook on their own table-top grills. While it may be tempting to choose an inexpensive ¥1000, all-you-can-eat yakiniku restaurant, the variety and quality of ingredients typically won't be very high. This is where Yakiniku King comes in!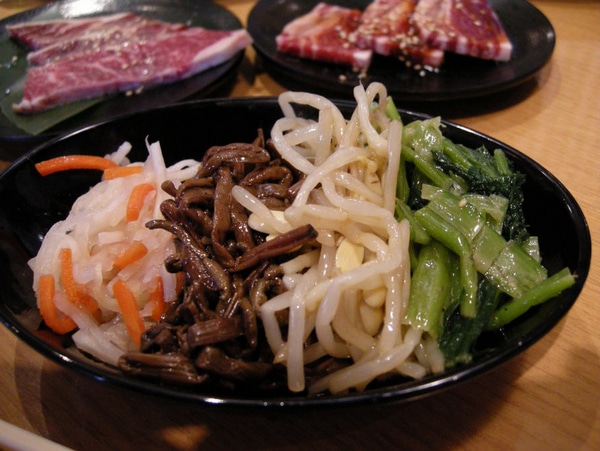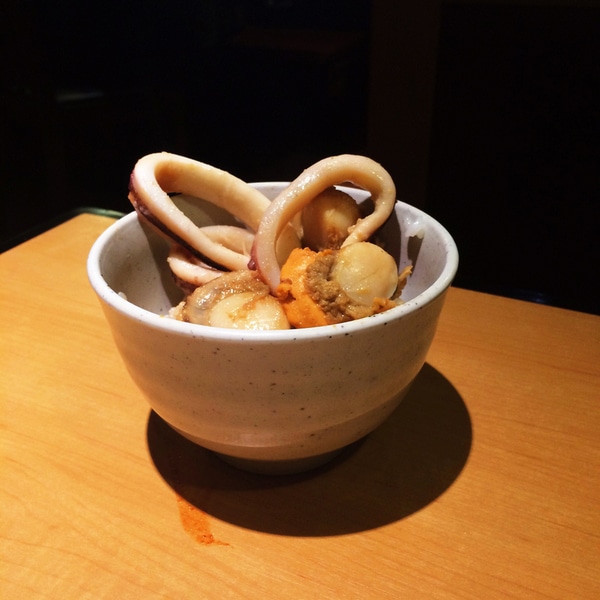 Located on Highway 58 between Camp Foster and Kadena Air Base, Yakiniku King offers better quality meats, including several types of beef, chicken, pork, and seafood that are available in differently priced sets. The sets, which start at ¥2680 per person for dinner, include a variety of different ingredients and meals to choose from. The mid-range set (referred to as the "Standard Course," which costs ¥2980) contains more than 100 different food options, to include rice and lettuce, meat and seafood, noodle dishes, Korean bibimbap, hot pots, various side dishes, and even dessert options!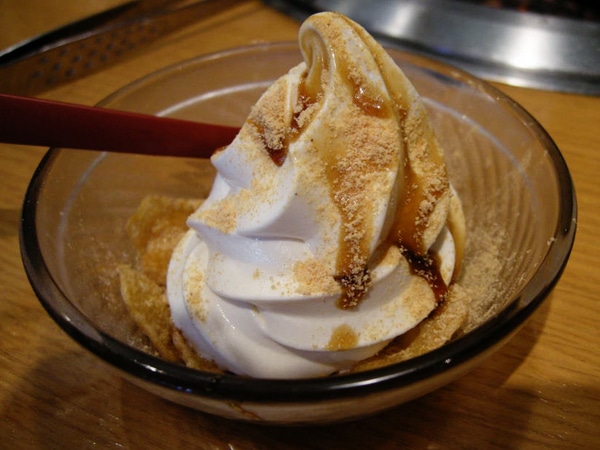 Once diners have chosen their set, ordering is a breeze! All you have to do is choose the dishes you want to try, using a handy handheld digital tablet. There is even an English option for those customers who aren't able to read Japanese! Once the order is placed electronically, a server will bring your food and beverages right to the table. Orders are unlimited, as long as you place and eat them within the allotted 100 minute time frame.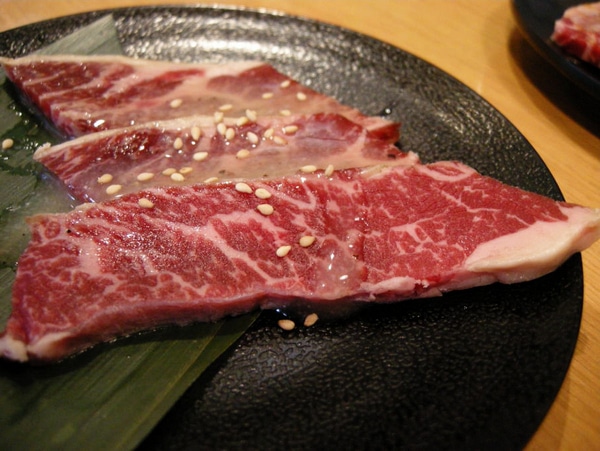 While ordering on the tablet is entertaining, the real pleasure comes cooking and eating the actual meal. Once your raw food arrives, you can season and cook it to your liking with your table's built-in grill and the provided selection of sauces. Some meats come with sauce already and others come with only salt, so you can use soy, ponzu, lemon, or yakiniku sauce(s) to glaze your meat or use for dipping later on.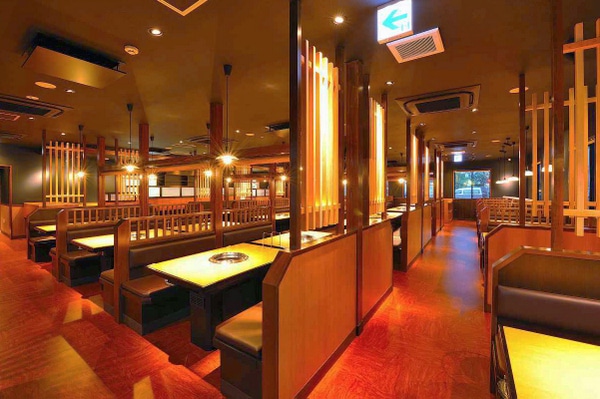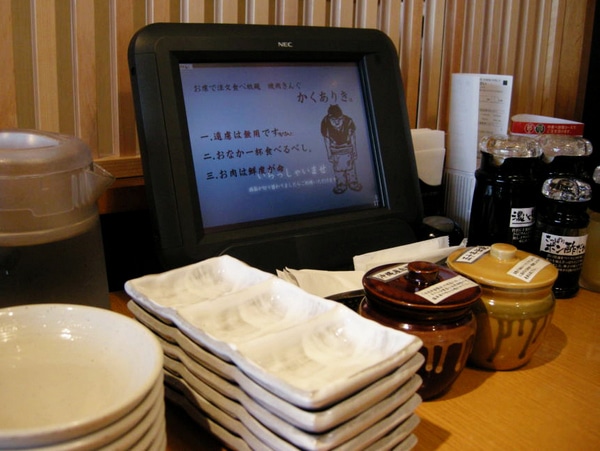 Customer service at Yakiniku King is wonderful! The servers can be called to refill drinks or provide a new grill net at the push of a button. The food is of nice quality and the vast variety of foods on the menu provides options for meat-lovers, for vegetarians, and for those who may have food allergies. It's no wonder this place has become one of our family's favorite places for a dinner with friends!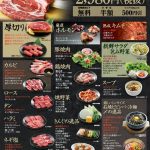 click to enlarge menu
---
Addendum by Kari Frazier 9/2016:
Eating Gluten Free (or allergen free) at Yakiniku King
Yakiniku King can be great for those with specific food allergies because they have an expansive kitchen with different areas for different types of food. While you will do the most of your ordering using the tablet at your table, it's best to talk to the server ahead of time to let them know about your allergies. I keep a translation on my phone at all times so that I can easily hand it to the server who comes by the table to ask which set you prefer. Some of them are more well-informed than others, but the servers who don't understand will typically go get a manager. Usually, that manager will bring an allergy card to let you know which items have which common allergens.
When you go, it's best to stick to plain meats and vegetables. Ask for your food to come "shiodake" (salt only), as most of the sauces will not be safe. Even the butter can have added "aminos" that contain gluten in some form, so plan to bring your own soy sauce if you want to dip! The tablet ordering system will often ask if you want sauce or salt only, but it's best to speak with the server ahead of time as well.
When cooking, remember that you are sharing a grill with the people at your table. If you are very sensitive, you may want to consider cooking all of your food first, and then letting the others at your table have free reign of the grill. If you aren't as sensitive, it may be okay for you to have one section of the grill to yourself, as long as you ensure nothing with sauce touches your designated area!
*Note: There are some occasions where something with sauce has made its way to our table, so do make sure that you double-check the meats that come your way. If this occurs, the servers have always been gracious and have swapped it out with a salt-only item. I am extremely sensitive to cross contamination, and I have never been contaminated here!
---
Yakiniku King
Prices:
Lunch: Set meals start at ¥1980; a la carte options available
Dinner: Set meals start at ¥2680; a la carte options available
Hours: 
Weekend Hours 11:30 – 24:00
Dinner 17:00- 24:00
Payment: Yen, credit card
Phone: 098-982-7311
Website: yakiniku-king.jp
Address: Japan, 〒904-0102 沖縄県中頭郡 北谷町伊平229-1
GPS Coordinates: 26.3211367,127.7590897
Directions: From Kadena Gate 1 take a left, heading towards Foster on 58. Yakiniku King will be on the left side about a mile down the road, between the Hamazushi restaurant and the Aoyama clothing shop.
From the Foster Commissary Gate, turn right on 58 toward Kadena. Pass the turn for the American Village ferris wheel, and Yakiniku King will be just after this on the right. You will have to pass the shopping complex and make a u-turn.