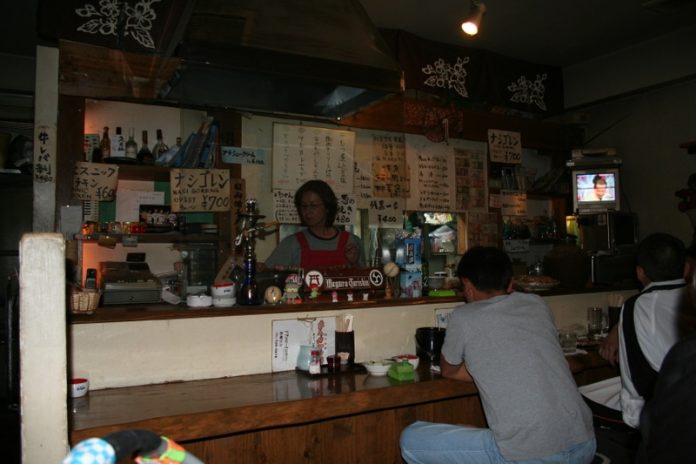 CONTRIBUTED BY KELLYERACE
So, I didn't know that just outside of Kadena Gate 1 next to AU, a cozy little nook of a yakitori bar sat.  Patiently.  Quietly.  Awaiting exploration.  And I've probably passed it a thousand times.   So I must give a little hoorah for friends Ruka and Yoshitomo, for taking the blindfold off and introducing us to it, because I gotta say, it's pretty darn good.
What's so good about it?  Well, like I mentioned, it's cozy.  And I'm a sucker for atmosphere.  It serves beer.  It serves meat.  And it's not expensive.  If I lived a little closer to it, there's a good bet it would become one of my stand-by restaurants when I didn't feel like cooking.  There are no English menus, but it doesn't really matter, because as I learned last night, the names of half of the things on the menu are English anyway, just pronounce with a Japanese twist.  For example, the bacon and tomato stick is called, "toe-may-toe bay-con" and the asparagus one is something like "ah-spa-ra-gus-u". Easy.
And the other, non-English-sounding items?  Well, here are the ones we ordered.  I apologize for my phonetic rendition here, but I found this site http://www.bento.com/rf_yaki.html .  listing kinds of yakitori and other kinds of typical yakitori house foods – which might be more helpful to you!  If you're not into yakitori, they also carry several kinds of udon, fried rice, and other things.

Here we have the "toe-may-toe bay-con" – ummm, so good!  and the "ah-spa-ra-gus-u".  Also the "nay-gee-mah" – a leek (we think) and chicken stick.  Below that on the right is "tskoo-nay", a kind of chicken meatball.  I really liked that.  And next to that on the left was chicken liver.  Sorry, didn't catch the name for that one.

A close-up of the above pic.

This is called "nah-she-go-ray".  My friends said they thought it was an Indonesion dish.  Whatever it was it was yummy!

This was a cold udon salad.  Ruka said it's called "udon saladu".  Go figure.
Some other things that I enjoyed that aren't pictured were the "sasame" — chicken breast sticks.  Ruka said they were healthy.  And of course, I'm all about health.  We had "wasabi sasamei" and "cheezu sasame".
By the by, I learned some interesting etiquette tidbits on this dining excursion. For example, how to get your meat off of the little skewer.  Before, I'd clumsily pull it off with my chopsticks (or fingers, or teeth!)  But, according to Ruka you put the tip of your stick on your plate and hold it vertically, then twist the chunk of meat off with your chopstick.  Wow!  How graceful!  How simple!
Also, what to do with your used yaki sticks.  No, you don't pile them on your little plate like I always do. Why not, put them in this handy-dandy used stick jar instead.  Fabulous. 
Oh, and the dining area?  It's small.  There are only about six or so tables in addition to the bar seating next to the open kitchen/grill.  All of the tables are Japanese style, so you'll be sitting on a little cushion.  The biggest table, which sits about six, or maybe a few more, is the kind with the hole underneath for your legs. Décor includes bowling trophies, menu item specials and, interestingly, a Murphy's Irish Stout sign.  No word on whether they actual serve that beer.
Hours: 5pm-1am
Phone: 098-926-0418
Address: Chatan, Hamagawa 国道58号線
Google Maps Coordinates: 26.32778890367752, 127.75261278125458
Directions: Here are a couple of options for you.  One for those of you that like to flout the law.  And another for the rest of us.
For Law Flouters…from Kadena Gate 1:  Turn left on 58.  Make a u-turn, even though you're not supposed to, at first place available (right near route 23 sign).  You'll see the restaurant on your left between the Asia Hotel and the Shirai Sofa shop.  It's right next to the AU shop.
For the rest of us…from Kadena Gate 1:   Turn left on 58.  Make a right at the Pizza In road.  Make your first left by the nail shop.  You are on a little back road that runs parallel to 58.  Pass tattoo shop.  Pass apartment that says "English Course" on the side.  At the end of the street (it's a t intersection with a blue vending machine) turn left.  The AU building and restaurant right there on your left.
For people coming north on 58:  Go north on 58.  Pass route 23 turn off.  Look for AU building on the left.  It's between the Asia Hotel and Shirai Sofa place.  The restaurant is right next to the AU building.