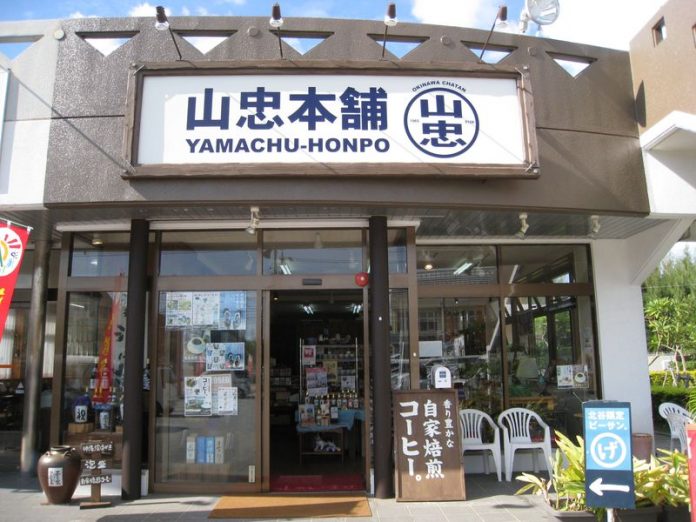 CONTRIBUTED BY JEANINECZUBIK
If your day doesn't get started without a cup of joe, or you just love the smell, take a stroll in Yamachu-Honpo in Chatan.

Roasted here in Okinawa, Yamachu-Honpo's brews three varieties of coffee: Original Blend for both hot and iced coffee, and Gettou Flavor.  Gettou, a native plant to Okinawa, is part of the ginger family and has a variety of uses in creating sticky rice, sweets, paper products, essential oils and soaps.  To create the Gettou coffee, Yamachu-Honpo roasts the coffee beans with mochi and chopped gettou leaves.  As a coffee lover who typically needs a little milk and sweetener, this coffee required neither – it was smooth and delicious.

Beyond the coffee, Yamachu-Honpo carries a wide range of other Okinawan-made items: awamori (ask about the special 10th Anniversary bottle), chinsukou (cookies), sauces and spices, glass, soap, and tea.

With just a few chairs and a table inside, Yamachu-Honpo won't replace your usual cafe hangout.  It will, however, provide you a perfect cup of coffee, and perhaps a unique Okinawan souvenir or gift.
---
Yamachu-Honpo
Hours: 1100 – 2000 daily
Phone: 098-936-8430
Website: www.yamachu-honpo.com (Japanese only)
Address: First floor, Depot Island Bldg. "E" 9-1 Mihama, Chatan Town
GPS Coordinates: 26.3157639, 127.7547012
Directions: Mihama Chatan just south of American Village on the back road parallel to Highway 58. From 58, turn west at the Jagaru intersection between B.C. Motors and Toyota dealership.  [From Camp Foster, this is the first light north of the intersection of 58 and 130.
From Kadena/Lester, this is the first light south of Starbucks.] After one block when the road Ts, turn right and immediately left into the parking lot. Yamachu-Honpo shares a structure with a soba shop.  On the back road from Araha Beach, this light is one light north of the old ETWS building.