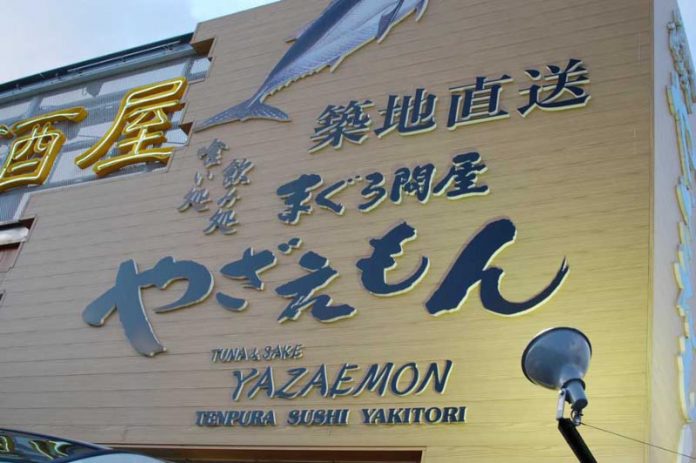 CONTRIBUTED BY JULIA

Yazaemon is a relatively new restaurant that opened up about 4 months ago. I was lucky enough to end up here after a night of driving around desperately looking for food. My husband and I (with the kids of course) had stopped at a couple of our favorite places, finding out that they were either packed to the hilt or closed. So we decided to try a new place and were happy with our meal.
Yazaemon serves a variety of food including sushi, yakitori, and stir-fry dishes. The first time we went we had the caterpillar roll (eel and sweet egg omelette wrapped in rice and avocado slices), the rainbow roll, and a California roll. Their California roll actually contains tuna and avocado which is completely different from what I'm used to but was still very good. We've also had chicken yakitori, soumen champuru, and tofu champuru. The soumen has a nice light flavor to it. I'm not as fond of the tofu but it's a hit with my youngest…he can eat the whole dish all by himself.
When eating sushi I tend to stick mostly to tuna, salmon, and yellowtail. There is a lot of tuna on the menu and a variety of other fish although I don't remember seeing yellowtail. I have had the fatty salmon sushi which was delicious and cost about 260 yen. I've also had the tuna with rice bowl for 800 yen. I was expecting just the traditional tuna sashimi over sushi rice. It turned out to be slices of raw tuna with a barely cooked egg marinating in a soy sauce mixture. From what I gathered from the sign language you're supposed to mix it up and then eat it with the steamed rice it that comes on the side. Towards the end it got a little salty for my taste but overall I liked it and it was a nice change of pace.
The last time we went the bill came out to 3500 yen for edamame, chicken yakitori, tofu champuru, soumen champuru, fatty salmon sushi, the tuna rice bowl, and a pork dish. I consider that quite reasonable for dinner for the four of us.
The staff is super-friendly here with one of the chefs even playing peek-a-boo with my kids from afar. And they remembered us from our first visit…not sure if it was for good or bad behavior but stuff like that makes us feel special.
Besides the food and friendliness of the staff there's something else about this place that really appeals to me. They have these lovely Japanese lanterns in the tatami mat seating area that emit a soft glow and with it a serene atmosphere. Or perhaps it's just because the kids like the food so much that both times we've managed to have a relatively peaceful meal here. Either way, we'll be back for more.
HOURS:
5:00 PM – 1:00 AM Tuesday-Thursday & Sundays
5:00 PM – 2:00 AM Friday & Saturday
Closed Mondays
PHONE NUMBER:  098-936-7727
Address: 368 Sunabe, Chatan
Google Maps Coordinates: 26.330970401254437, 127.75082470251004
Located directly across from Kadena Gate 1 in the same parking lot as Family Mart, US Autosales, and GI Bill Pay