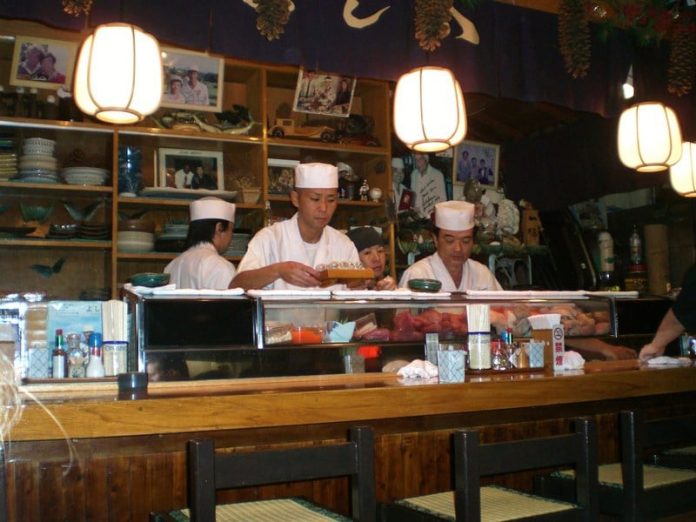 CONTRIBUTED BY KAHO
This is one of my favorite restaurants on the island.  When we have visitors, we like to take them to this restaurant since it has an unique atmosphere.  Every time we go there, it's packed with many customers.  We never had to wait for a long time though.
Sushi comes out fairly fast after you order, so that's also nice.  It's also very kid friendly and that is a big plus for us since we now have two little ones.  It has an extensive menu where you find Japanese and Okinawan food, so if you go to Yoshihachi with someone who is not a big fan of raw fish, he/she can always find something that he/she can eat such as chicken teriyaki, tempura, etc.
I like sushi rolls better than nigiri sushi (regular sushi).  Traditional Japanese sushi restaurants usually don't serve Americanized sushi rolls like California roll and Philadelphia roll, but Yoshihachi serves rolls like sushi restaurants in the States, which I love about this place.   The owner worked in the States for 12 years, so that's why he knows what kind of sushi are popular in the States.
The walls of Yoshihachi are filled with number of pictures of famous people that the owner of the restaurant has met.  It's fun to look at them.
Prices:  California Roll – 630 yen, Chatan Roll – 840 yen
Payment: Dollars or Yen
Hours: Dinner only, 4:30-10 p.m.; Closed on Tuesdays
Phone: 098-936-2359
Address: 587-2 Kuwae, Chatan
Google Maps Coordinates: 26.3250426874, 127.76954761399998
Directions:
From 58, turn onto 23 (south of Kadena; north of Lester).  Drive to a junction which is under a pedestrian overpass.  Take a right here.  Drive about several hundred meters and the restaurant will be on your right.  It has a red lantern outside.  Parking is available in a designated parking lot on the same side of the street further down on the right side.
If you want to read more about Yoshihachi, here's a very helpful review on Japan Update website.