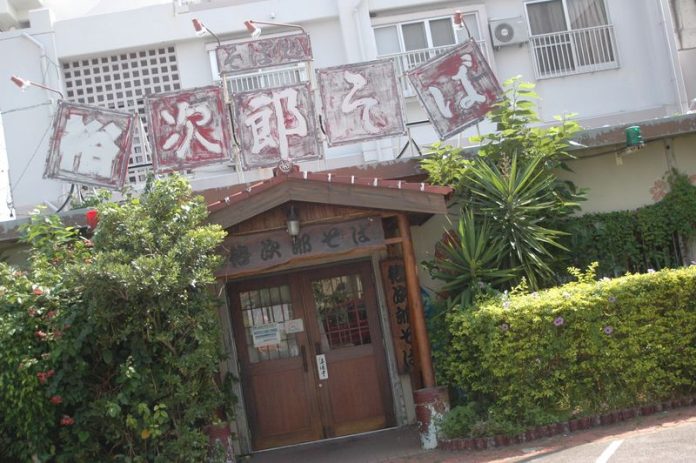 CONTRIBUTED BY LARISSA TRAQUAIR

I would describe this casual restaurant, to enjoy both yakisoba and Okinawan soba, as a mom and pop ran operation with the familiarity of a place that has been around for a very long time.  This is another one of our frequent stops, especially when we are craving yakisoba and fried rice.

Though I love to eat out and try new restaurants I usually eat the same item from the menu every time – I'm just a creature of habit that way.  My husband loves their yaki soba and this is all he ever orders.  Yujiro's yaki soba has been described to me, by soba "experts", as the sweet kind versus the salty kind.  My usual is the fried rice.  When the hubs orders the yaki soba set he gets a piece of fried chicken and a Pepsi – the cost is Y650.  I order the fried rice set and I get a small salad and soup – also for Y650.  We get plenty of food and we usually take half of it home with us.  Both items reheat well.

We are almost always the only foreigners in the place and it's interesting to watch Japanese T.V. while we wait for our food.  It's a little like being at grandma's house – very casual, you serve yourself water or tea while you kick back and enjoy the atmosphere.  This seems to be a favorite among locals and though the place fills up we have never had trouble getting a seat nor have we had to wait long to enjoy our meals.

There are many sets to choose from along with other items such as vegetable tempura.  One of their larger sets includes Okinawa soba with vegetable tempura, fried chicken, salad, Inari-Zushi, tea and dessert for Y750.

I know everyone has their favorites for soba and this one is ours.  You'll remember back before I started writing for the "To Eat" category when Dasha wrote about their favorite at White Kichen.  Where do you go to enjoy this Okinawan comfort food?
Happy Eating!
---
Yujiro – Soba
Payment:  This restaurant takes Yen only.
Hours:  11:30 a.m. until 6 p.m. Tuesday – Friday and 11:30 a.m. until 8 p.m. on Saturday and Sunday.  They are closed on Mondays.
Address:  1 Chome-11-11 Kitamae, Chatan
Google Maps Coordinates: 26.2985153, 127.75941269999998
Directions: Leave out of Foster's commissary gate and make a right onto 58 heading towards Camp Lester and Kadena.  Go to the second signal, where the Cow-Cow car lot sign is, and make a left.  This is the same way you would go to get to the Spice Kitchen and the Dragon restaurants.  Follow this street to the end, at the T, and make a right.  Drive to the first signal and make another right – you will see the Pink Dracula store on the corner.  Go a short distance and you will see Yujiro – Soba on the right.  The sign is not in English but you will see it to the left of a music school and cafe.  If you get to Friend's Animal Hospital than you have gone too far.