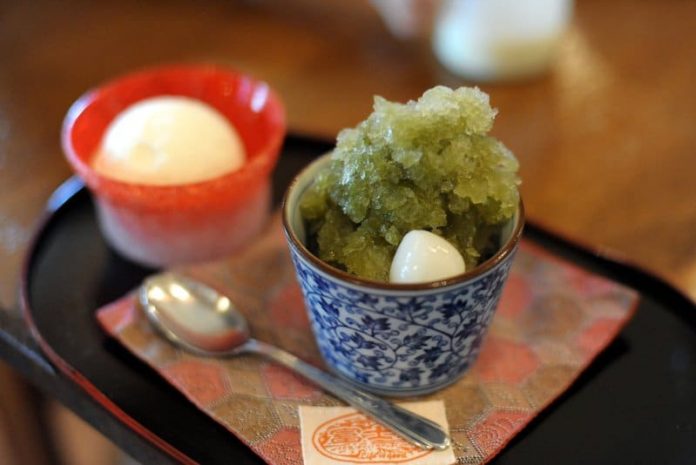 CONTRIBUTED BY KIMBERLY MITCHELL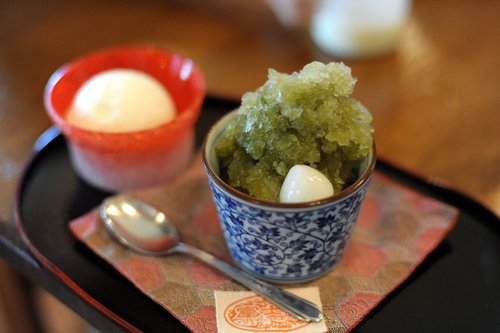 The first time I ordered zenzai, I got a giant bowl of shaved ice with a scoop of ice cream on top. It looked delicious. And it was. But I was in for some more surprises as I dug in. After a few bites, I found a little mochi ball. What a treat! I love mochi. Then, I noticed that one side of the mochi had some dark red sauce on it. I dug my spoon down in further and came up with a bite of sweet azuki beans! I soon discovered there was a whole bowl full of them, the ice was just the topping.
The next time I tried zenzai I got fruit in my ice. The time after that, I got brown sugar ice. It seemed to be a little different everywhere I went, but the bottom line is that the azuki bean soup is actually the "zenzai". Topping it with ice technically makes it a polar zenzai, but since that is the standard in Okinawa, you can just refer to it as plain old zenzai and you'll always get the ice.
Over the summer I became a zenzai addict. We found a little shop near the seawall that has all sorts of different flavored ice and topping combinations. I tried to ask them the name of their shop and they said Fujiya. So that might be the name, or I may have asked them a different question completely. But I'll tell you where it is at the bottom of this post and you too can try the goodness.
But then I made another discovery! You can buy all of the ingredients and an ice shaver at your local grocery store and make your very own at home! Not only is the deliciousness now at my fingertips whenever I want it, my daughter has a blast making it. Sort of like the snoopy-sno cone maker, but SO MUCH BETTER.
The zenzai comes in a can, ready to go. The mochi needs to be made from mochi flour and water, but it's super easy and really quick. As for the ice, plain old water will do, but why not have some fun with it?  I found some green tea flavored powder that was quite tasty and was experimenting with bene-imo flavor ice in the video. Top it however you like, but my favorite is sweetened condensed milk. Want to see how easy it is?
Address: 2-98 Miyagi, Chatan
Google Maps Coordinates: 26.32929575702557, 127.74443617381439
Directions: From Kadena gate 1, take a left onto 58 and then an immediate right next to the US auto sales sign. At the end of this street, right before you hit the water, Fujiya is on the right-hand side between a dive shop and Cocok's. Park wherever you can, although I'd avoid parking right there on that street since I've gotten a $200 ticket there!