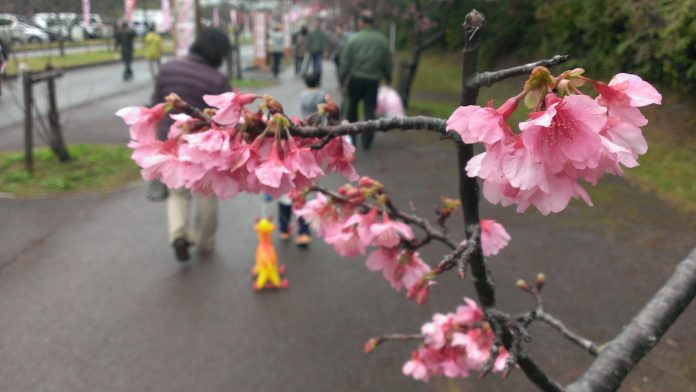 CONTRIBUTED BY KACEY A.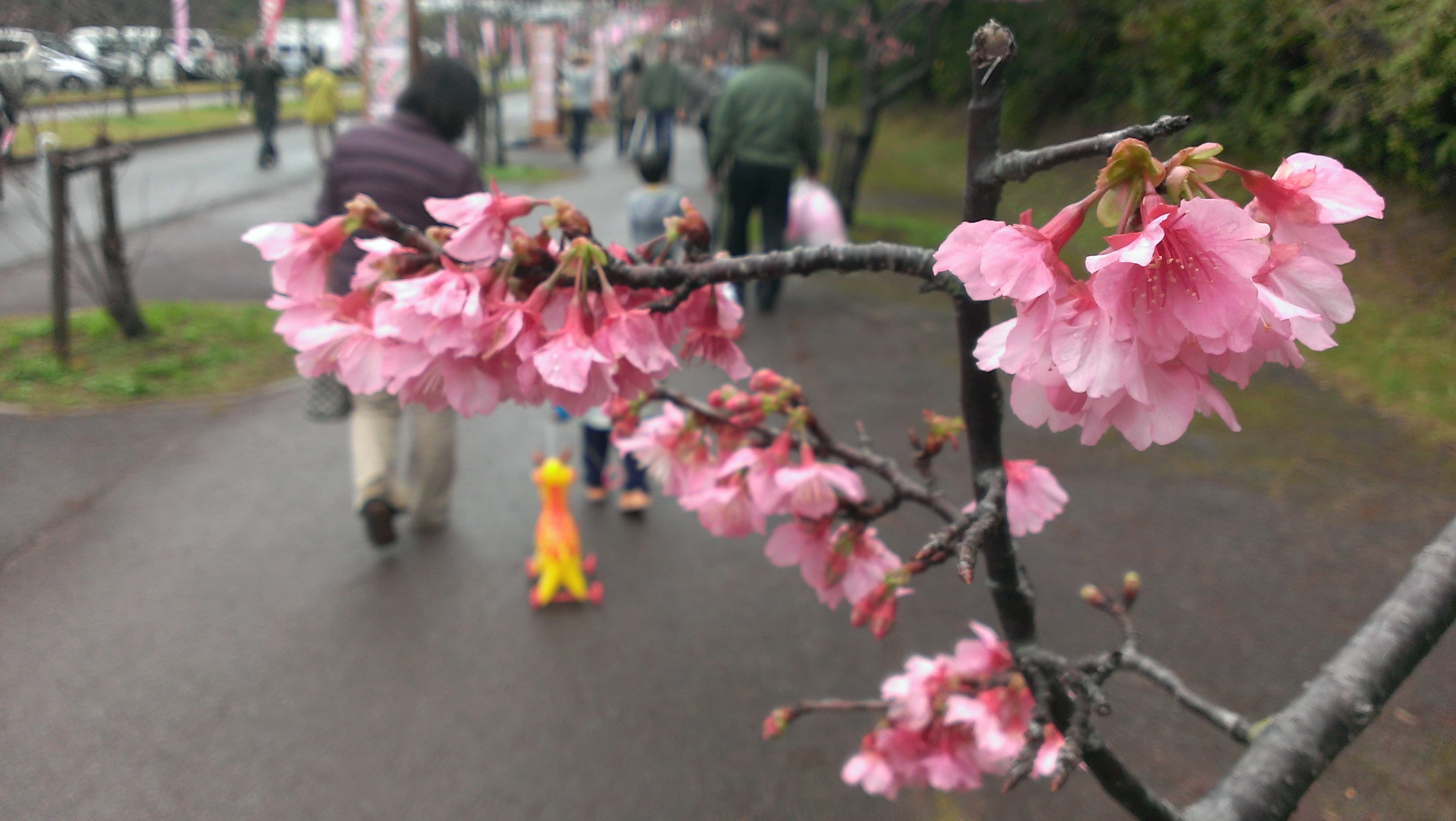 Here you'll find a list of local events for the month of February. Events on the island are constantly being created and changed, so please make sure to use the contact info provided on each event to verify information. If you know of an additional event that you'd like to share with our readers, please add it to the comments below!
* Japanese Professional Baseball practice schedule is listed separately on the regular calendar.
February 1st – February 5th
Yaedake Cherry Blossom Festival
Earliest cherry blossoms in Okinawa.
921 Namizato, Kunigami, Motobu
Sunflower Festival
"Shiosai Oyakesono" (prefectural Kitanakagusuku housing complex next to)
Okinawa prefecture Kitanakagusuku shaped Atsuta 2070-16
Free
February 1st – February 12th
Nakijin Castle Cherry Blossom Festival
Nakijin Castle Site, Kunigami
¥300 -¥400
Open Daily until 20:30, Illuminations of cherry blossom from 18:00 – 21:00.
February 1st – February 19th
Shuri Castle Flower Decoration
Over 30,000 spring flowers will be on display in the parks surrounding Shuri Castle.
Outside of gates is free, Shuri admission to enter.
Shuri Castle Park, 1-2 Shurikinjo-cho, Yubinbango, Naha
8:00 – 18:30
February 1st – February 26th
Ryukyu Lantern Festival
Lantern display and creation.
¥400 – ¥600
Murasaki Mura, Yomitan
9:00 – 22:00, best experienced after sunset
February 4th
Quest
Formal mingle party with live art, champagne, and chocolate!
Hilton, Chatan
¥2,500 – ¥4,500 (Advanced Sales discounted) See link for details
17:30 – 20:00
February 4th – February 5th
C-1 Chatan Gourmet Battle
Purchase tickets to exchange for food. Vote on your favorite food to see which vendor comes out a winner! Featuring some of the best of Chatans cafes and restaurants.
Chatan Ballpark
11:00 – 17:00
Okinawa Flower & Food Festival
Tons of food, tons of agriculture, tons of entertainment.
Free
Onoyama Park
10:00 – 18:00
February 4th – February 12th
Okinawa International Orchid Expo
Over 30,000 orchid plants are displayed. 31st anniversary of this exhibition which has been awarded the Prime Minister's Prize.  Free events including, Ikebana exhibition, corsage classes and lectures will be available (Japanese Only).
¥350 – ¥690 (Half price with Aquarium Ticket)
Tropical Dream Center, Ocean Expo Park, Kunigami, Motobu
8:30 – 17:30 (Last Admission 17:00)
February 5th
Yaese Cherry Blossom Festival
Free
Yaese Park, Asato, Yaese, Shimajiri District
11:00 – 21:00
Bull Fighting
Chinese New Year's All-Island Bullfighting Tournament.
¥2,000 foreign guests, ¥3,000 locals
Ishikawa Dome
13:00
February 11th
Handball League Ryukyu Corazon vs Toyota Auto Body
41st Japan Handball League
¥700 – ¥2000
Okinawa City Gym (Koza Sports Park)
18:30
February 11th – April 2nd
Bougainvillea Fair
Bougainvilleas are in bloom. Special activities, stamp rally, photo op spots, illuminations at night, special sales.
Southeast Botanical Gardens, 2145 Chibana, Okinawa City
¥500 – ¥1500
Sun – Thur 9:00 – 18:00
Fri, Sat, Sun 9:00 – 22:00
February 11th – 12th
Naha Chura Cherry Blossom Festival
Cherry blossoms, eisa, children's dance, various shops.
Free
Manko Park, Kohagura, Naha
February 18th – 19th
Chubu Kwacchii Fest
Okinawa Kwacchii (FEAST!) held during the Okinawa Marathon.  All dishes are One Coin (¥500)
Okinawa Comprehensive Park, Okinawa City
February 18th
The Blenders Orchestra Live
¥500 – ¥2,000, Purchase in advance or at the door for ¥500 more.
Music Town Sound Market, 3F, Koza, Okinawa City
Doors 18:00 Curtain 19:00
B League Ryukyu Golden Kings vs. SunRockers Shibuya
19:00 Tip-Off
Okinawa City Gym
February 19th
Okinawa Marathon
Registration Complete. A great local event to support.
B League Ryukyu Golden Kings vs. SunRockers Shibuya
18:00 Tip-Off
Okinawa City Gym
February 25th
B League Ryukyu Golden Kings vs. Chiba Jets
18:00 Tip-Off
Okinawa City Gym
February 26th
Okinawa International Exchange Festival
Okinawa City celebrates the 43 different countries its residents are from.  Learn about food, dance and other arts.
Plaza House Shopping Center, Okinawa City
¥1,000 for food tickets
11:00 – 19:00
B League Ryukyu Golden Kings vs. Chiba Jets
13:00 Tip-Off
Okinawa City Gym
February 27th – 28th
Yomitan Pottery Festival
The largest pottery festival in Okinawa.
JA Farmers Market Yomitan, Route 12
09:00 – 18:00
February 27th – March 21st
Okinawa Zoo Flower Festival
Over 30,000 flowers in bloom and various events.
¥100 – ¥500
Okinawa Zoo & Museum, Okinawa City
9:30 – 17:30
OKINAWA PROFESSIONAL BASEBALL CAMP INFORMATION
Please check with each link for up to date information for spring training in Okinawa.  Each page will provide you with more details, especially as the dates draw closer. This is a great opportunity to watch and meet Japanese Professional Baseball Players
February 1st – February 26th
Yokohama DeNA BayStars
Ginowan Municipal Stadium
Chunichi Dragons
Chatan Park Baseball Field
February 1st – February 27th
Tokyo Yakult Swallows
Urasoe Municipal Stadium
February 1st – February 28th
Hanshin Tigers
Ginoza Son'ei Baseball Field
February 13th – February 25th
Hokkaido Nippon Ham Fighters
Nago Municipal StadiumFebruary 13th – March 1st
Yomiuri Giants
Okinawa Cellular Stadium, Naha
February 22nd – March 1st
Hiroshima Toyo Carp
Okinawa City Baseball Field
ILLUMINATIONS
February 1st – February 12nd
Stardust Fantasia
800,000 sqr meters of millions of lights with this year "Sparkling Dreams" theme.  Events throughout the exhibition.
¥1,000 Advance, ¥1,500 Day off.
Kanucha Resort, Nago
18:00 – 23:00
February 1st – February 19th
Tonan Night Decoration of Light
Botanical Gardens illuminated with 300,000+ lights.
¥500 – ¥1,800
Southeast Botanical Gardens, Chika
17:00 – 22:00
February 1st – February 28th
Okuma Illumination 2106
Illumination from Sunset to Dawn
JAL Private Resort, 913 Okuma, Kunigami