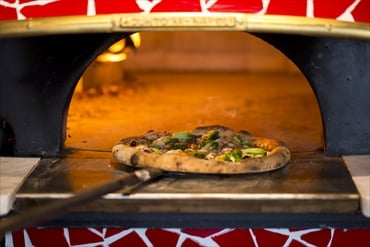 April 1st – 8th
Southeast Botanical Garden – Okinawa Bougainvillea Fair 2018
Visit the beautiful Southeast Botanical Garden during these dates (event times vary throughout the month so please visit www.southeast-botanical.jp/events/detail.php?id=30 to see the schedules) to see beautiful bougainvillea displays throughout the park. There will also be special nighttime light-up events on some of the dates! Admission is 1500 yen or less (adults are 1500 yen and the prices go down from there depending on age) and there will be "experience" events throughout the event dates where you can participate in various crafts and/or tours. Visit the aforementioned website for more information or call TEL: 098-939-2555
 2146 Chibana, Okinawa, Okinawa Prefecture 904-2143, Japan
March 23rd – October 31st
Kariyushi Beach, Nago – Kariyushi Water Land
From the end of March through the end of October, visit Kariyushi Beach and enjoy an awesome aquatic playground! The costs are 2500 yen per adult and 2000 yen per child and their opening hours are 9 a.m. to 6 p.m. For more information, please visit: Kariyushi-beach.co.jp/information/id-27.html or call 98-052-4093.
1996 Kise
Kise, Nago, Okinawa Prefecture 905-0026
April 1st
Beach Openings:
Emerald Beach
Uppama Beach
Kanucha Beach
Nabii Beach
Zanpa Beach
Naminoue Beach
April 1st – 30th
Daisekirinzan – Irukanda イルカンダ Blooming Event
Visit Daisekirinzan park during the month of April to witness a very special event: the Irukanda flower will be blooming for the first time in four years! If you're a nature lover, this park is worth the effort to visit already but why not stop by and enjoy a flower that won't return for several years while you're at it? Please visit www.sekirinzan.com/event/irukanda.html for more information about this event. The fees are listed as 820 for adults and 520 yen for children, with a revised fee of 1200 yen for adults and 550 yen for children from April 28th.
TEL: 98-041-8117
Kunimisa Yonemura, Kunigami-gun, Okinawa Prefecture 905-1422 1241
April 14th
Ginowan Seaside Park – Hanabi Illusion 2018
If you're looking to enjoy a fantastic fireworks show and live music, visit Ginowan Seaside Park (the website says to arrive well before 5 p.m. because of the crowds) for the Hanabi Illusion fireworks display. Entry is 5700 yen for men and 3700 yen for women and the entry fee includes some free drink tickets. According to the website, this display features 10,000 fireworks! Visit www.ryukyu-kaiensai.com/en/archive/2018/spring for more information. The featured musical guest is Rimi Natsukawa, a famous singer in Okinawa (you have likely heard her singing "Shima Uta" across the sound systems of many stores in Okinawa).
〒901-2224 Okinawa Prefecture, Ginowan, Mashiki, 4 Chome−2番1号Okinawa).
April 15th
Across Okinawa – Mozuku Day
Ever tried Mozuku? It's a healthy Okinawan seaweed cultivated locally and used in various dishes. If you haven't tried it, this day is the day to do so! My recommendation? Visit Ojima around the Nanjo area (you can drive there across a bridge) and try the mozuku tempura at the locally famous Nakamoto tempura shop! The aforementioned Tempura shop can be found here:
Nakamoto Tempura
Ou-9 Tamagusuku, Nanjō-shi, Okinawa-ken 901-0614, Japan
April 18th
Across Okinawa – Hamauri 浜下り
On this day across Okinawa you might find people participating in an old Okinawan tradition of purifying their bodies by dipping their hands and feet in the ocean! The beaches might be more popular on this day so be aware of that if you're planning a beach visit (and, if you are, why not participate in this tradition as well).
April 19th
Henza-jima – Sangwacha festival
Visit Henza Island on April 19th to experience some awesome local culture as they celebrate with various local customs. This is not a full-fledged festival like you might be used to (no food stalls or huge crowds) but if you're into learning about the local customs and getting a unique Okinawan experience, check it out! Festivities will likely start around noon or so and will involve (if you participate) wading into the water. Please visit https://www.henza.jp/event/sangwacha.html for more information. Google Maps pin for the island itself:
平安座自治会
日本、〒904-2426 沖縄県うるま市与那城平安座410
April 22nd – May 6th
Ie Island – 23rd Annual Iejima Yuri Matsuri (Lily Festival)
Nature lovers will think they're in heaven walking around beautiful Ie Island through fields of hundreds of varieties of lilies. This is a must-see event at least once while you're in Okinawa. The ferry to Ie Island is easy to take from Motobu Port and there are buses at the port to transport you to the festival (or you can pre-arrange to book a spot for your vehicle on the ferry by visiting the Motobu Port website). Visit www.iejima.org for more information about the festival. Admission is free but be sure to take yen for the ferry and festival foods! Keep an eye on the Ie Island website for updates on the status of the flowers so you can see them at their peak!
Higashieue, Ie-son, Kunigami-gun, Okinawa 905-0501
(〒905-0501 沖縄県国頭郡 伊江村東江上)