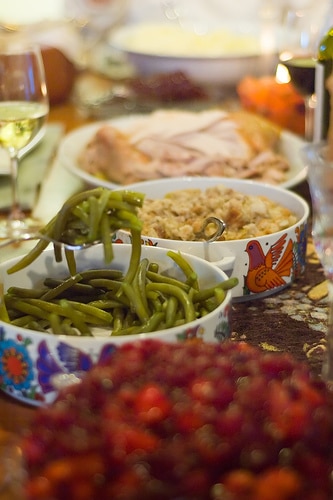 CONTRIBUTED BY HEATHER GELORMINE
Maybe it's just me, but I love Thanksgiving.  It's probably my favorite holiday, even moreso than Christmas or the 4th of July (the latter sliding in there because it's so close to my own birthday, I always believed that the festivities were in celebration of me).  I love the food, the gathering of family in celebration of life's blessings, and the whole meaning behind what now increasingly seems to be an overlooked holiday.
Can I be honest?  It really bothers me to already see end-of-the-year holiday decorations up around base instead of those in honor of Thanksgiving.  It seems I've passed on my sentiments to my daughter who – when we were wandering around Aeon a few days ago – asked me why Starbucks was already decorated in red and green and playing Christmas music, or why she saw lighted Christmas trees at night around Okinawa.  So I spent the next fifteen minutes talking about how Thanksgiving is traditionally an American holiday and not an Okinawan one (I didn't explain that Christmas isn't exactly a 'traditional' Okinawan holiday, either)… and of course it flew over her head.
There will be time later to explain the origins of Thanksgiving; for now I think it's more important to teach my children our values about this holiday.
Growing up, my extended family always shared our Thanksgiving meal.  For us it was a gathering of family at my aunt and uncle's house, the Macy's Day parade on the TV and cousins running around as we waited for the feast.  One year my aunt dug a pit in her backyard, cooking that year's turkey on a spit in the chilly 40 degree weather, tending to side dishes baking in ground ovens, all the while dressed in pilgrim garb.
I was able to make it home for Thanksgiving for the first three years I was in college, but my fourth year found me married and keeping my new husband company in his barracks room at Ft. Benning, GA.  We were both too far from home to travel there for a short weekend – and too short on cash to fly back – so we spent that depressing holiday eating a sub-par turkey meal at a chain restaurant and watching endless amounts of the Food Network in his tiny hotel room for the rest of the day.  That night I swore to myself and my husband that I would never again eat restaurant food for this occasion, and that I'd do my best to help keep others from suffering the same fate.
The next year my parents and grandmother flew to Germany to celebrate with us and I invited our German next-door neighbors to join us for their first American feast:
The following year my parents again flew to Germany to share our Thanksgiving meal, though I suspect their enthusiasm for doing so was less my still-growing cooking skills and more due to the fact that I'd given birth to their first grandchild just two weeks earlier.
In the years that followed I've cooked a full meal every year, and each time we've invited friends whose spouses were deployed, or my husband's Soldiers who would otherwise make a lonely trip to the DFAC, or other couples who have found themselves also too far from home to make the trip back.
Each year as we sit down to share our meal, I ask everyone – even our guests – to name one thing that they're thankful for.  In the past several years my daughter has taken on the role of making sure that we follow through with this particular tradition; I love that the meaning of sharing this meal and opening our family table to others has taken on an importance in her life.
Although I desperately miss my family at this time of year – although I miss the gathering of family that was so familiar when I grew up – I'm happy that my husband and I have created a tradition of our own to teach our children.  It's this establishing of our own customs and rituals that has helped give our otherwise changing military life a familiar feel.  No matter what state or country we live in, no matter whether we're able to watch the Macy's Day parade on Thanksgiving (or have to wait until the day after), no matter where we are, our family has our own Thanksgiving tradition to carry us through.
What traditions do your families have in regards to Thanksgiving?  How do you keep this holiday special in spite of the distance from your loved ones?