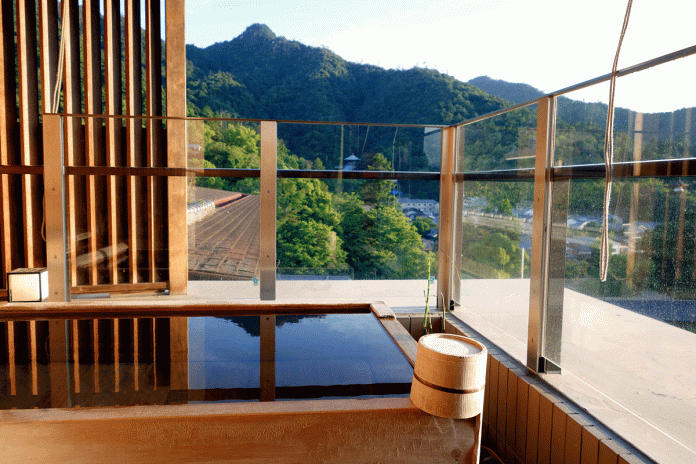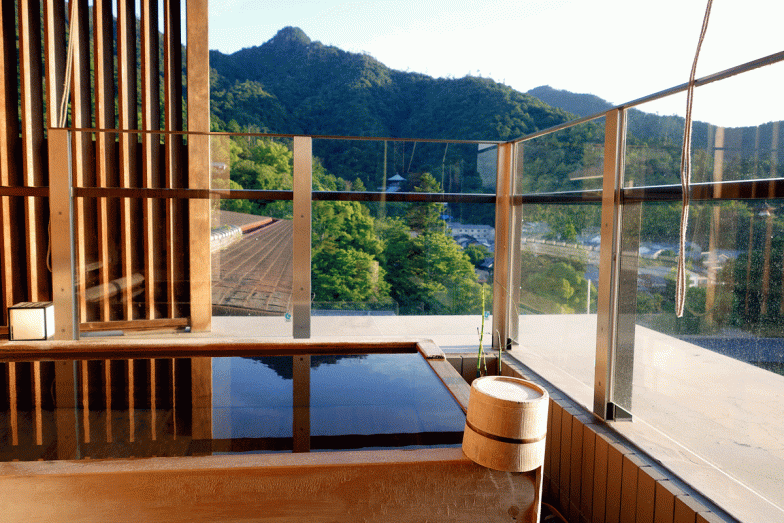 CONTRIBUTED BY KEVIN "ELVIS" KING
A ryokan (旅館) or "inn" is a type of traditional Japanese lodge that originated beginning back in the 17th century, maturing as today's concept in the late 19th century. Originally serving travelers along Japan's foot and horse paths, they now serve modern tourists at major sites throughout Japan. Typical features include tatami-matted rooms, communal hot spring baths, in-room personalized dining, and public areas where visitors may relax and socialize.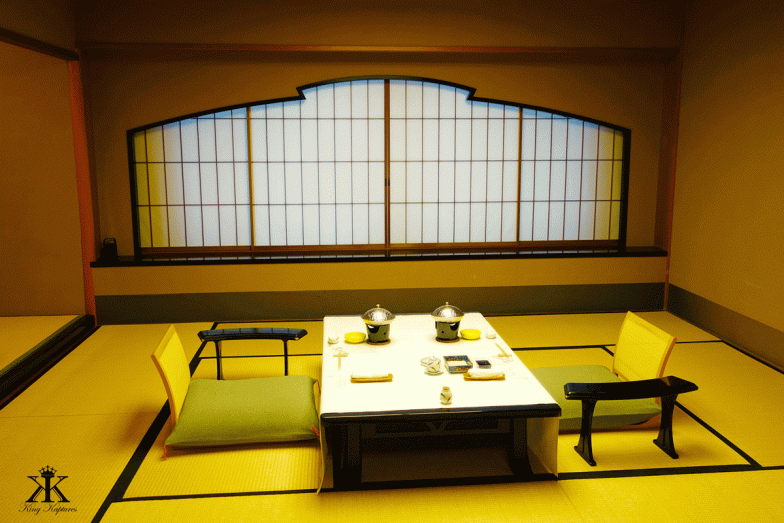 We stayed in a ridiculously priced ryokan, the Miyajima Grand Hotel Arimoto in the resort location of Miyajima, a famous island retreat on the outskirts of Hiroshima. We were there celebrating, although at the time, we still didn't know what we were celebrating. We had booked one of the most expensive rooms in an already expensive lodge in honor of either my wife, Jody's retirement, or her promotion. Neither had happened yet.
Ryokan are becoming more difficult to find within Japanese urban centers as mainstream and modern hotels are offering more at a much more affordable price-point. They have, however, have found their modern niche by catering to tourists with deep pockets, and are usually concentrated in scenic areas, exactly like Miyajima where we vacationed prior to moving on to Hiroshima proper.
Ryokan guest rooms are styled in traditional Japanese: tatami floors, sliding wooden doors, and rice-paper accented privacy screens. Most ryokan feature common bathing areas segregated by gender, using the water from a nearby hot spring (onsen). Higher-end inns provide private bathing facilities. These Japanese inns also provide yukata for guests to wear, and geta (wooden sandals) are available at exits for strolls outside.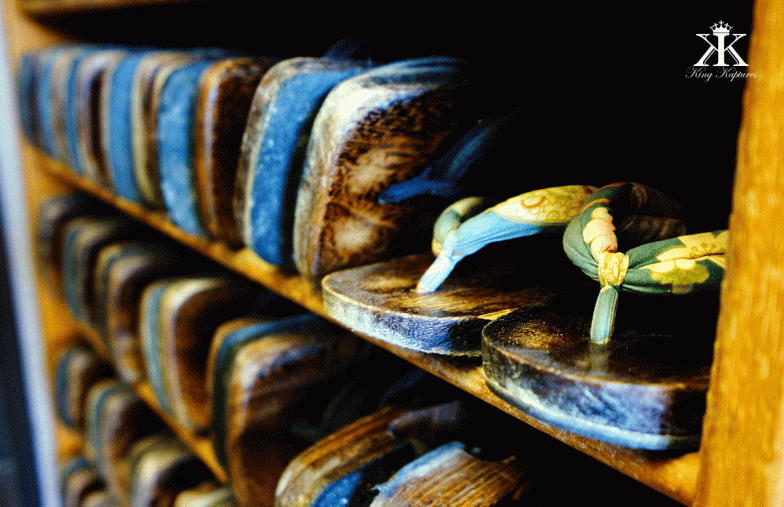 Based on a number of reviews, we selected room 502 of the Arimoto Hotel, a very large corner room on the top floor of the ryokan, featuring sunset views of Miyajima's famous "floating Torii," as well as private outdoor hot-spring fed bathing and personalized in-room dining. Check out the hotel's website; our room is featured as the inn's "Guest of Honor" billeting, and is also featured in a bridal shoot. I must admit that it does serve as a fabulous setting to accent the beauty of a beaming bride, certainly more so than it does for my cheesy Japanese peace pose.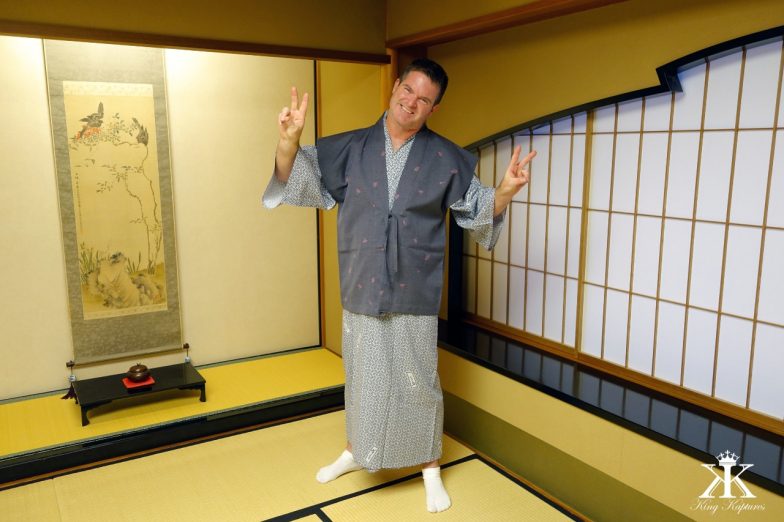 Ukata (浴衣 literal "bath clothes"), are casual Japanese garments, sometimes referred to as a summer kimono, worn by men and women. Designed for hot weather, they are unlined and often made of cotton. As with kimono, the general rule is that younger women (and kids) wear bright, vivid colors and bold patterns, while older people wear dark, matured colors and dull patterns. Men in general wear solid dark colors. Yukata are staple wear during a stay at ryokan, commonly seen throughout the establishments. I rather enjoyed my own interpretation of their wear!
I initially wore the yukata to and from our private balcony bath fed by the resort's on-site hot-spring. The deep-soak tub was set to offer 180 degree views of the setting sun over Miyajima's western shore. But since there was really no way for anyone to be a voyeur of our bathing habits, I quickly did away with any clothing at all. The yukata was, however, very comfortable to wear for dinner after a long afternoon soak to soothe achy muscles from the day's adventures.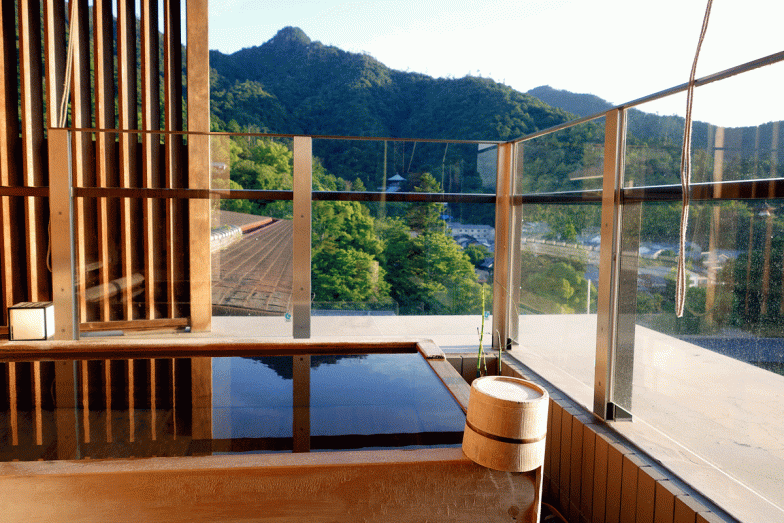 The main tatami room serves three important functions: dining, tea and for sleep. Breakfast and dinner are served there, with tea service in the afternoon. But at night, tables and floor chairs and hidden away and lush futon bedding is spread out directly on the tatami floor, where ample pillows, sheets and blankets are provided for a deep, restful sleep after a day of hiking around Miyajima.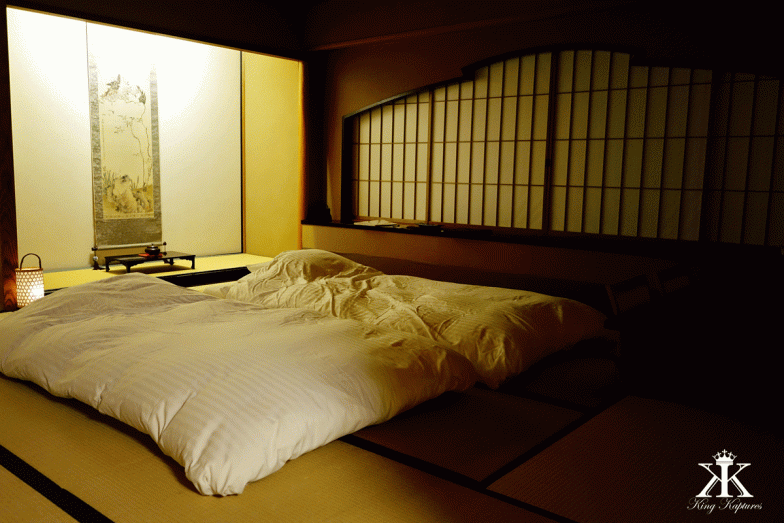 Now, on to the food. Our menu was personalized each night, it's approval demonstrated by the han-stamp of the resident chef of the ryokan. The dinners were all served as 12-course meals, each choice indicated on the menu with a distinct line of Japanese. We attempted to translate each one, course by course. But as you might guess, something often gets lost in translation.
"Live Fish Bowl Prime." Sure, it sounds like an obscure faddish cartoon shown on Adult Swim back in the 1990s. Or at least it should've been. But it turned out to be a machine translation (Google Translate via iPhone) of an item on Jody's Japanese menu during dinner our first night at a high-end ryokan on Miyajima.
"What on earth does that mean?!" I asked Jody, laughing at how much technology fails a simple translation. "Who knows!" she responded with an anticipating smile, staring at her phone.
Some of our favorite translations, besides "live fish bowl prime," include "Hiroshima cow" and "fried bird"…. Or the one shown below. Concrete soup. Yummy.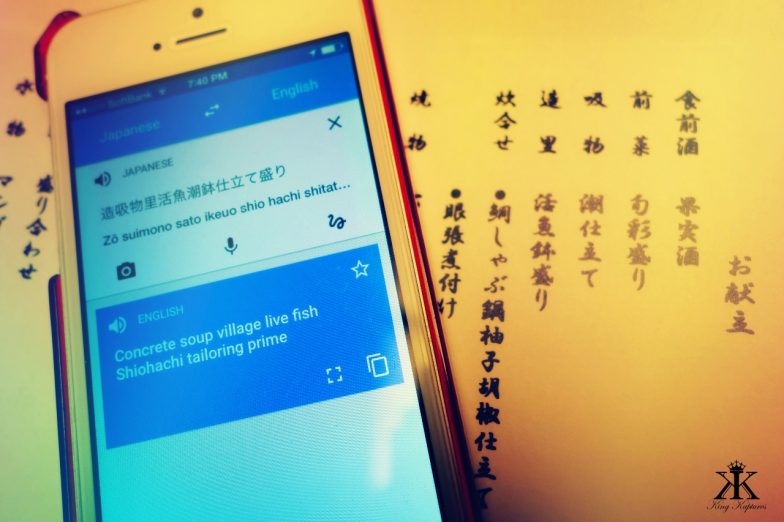 Ryokan stays include dinner and breakfast, and most guests take their meals in their room. Meals are central to a ryokan stay: the price and ratings of inns are heavily based on the quality of their food. Traditional Japanese cuisine called kaiseki, a meal consisting of a number of small, varied dishes, is featured, which includes seasonal and regional specialties. The meals are tailored and cooked to order, and service times are selected by the guests daily.
While we got off to a rough start with the ryokan staff, due mainly to some of our specific dietary requests and the lack of English-speaking staff, we came to thoroughly enjoy our in-room meal service. Dinner was unrushed and personal, served by a private waitress, course by course, and lasted anywhere from two to three hours.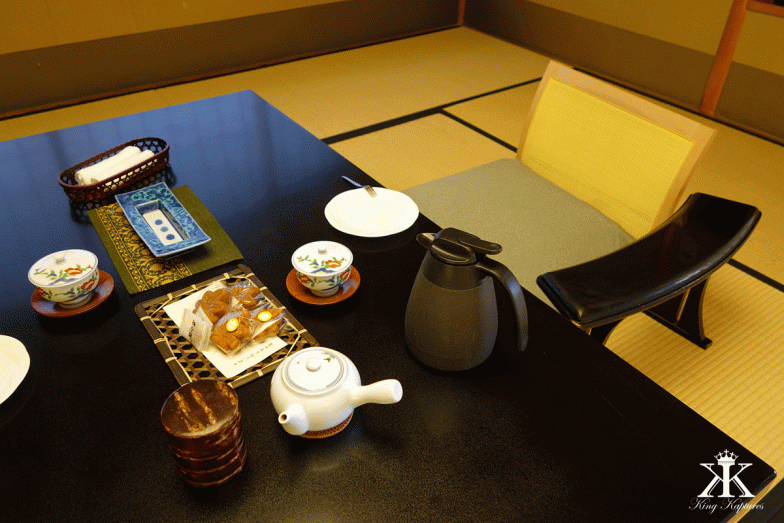 We had the opportunity to enjoy some local Hiroshima wine while Jody tried quite a few new fish dishes, as I focused my meals more and more on the local high-quality and perfectly delicious Hiroshima beef…with some pork and chicken thrown in as well. Lucky for us, after the first night of only machine translation of our meal, a waitress called "Emmy" was placed with us, who having spent 8 years in England spoke quite good English, even if it was more aligned to the Queen's. She actually stayed an extra day to help us in our culinary adventures as she was moving on to a 9-month contract job on an Italian cruise ship as a hairdresser.
Hiroshima specializes in farm-raised oysters, which were served fresh and in a multitude of ways. One of the more surprising items that Jody enjoyed was fresh stonefish, and not only was she served the delicate and sometimes poisonous meal (if prepared wrong), the fish itself took center stage in her dinner's presentation! I can't say it's appearance is all that…appetizing.
But the most surprising course was a small covered dish of fresh seafood destined to be steamed tableside during dinner. Just after being placed on the table, the dish made a loud knocking sound, quite to our collective surprise. Our waitress, as curious as we were about the sound's source, innocently lifted the dish's top. And out flopped a large, live shrimp! We jumped back a bit as the crustacean made good attempt to escape, which our waitress was all too happy to block. Trapped back in its ceramic cell, the dish was placed on a flame for steaming, and no other sound was heard…until Jody's coos upon eating the poor crustacean.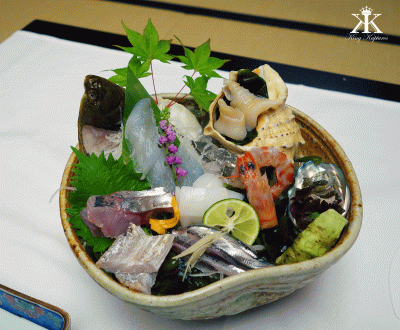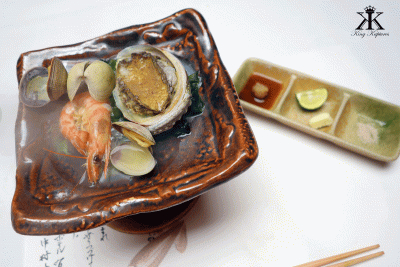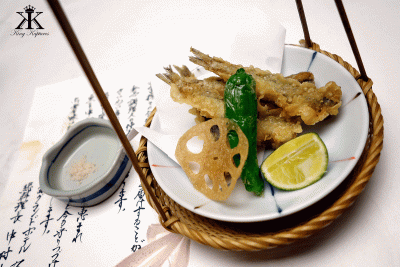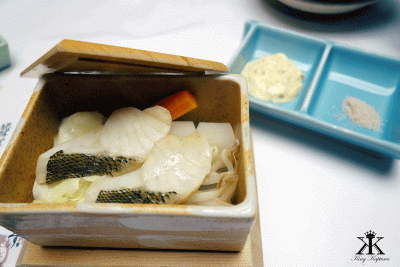 But was it worth truly worth the expense? In terms of such an important celebration, sure it was! Spending money on treasured experiences is never a bad thing. Enjoying "live fish bowl prime," the premium fresh seafood served to us during our ryokan stay: priceless!
**For more information on the ryokan Kevin stayed in, please visit their website: Miyajima Grand Hotel Arimoto