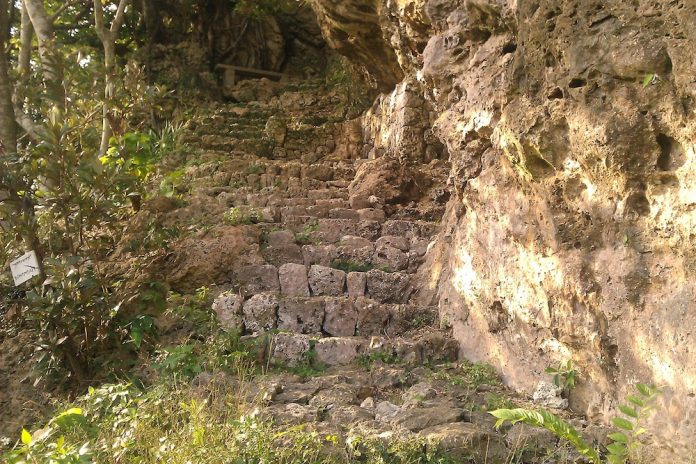 CONTRIBUTED BY KRISTY WELLS
An errand trip out to the McT area motivated me to make the drive more than just a chore. We are GeoCachers, though a bit inactive due to the birth of our daughter last May, and the entire family has been itching for some adventure. After opening the GeoCaching website, I found many hides in the area we were headed. One that caught my interest was called Agena Castle.
I did a little research about the hide site, and it was supposed to be a castle as well as a bull-fighting ring that, during a certain Okinawan festival, is supposed to host actual bull-fighting. Here is one of the narratives I found from surfing the web:
Agena gusuku was an Okinawan castle which is believed to have been built by the anji (lord) of Ôkawa, in the 14th century. It lasted only three generations, being passed down to the son and grandson of its founder.

Ôkawa anji was a relative of the lord of Nakijin gusuku, and his territory included Kyan gusuku and Yara gusuku as well.

The castle made good use of the natural topography, being located on a mountain or hillside roughly 49 meters above sea level, and bounded to the north by the Tengan river. It was organized in the rinkaku manner, with roughly concentric sets of walls forming separate baileys, the innermost surrounding an open space at the top of the hill, and the outermost located roughly halfway up the incline. The walls were made from piled-up cut stone, ranging in height from two meters to more than 10 meters at the tallest point.

The compound contains several sites of worship (utaki), and the tomb of the lords of Agena.

The site is today a public park and nationally designated historical landmark in the city of Gushikawa.

Taken from Samurai Archives
If you've ever been to Zimli Castle ruins near Kadena, I was expecting something like that, with not a lot of "castle" to see, but lots of ruins on the ground and overgrowth. Boy was I PLEASANTLY surprised!

Agena Pond
The area was VERY well kept! After we got our bearings from our GPS device, we began to explore. From the parking area, you can move up the hill and to the right to see shrines and tombs, and further on to see the bull-fighting arena. The path wraps around in a circle, so you can go either way from the parking lot and end back where you started. To your left from the parking lot is a pond (no fish) and what looked to be bathrooms, and the walking path will take you around to a very awesome wooden playground. My 3 year old did pretty well, but he was definitely on the young side of abilities to be able to enjoy the wooden structure fully.

Agena Park
Further along the path we found more open spaces, picnic areas, and beautiful landscaping.

Agena Walkpath

Agena Stairs 1
Returning to the purpose for which we came (the GeoCache hide), we did more exploring. From the parking lot, if you go up the hill and to your left along the tree line, you will find this:
 
And this is where our GPS was pointing us to go. And up we went! I would not recommend small children on these stairs; my baby was worn on my back, and my 3-year-old rode on daddy's shoulders. Even those arrangements were not ideal because there is no hand railing to steady yourself should you loose footing. Farther up you will find steep drop offs along the stairs. We were very blessed to have a great deal of trail hiking experience and we were very mindful of our steps. That being said, this trek up to the top was tons of fun! You will not find anything like this in the US that is open for the public to trek on. The stairs go up for a bit to the top, and get more steep and narrow as you go – BE CAREFUL!

Agena Stairs 2
This second picture of stairs is the last bit to the top. At the top, you will find an archway and then some small open space to wander. There are some benches, a shrine, and if you follow around the wall to your left, you will see tall castle walls and more open space, and amazing views. Continuing further on your left and up, it is a scramble up more stair ruins to the highest point. If you stand on the bench up there, you can see ALL of McT and more. It is a beautiful site. Be careful getting back down! In the summer months especially, you should be aware of your surroundings and watch for local wild life.

Agena Trail
These castle ruins outdid Zakimi and Shuri with its coolness factor! We felt like we were in an Indiana Jones set! We were greeting during final explorations at the bottom with beautiful, full bloom cherry blossoms! There were many more cherry blossoms along the walk path too, but we weren't sure if their bloom had passed or if there was still a promise for more soon.

Agena Sakura

Agena Map
Directions:  From McT, turn right out of the gate (onto the 8). Continue along until you see the sign for the Agena castle and bull-fighting ring. It is not far, and it will be a left hand turn. The parking for the castle site is on your left not far after turning off the 8. If you find yourself near a river, you have gone too far. Parking is free, and although I did not see a sign with hours for opening, I would imagine that dawn to dusk would be appropriate visiting times. If you plan to trek up the mountainside, wear secure footing and hold tight to the kiddos (if you bring them).