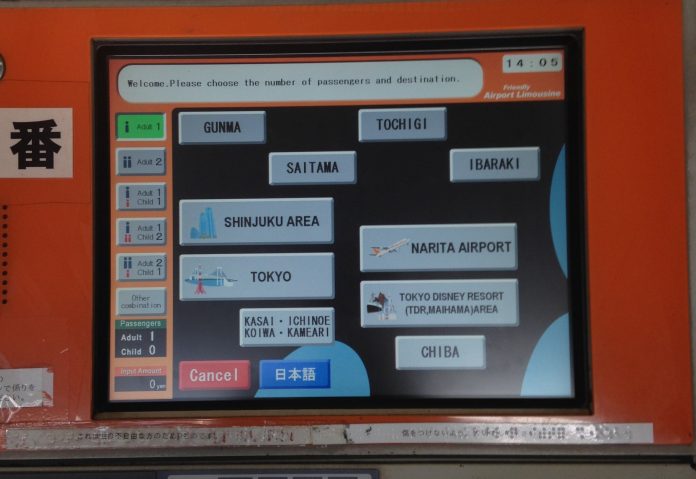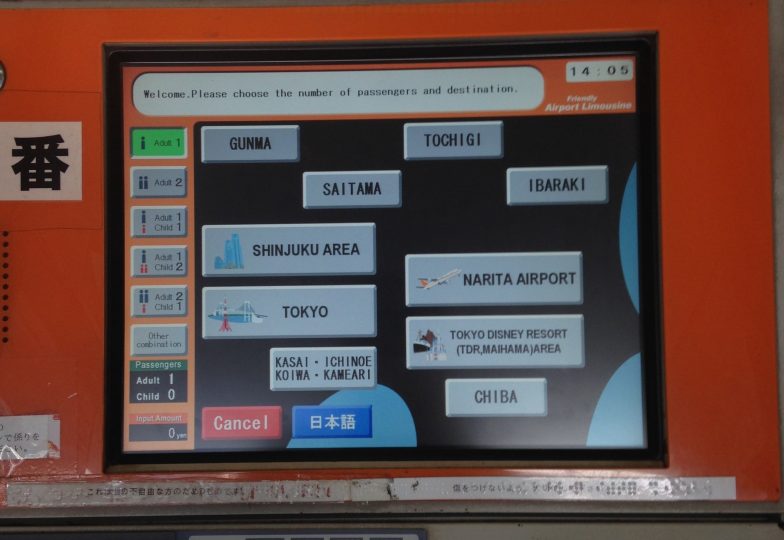 CONTRIBUTED BY SHANNON R.
The following sentence in airline search engines has always struck fear into my heart:
*Note- this itinerary has an airport change*
This line of red letters has been enough of a concern to make me shell out a few hundred extra dollars just to avoid the chaos of picking up my luggage, finding a train or bus, getting checked in at another airport, and going through security again.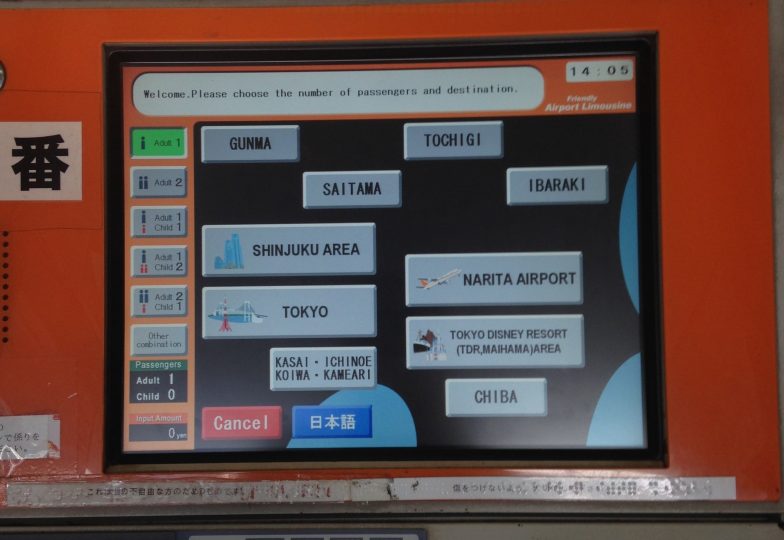 However, when I found tickets back to the US for $1,028 (adults) and $822 (children), I knew I couldn't justify convenience for the cold hard cash I'd be saving. The next cheapest ticket that went straight into Narita was $1,600 for an adult ticket alone. I would be saving about $1,000 easily by taking the route with an airport change.
It was, however, plenty of reason to justify significant anxiety in the days leading up to the flight, knowing that I'd be making the transfer by myself and three kids. I am terrible with directions.  Actually, it's worse than that. I have NO sense of direction and thought that I would most certainly get us lost enough to miss our connecting flight in Narita by the time I found the bus or train. So, I went straight to OkinawaHai.com (as I usually do when faced with some burning question related to being stationed here). However, in this case was surprised to find that no one has ever posted on this topic before!
Anxiety! So I looked up everything else I could about the transfer from Haneda to Narita. A few google searches made it seem simple enough, but I couldn't find any explanation other than time tables for shuttles and trains. I told my husband "I got great prices on these tickets, but I couldn't get us all on the same flight. You will meet me and the kids in Narita. But our first flight lands in Haneda, so I just have to get us to Narita for our flight back to the States". In true soulmate fashion (AKA brutally honest) he didn't mince words, but said, and I quote: "Really? Without me? That's probably a bad idea."
The day of our flight arrived. There were two options for a transfer: the train system or the 'limousine" service. (Much like "mansion" equals "apartment" in Okinawa, "limousine" equals "bus" at the airport.)  The counter agent recommended we take the train, as it would be more reliable in terms of time table from point A to B. However, I chose to go with the limousine service and I'm glad I did!
It was simple and quick and only cost ¥ 3,100 yen for adults and ¥ 1,500 for the kids.  (Bring yen!)
Immediately upon walking off the plane, I followed the crowd to the baggage claim area.  Once we picked up our bags, I saw a glorious orange sign in both English and Japanese the read "Bus Tickets".  There was also another sign that said "Airport Limousine Bus Tickets".  Both nearby each other as pictured.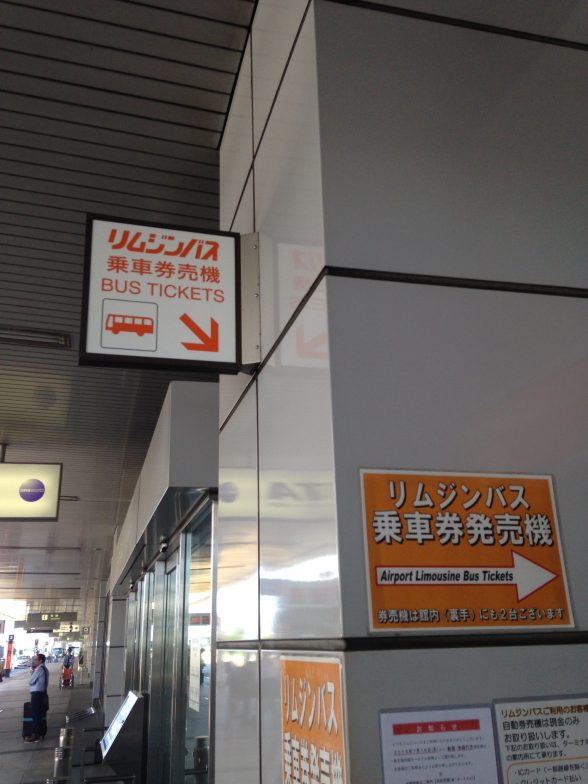 I walked up to the kiosk (these are located in two areas: inside the baggage claim area and outside near the buses) and immediately saw a blue box on the screen "English"  It was all touch screen.  It took me to the next screen where I selected "Narita Airport".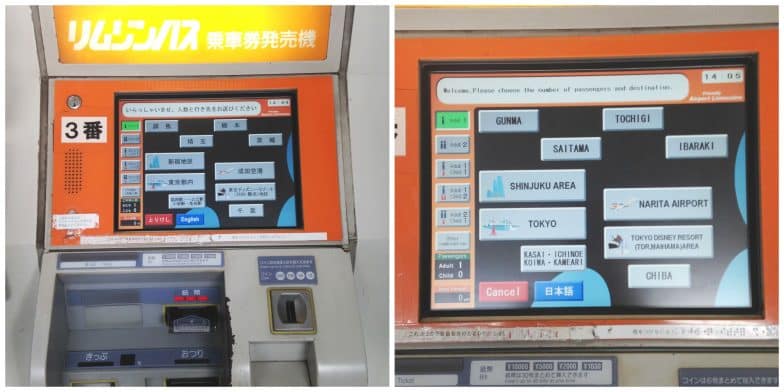 Enter the number of tickets needed, both adult and child. Insert your yen into the machine and out come your bus tickets. The bus stop number will be in the top right corner of the ticket along with the time your bus departs.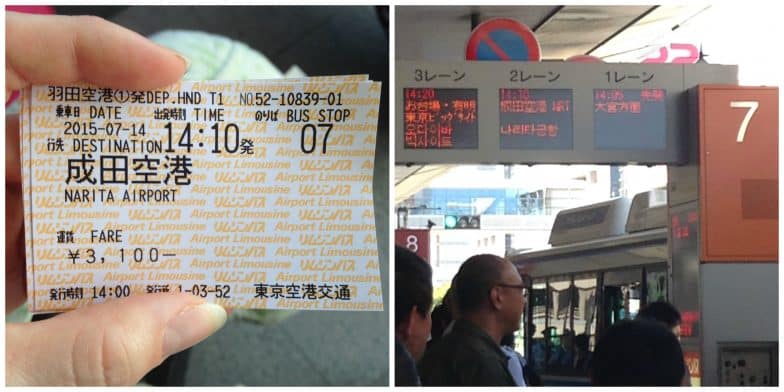 Again, mild to moderate concern struck me as I thought, "But now how do I find the bus stop?!?" Again, it was far easier than I could have hoped. All four of us and our five suitcases (don't judge me) walked outside to find clearly marked bus stops. There was a group of people waiting for the bus leaving prior to our assigned time slot. There were about three employees checking each person's ticket and gathering up suitcases.  I was handed a "baggage check" ticket for each suitcase and used these to retrieve our bags from the bus when we arrived at our destination.  At this point, the employee's also asked which airline we were flying and told me which terminal in Narita I should exit the bus.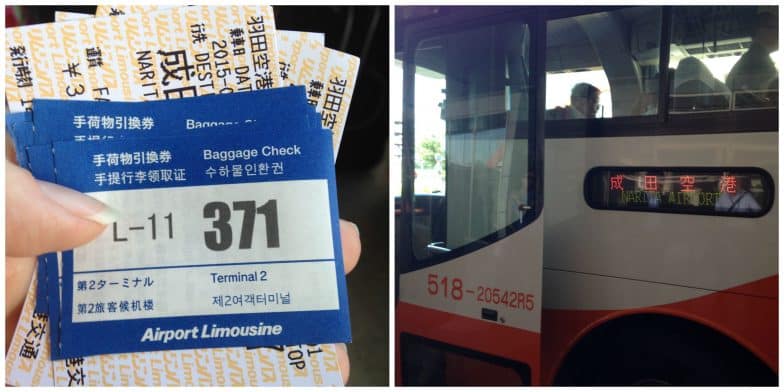 That's it!  The bus arrived EXACTLY on schedule. We boarded and arrived at Narita about an hour later. (Depending on traffic, it could be anywhere for 60-90 minutes for the transfer time.)
It was all very simple and self-explanatory. Hopefully, others seeing the dreaded airport change notification will also save some money by taking the slightly longer route.