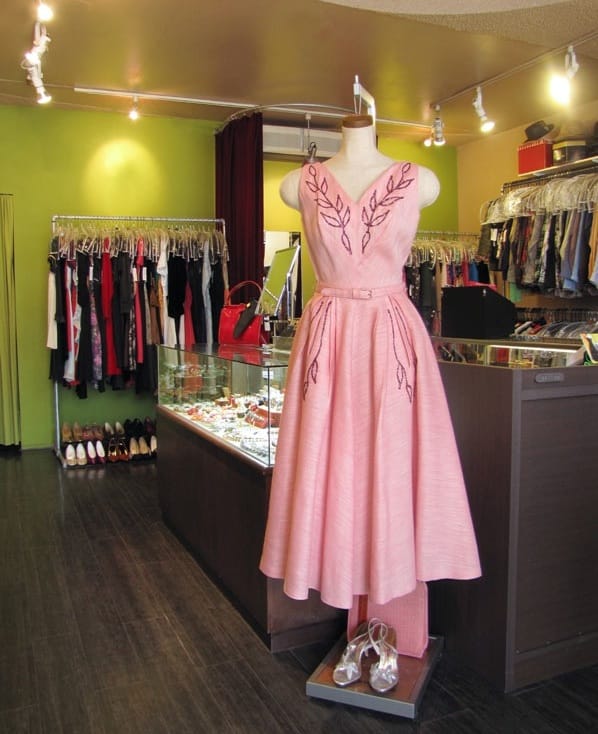 CONTRIBUTED BY LULU

American Wave Exterior
I admit – I was one of those little girls who raided her mum's closet for outfits and spangle, and I clip-clopped around in her heels. I still enjoy the experience of getting dressed up and I look forward to shopping with the same fervour. Many of us resort to shopping online for a broader choice of goods and sizes that fit. When special occasions like balls, parties and functions arise, let's be honest, it's nice to be assured that you will be the only person in that 'special' dress'. Ever stood in line next to another lovely lady wearing the same ensemble?!

American Wave Interior
If you want something unusual, look no further than American Wave! A few years ago some actor friends from Tokyo introduced me to the shop and I have been hooked ever since. It promises a truly unique shopping experience. Walking through the doors is like stepping into your own secret time machine, with a V.I.P. pass to indulge your inner '50s starlet! Row upon row of sumptuous gowns and dresses hang begging for you to try them on, whilst retro-bling winks and sparkles at you enticingly from behind glass display cases. Whether you wish to just leisurely browse, look for little gifts or buy a top-to-toe outfit, indulgent fun is right here on the Highway 58!

American Wave Lilac

American Wave Chris and staff
American Wave is owned and run by Chris Towe, from Kentucky. It has a dedicated following, with customers ranging from the fabulously famous to foreign 'locals' and tourist shoppers. Chris's team is made up of helpful, knowledgeable, patient assistants, who can communicate in English. The store is a treasure trove of goodies including: ladies'/men's clothing, jewellery, shoes, bags, accessories, bric-a-brac and vintage memorabilia from 1900s to 'almost modern'. All clothing/shoes are vetted for style, quality and condition. Clothing is immaculate, well pressed and cleaned, so there is no need to go to any extra expense before wearing it. The items are lovingly worn rather than simply recycled, and there is something for most budgets.

American Wave Shoes
Chris tries to keep a full range of sizes and the uniqueness of each piece is guaranteed. 'Like' them on Facebook and get to know them!

American Dream Jewelry

American Wave White Tulle
Sales: Chris knows the social calendar well. The store has sales four times per year, with 25% discount. Customers who mention the store's Facebook page get an automatic discount of 10%.
Hours: Open from 1.00pm to 9.00pm, 7 days per week.
Directions: The shop is located in Ginowan, Oyama, quite close to MCAS Futenma. It is directly next to the school ('Oyama Shogakko'), on the opposite side of the 58 from MCAS Futenma.
Driving north from Naha, you pass the Okinawa Actors School and then a little further up there is a large school (set slightly back off of the road) on your left. The shop is directly after this, so be careful not to overshoot!
Parking: There is a car park at the back, which can be entered via a very small side street that runs between the shop and the school. To access the car park slow down as you drive past the school (on your left) and then turn very sharply left, directly as you reach the end of the school's grounds. The car park is just to your right at the back of the store.
Note: If you are thinking about buying a vintage dress I would recommend that you go prepared with the right lingerie/under-garments. A well-fitting bra, teddy (bodyshaper) or even a corset is a great help to look the right shape in some of the tailored garments, which were designed for underwear that is far more uplifting than our comfy undies nowadays! I arrived in a bikini the first time and believe me it doesn't work! Don't be shy – the staff here can give you help getting the look right and they allow you the freedom and space to shop at a pace that suits you.
Mums with strollers and busy toddlers will find that the shop assistants are fantastic, but you may enjoy the novelty of the experience more if you take time to go alone (or with friends) if you can.
Pay: Yen and American Dollars
Address:
ビンテージショップ American Wave
〒901-2223 沖縄県宜野湾市大山5-3-9
In English:  5-3-9 Oyama, Ginowan-shi, Japan 〒901-2223
Phone: 098-890-3229
e-mail: vintage@americanwave.jp
Website:  https://www.americanwave.jp