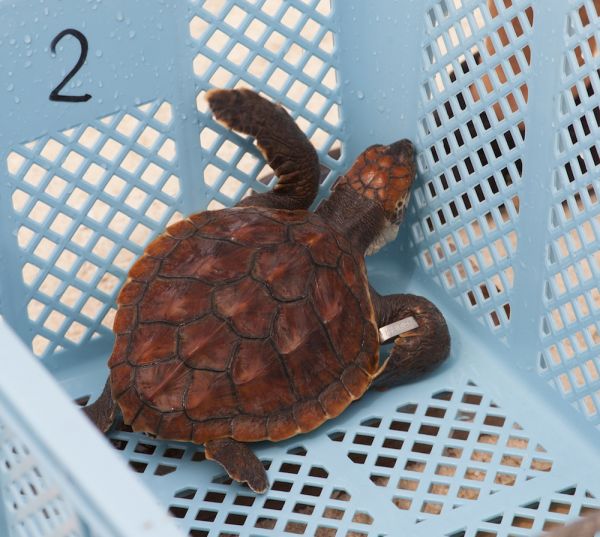 CONTRIBUTED BY JESSICA YANKEY

Turtle Crate
Recently, my family and I attended the annual turtle release by Churaumi Aquarium. We were invited by the local Boy Scout Executive, Karen Meier, from the Far East Council. Each year, there is a lottery and island residents have the opportunity to enter to try to win one of the coveted turtle release positions. This year, the family of a council executive was one of the lucky lottery winners to be picked to release a sea turtle! I was honored and excited to be included in such a special event.

Turtle Waiting
We arrived at Emerald Beach about 30 minutes before the start of the release. There were snorkelers spaced out across the beach, Karen explained, in case the turtles turned around and tried to come back. There was a community feeling of excitement and purpose. We were all here to watch the release and survival of these very special turtles.

Turtle Snorkler
The time came for everyone to walk down to the waves and to release their turtles. We watched as some of the turtles swam happily away, fading in the distance and we chuckled as some insisted upon returning to shore where they were gently prodded back to sea. Everyone watched long after the last turtle swam away, the snorkelers ensuring that none returned to shore.

Turtle Crowd
The event was truly awe inspiring and well worth the trip. The aquarium was right up the hill from the beach, so we spent the rest of the afternoon enjoying the spectacular exhibits. Next year, we will definitely be participating in the turtle lottery!

Turtle Water

Turtle Child
The next sea turtle release is scheduled for July & August of 2013 and applications are due in May. To participate in the annual sea turtle release, applicants must fill out a postcard with their contact information as well as a brief paragraph explaining why they would like to participate in the sea turtle release. The mailing address for postcard applications is:
〒905-0206424, Ishikawa, Motobu-cho, Kunigami-gun,Okinawa,Japan
Ocean Expo Park Management Center
Dolphin Section Release of Sea Turtles receptionist.