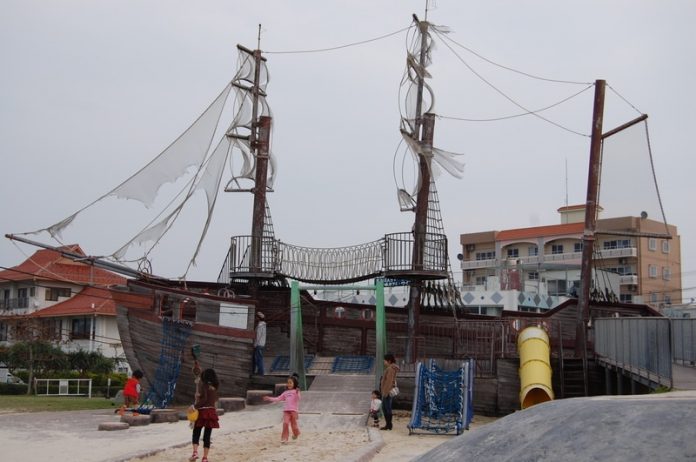 CONTRIBUTED BY JULIA CHEN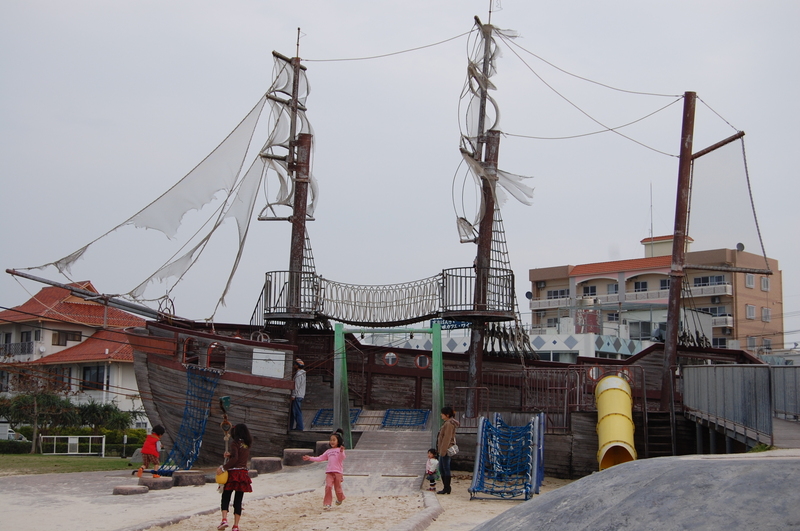 There are so many things that I will miss about Okinawa but I think one of the things that I will miss most is Araha Beach.
There are so many gorgeous spots out here with beautiful blue water but I guess Araha is special to me since I've spent quite a bit of time here with my boys. I live within walking distance so it's a convenient place to take the kids to play. They love the huge pirate ship that is one of the things that makes Araha so memorable. It's got a little bridge at the top with a lookout tower, nets to climb, a tube slide, and a zip line. Fun is aplenty here. For the smaller kids there's a more manageable version further away. There are a few teeter totters too.
The beach can get quite busy during the hotter months especially during Golden Week. The beach itself is kept quite clean and the water is pretty tame so it's nice for the little ones to wade in. Between frolicking in the ocean, playing in the sand, and the pirate ship my little guys are entertained for quite a while.
Another thing I love about Araha is the walking trail. It's so relaxing to take a walk while taking in the beautiful blue water. I see joggers and people walking their dogs all of the time. The walking trail connects with Chatan Park so you can actually walk a good distance – a little bit South of San-A in Hamby Town all of the way to Jusco in American Village.
Pavilions and grills can be rented here if you're in the mood for a beach party.
Address: 2-21 Chatan, Nakagami-gun, Chatan-cho 904-0116, Okinawa
GPS Coordinates: 26.3034984, 127.76072620000002
Directions from Kadena Gate 1:
-Take a LEFT to head South on 58 from KAB Gate 1.
-Pass the Camp Lester hospital gate and take a RIGHT at the 2nd light onto 130.-Take a LEFT at the next traffic signal.
-Pass Nishimatsuya (pink and white building with a White Rabbit on the sign) on your left.
-Look out on your right side for a pink diamond shaped sign that says Arapana on it. Take a RIGHT just after the Arapana sign for beach parking. (If you pass San-A on your left you have gone too far.)
Note: If the parking lots here are full there is an additional parking lot. You will have to go back the road you just came on passing Nishimatsuya on your right. Shortly afterwards you will see a canal with white guardrails. Make a LEFT on the far side of the canal, proceed to the end of the road, and make a RIGHT into the parking lot.