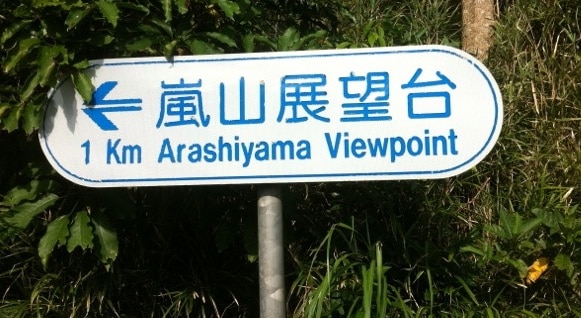 CONTRIBUTED BY QUENTIN RICHARDSON

Arashi Sign
I found this place driving to Nakijin to see the castle site. I saw the famous white signs guiding you to this area along Highway 505. It's a bit off the beaten path, but well worth the quick detour up the hill. The route starts out with twists and turns as the road winds sharply uphill.

Arashi View
Drving up the road you will pass by farms and fields full of pineapples on the left side of the road. There is a good view of the Nago countryside on the way up there for a few hundred meters until to reach the viewpoint. It's not hard to miss since it will be the only thing on the right side of the road. The parking lot is both on the right with the building, or, on the left with the building with the red roof and bathrooms.

Arashi Bldg
You will approach a bluish 2 story building with a small shop at on the first floor. It sells mostly goods grown in the nearby area (dried pineapples, nuts, ube, etc.). The kanji on the side of the buidling says Arashiyama Viewpoint (I think) and are even spelled out along the staircase. Browse if you want (you're not obligated to), but the view is what's important. At the top of the stairs you can see Nakijin on your left, Yagaji & Kouri Islands in center view, and Ogimi to your right. On the clearest of days, and array of color is displayed based on the contrast of land and sea.

Arashi Pano

Arashi Signpost
Directions:  To find this view, drive north on Highway 58 past central Nago. At the Isagawa South intersection, there will be white sign with "Arashiyama Viewpoint" listed before the crossing (Pref. Route 71). Turn left and follow this road until it's end in Goga. At this intersection (with Highway 505) you will cross a bridge a few hundred meters later and see another white sign pointing to a road leading uphill. Turn left and follow the road up until you reach the site. There will be signs along the route for reassurance just in case you feel lost.