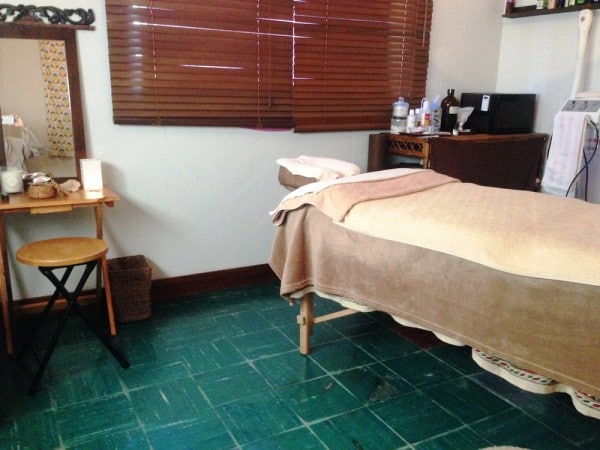 CONTRIBUTED BY KYLENE O'CONNOR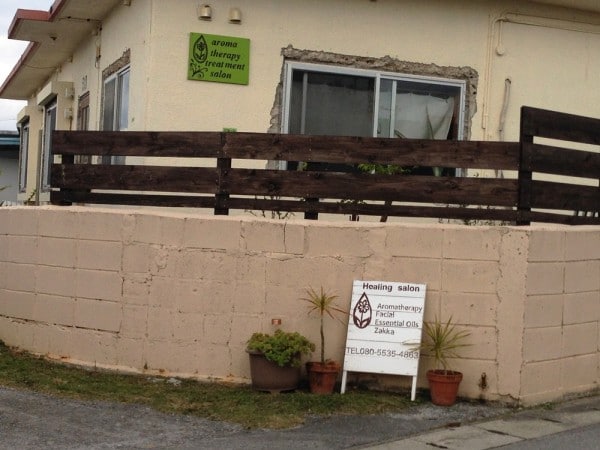 I experienced my first sensational aroma room scent at my yoga class. During meditation my instructor used it to mist a towel and draped it across my face. I inhaled a fresh, tingling scent that washed over my body, relaxing my muscles and easing my mind. After finding out that the spray was supplied by Aroma Room Sola, I was excited to schedule a facial and massage!
I visited the website and contacted the owner, Cristina, by email. Although not perfect grammar, I could understand the emails well enough to schedule my appointment. I also used the website's map and step-by-step photos to locate the facility, which is a charming home spa.
As I pulled into the driveway, Cristina came outside to welcome me into her home. Here I was greeted by warm, earthy tones and an array of fragrances floating in the air.  I was served tea as I filled out a small amount of paperwork and she questioned me on relevant medical information and desired massage pressure. I stressed that I like extremely deep pressure as I always do for a first time massage. I was surprised at the range of aroma selection, and after some debate choose vanilla, lavender, citrus and cedar wood.
I changed into a robe and slippers in the spa room. I was again served a beverage during my footbath, which was included with the massage. I was delighted that Christina granted my request for very hot water, and enjoyed the foot soak while reading a magazine for about 20 minutes.
Next I was given a full-body hour massage. The table was comfortable and although I was very relaxed, I did not find the pressure to be deep enough despite my earlier request. About 10 minutes into the massage I asked if she could increase the pressure. Although she did grant my request, she only increased it by a very small amount, and was not nearly as intense as I prefer. At this point I reasoned that the massage is more about the scented oils and less about deep muscle penetration. Following the massage was a facial, also lasting an hour. I enjoyed the facial more, although during the scalp and facial massage I would have preferred a stronger touch as well. She used many creams and masks that seemed to be high quality and felt amazing on my skin.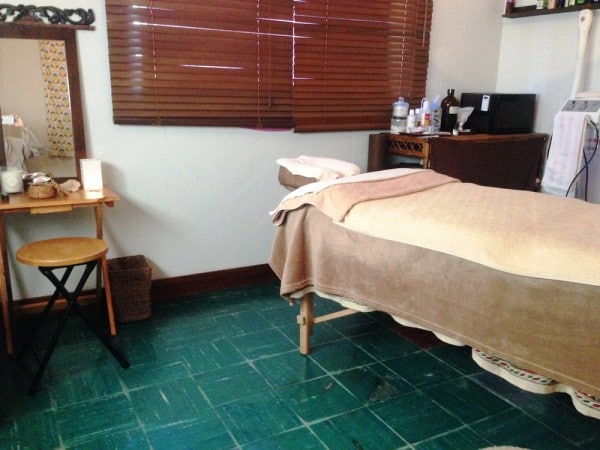 During my treatments I found out that Christina is Portuguese but has lived in Japan most of her life, making her fluent in both languages. I was extremely impressed with her hospitality from start to finish. She even walked my out to my car and helped me back out! I didn't feel rushed as I often do at spas and salons in America. She truly took her time with me. I felt more like a friend or family then a client. I would recommend her services to anyone who could use some time to decompress, although I would say if you are looking for a deep tissue massage this might not be the place for you. She also offers soap and aroma spray making classes.
Website: Aroma Room Sola (Look for the "Engrish" Menu)
Phone: 080-5535-4863
Hours: Varies, contact for appointment
Payment: Yen only. Prices range from 1000-5000 yen depending on length/type of treatment.
Address: 271, Furugen Yomitan
Directions: From Kadena Gate 1 turn right on 58. Continue North on 58 until you come to the Mizugama intersection. Turn left on Mizugama.. The road will split into two. Go left and cross the red bridge. You will see Oblee Mexican restaurant up on the right. Turn right at Oblee restaurant. Travel a few houses down and Aroma Room Sola will be on your left. There are signs directing you to the house.