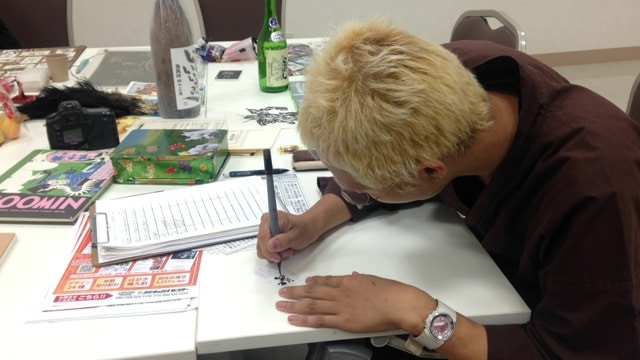 CONTRIBUTED BY ELIZA GROFF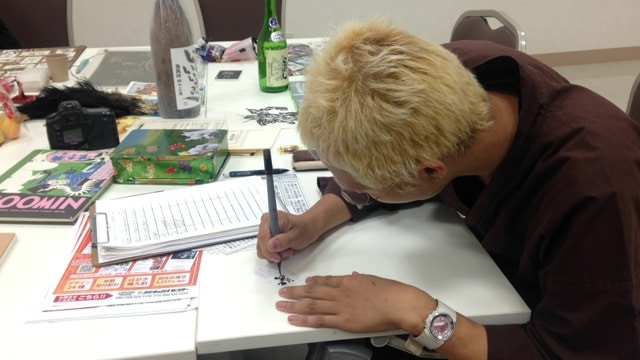 Several weeks ago, I went to Kokusai Street in Naha with some friends. We stumbled upon an art exhibition featuring a Japanese calligraphy artist by the name of Soyamax, or Naoyuki Soyama. First we were moved by his beautiful art, and then by the story of his life.
Soyamax often uses bright colors and Kanji symbols to create compilations of artwork; sometimes he uses traditional Okinawan paper, sometimes black canvas, and other times whatever he feels is a perfect background for the image in his head. We loved his use of bright colors, and traditional Japanese symbolic figures like dragons and bamboo, artfully woven together with elegant Kanji symbols.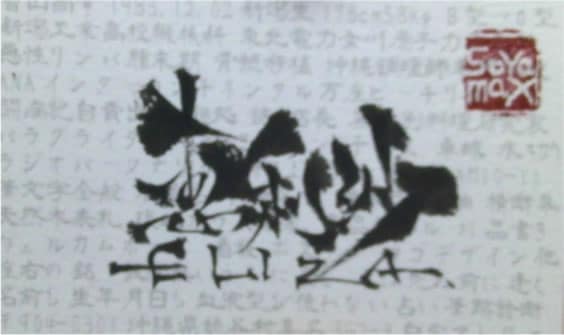 We wandered into his exhibition, where Soyamax greeted us with great energy and s bright smile. He had us write our names on a clipboard in English, and then he translated the syllables to the Kanji equivalent, and then painted the calligraphic symbols for each of our names on the back of his business card. He explained the meaning of the symbols that he chose to represent us.
Each symbol that he chose for my name flattered me deeply, like a true businessman would know how to do: Eliza E (Giving) Li (Smart) Za (Beauty). I left his art exhibition with a sense of awe at how quickly he could draw the beautiful calligraphy, and how cleverly he came up with the Kanji meaning of our names. But more than that, he has a beautiful life story.
When Naoyuki Soyama was 18, he was diagnosed with terminal cancer, a type of lymphoma. He received a bone marrow transplant when he was 19, and decided from that point on to follow his passion and dreams as an artist. He is now 31 years old. Soyamax makes custom art, and he has a large collection of pieces for sale. You can find him on Facebook, Instagram, LINE, Twitter, or via his website.
His artwork is affordable, and a perfect gift for friends or family for a special occasion. The exhibition in Naha that we went to was a one-time event, but you can contact him to meet him in Yomitan at his gallery.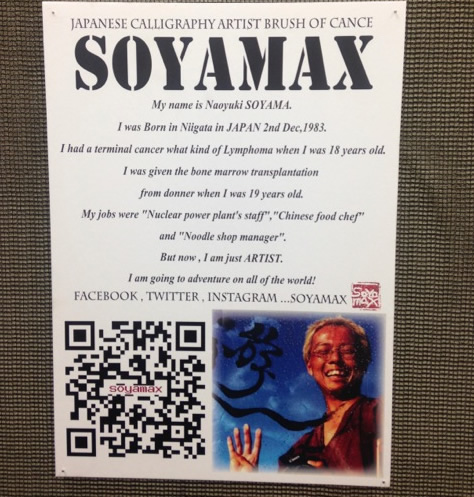 Phone: 090-8615-6786
Address: 362-3 Kina Yomitan Okinawa Japan (gallery address)
Map Coordinates: 26.4007802, 127.75305980000007
Website: Art by Soyamax