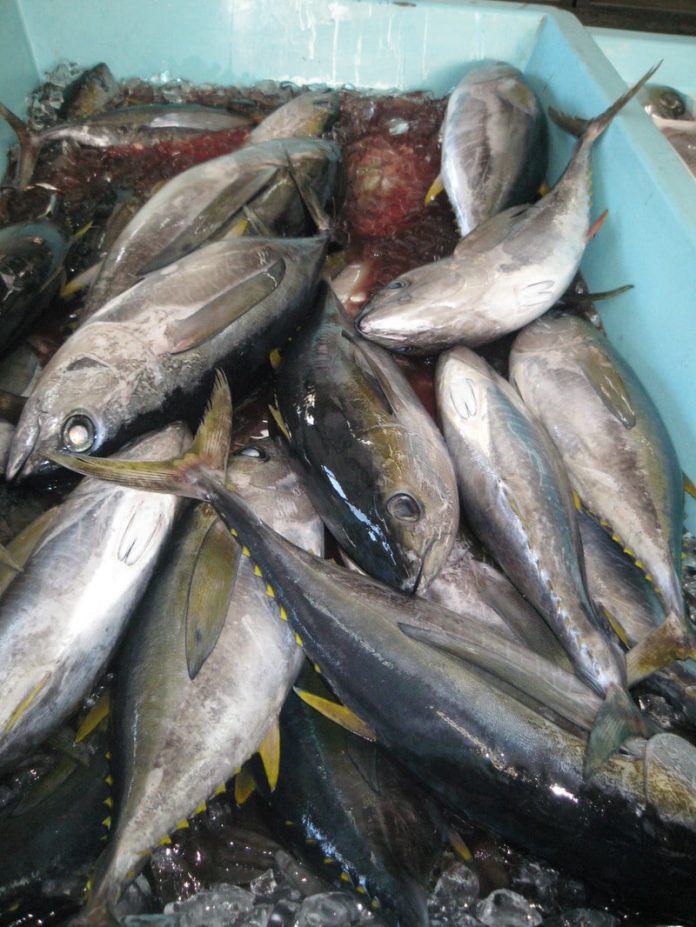 CONTRIBUTED BY DIANA MIDDLETON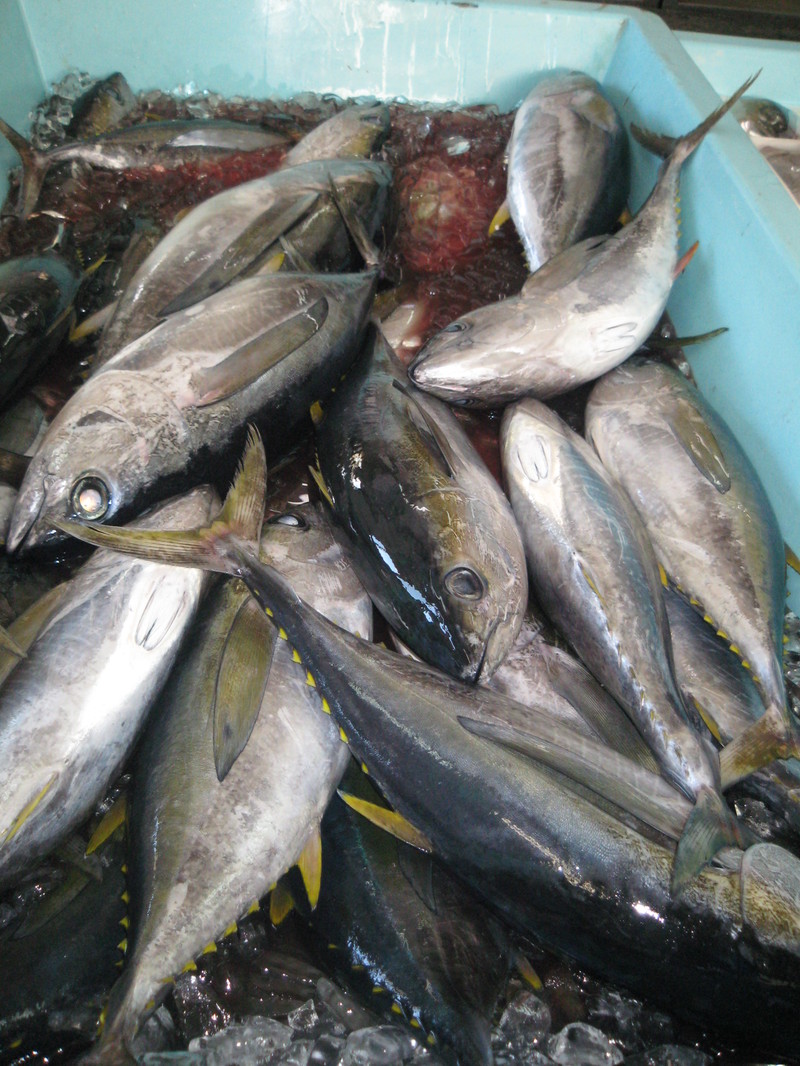 Thanks to my good friend Julie for showing me this great market. When you get a chance, stop by this fish market for all of your seafood needs, including fish, octopus, lobster, & clams, just to name a few. Here you'll find fresh seafood of all kinds and a friendly staff to help you along the way. As you can see from the pictures, the market also stocks food and supplies such as rice, spices, and much more. However, it is important to know what you are looking for because the packaging is not in English.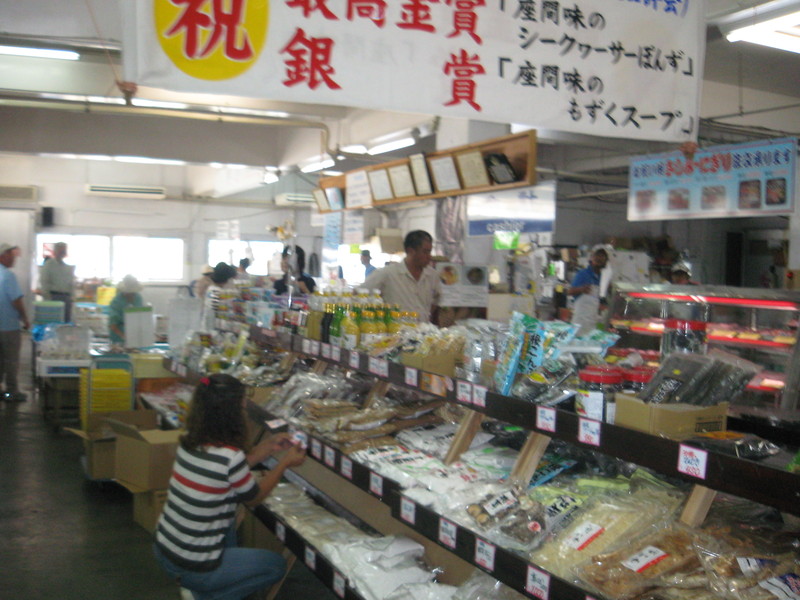 The market does have a fish chart translated in English to help you pick the right fish. Also, the instructions for buying your fish are in English as well. Basically, you take a number and decide how you want your fish (whole or fileted). They'll fix it right up for you while you wait and will call your number when it is ready.
Inside the market is a restaurant where you can order a delicious meal. Don't be afraid of all of the signs and fast paced ordering system. They have a menu in English that the cashier will show you with prices listed. Just pick what you want, pay and when your order comes up, you can enjoy it in the casual dining area (indoors and outdoors). I had the lobster set and my friend Julie had the fish. Oishii!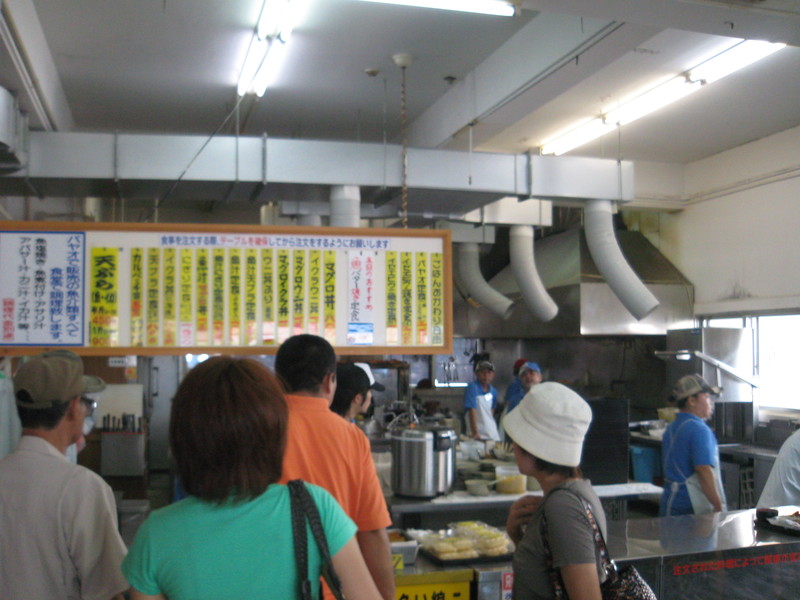 Also, on the outside of the restaurant to the right, you can buy brown bags of freshly fried fish to go! On the left side, you can purchase fresh fruits and vegetables as well as some baked goods.
It's a one-stop shop and the place to go for fresh food from the sea!
Hours: The market is open daily from 10:30 a.m. to 6:00 p.m. during the summer and closes a half an hour earlier in the winter at 5:30 p.m. The restaurant opens daily at 11:00 a.m. and closes with the market.
Address: 1 Chome-11-34 Awase
Google Maps Coordinates: 26.3237320372, 127.834737991
Directions from Kadena gate 2: Get ready for lots of Route 85's!!
Turn left at the first light outside Kadena gate 2, which is Route 85. Once on 85, go straight until you reach the Ikentou Higashi intersection, which should be the 4th light. At this light you'll turn right onto Route 85 (if you were to go straight, it would turn into 74 and lead you to Kadena gate 3). Once you're on this 85, go straight for quite a bit. You'll pass Marinos and Main City mall on the right. You'll go through Route 75. You'll pass Makeman on the left.
Finally, you'll get to the Maehara intersection. There will be a Jusco on the bottom right-hand corner of this intersection and the Birthday Store in the top left-hand corner. Turn right at this intersection onto, you guessed it, Route 85 (going left would take you onto Route 33)! Once on 85, count 4 lights while passing the Sports Depot and Nitori on the right and Nakagusuku Port on the left.
Once at the 4th light, turn left. You'll see this building:

If you get to MOS burger on the left and San-A on the right, you've gone one light too far, so just U-turn.
Once you turn into the correct intersection, you'll see the boats docked at port straight ahead and the restaurant/market is on the right. You'll see a tent on the right before you find parking (see first picture below). Once you park and turn facing towards Route 85, not the sea, you'll see the building shown in the bottom picture.