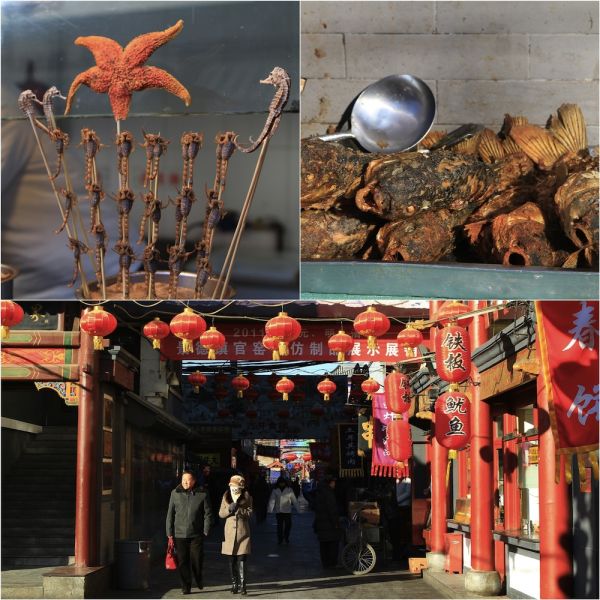 CONTRIBUTED BY NATALIA TSOI
My boyfriend and I love to travel. This January, we decided to go to Beijing to celebrate the Dragon Chinese New Year. I flew from Hong Kong to Beijing and my boyfriend flew via Air China's new direct route from Naha to Beijing. It took about 2.5 hours to arrive from Naha.
We stayed at the Park Plaza Beijing Wangfujing Hotel. To my surprise, the hotel upgraded our room to a bigger room with comfortable sofa and king bed. Good location, good service and free wifi, everything is perfect!

Wangfujing is a central area in Beijing. Wangfujing Street has many kinds of shops, department stores, restaurants and local snacks. Nearby are Tiananmen and the Forbidden City.

Tiananmen Square is a world-recognized symbol of China, where Mao Zedong declared the foundation of the People's Republic of China on October 1, 1949.

The Forbidden City is where the Chinese Emperor lived with many wives and servants. Its construction began in 1406 and its history spans nearly 600 years. Today it is called the Palace Museum. It was declared a World Heritage Site in 1987. (photo 5-6)

Beijing is not only government building and palaces. The real old Beijing can be found on the narrow residential alleys, or hutongs. The hutong is an important part of Beijing culture. Every hutong has their own history, formed by the families who lived there for hundreds of years.


Another one of the symbols of China, the Great Wall is possible to visit in day trip from Beijing. There are many locations on the wall that are accessible to visitors. Badaling is the closest one to Beijing. We took a train to Badaling station from Beijing North Railway Station, and traveled around 1.5 hours. A cable car takes visitors to the wall itself.
Badaling had many people all over the place. However, everyone was happy and friendly. The views were amazing. Sometimes, the climbing was quite hard, because the stone ramps and stairs were steep, but there was hand rail to hold on to. Only when you stand on the wall, you can begin to understand the immense effort it took to build. From Badaling, the wall continues for as far as the eyes can see. In Chinese words, "He who doesn't reach the Great Wall is not a true man". Great Wall, Great experience!



Tips:
1) The admission fee for Badaling is RMB45. You can hike to the entrance to the wall or take cable car from the foot of the mountain to the top. The cable car ticket is RMB80 for a round trip. It saves you time which you can use to enjoy walking on the Great Wall. You will need good walking shoes because the stone walkways can be slippery. If possible, bring hand warmers in winter time, because the wind at the top is freezing cold.
2) Highly recommended to eat are Beijing-style hotpot, roasted duck and steam bun.