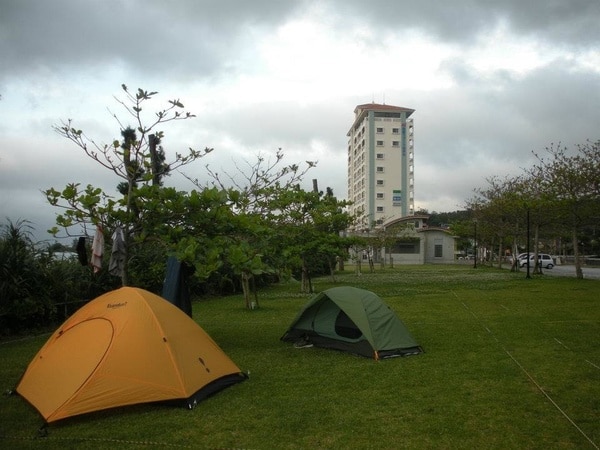 CONTRIBUTED BY BRIAN T. GUNKEL
15 March 2012, started just as it did the year prior. The weather was getting warmer, beaches start to look more inviting with every passing day, and our little sliver of paradise started showing her true colors from Peace Prayer Park to Cape Hedo North of Okuma.
Sitting at my desk, plugging in numbers and sending countless emails, I called up a friend and asked the most simple of questions, "Would you like to go for a walk?" After a brief moment of hesitation, he requested more information not knowing quite what he was getting himself into. I went on to explain that from Kadena Gate 1, heading north past Okuma and up to Cape Hedo was in the ballpark of 65 miles +/- and was very walkable.
Needless to say, the challenge was accepted and so the planning began. Where would we sleep? How far would we go? What is there to see? All questions we would answer on our 5 day, 97 Kilometer, good and bad weather adventure.
Day 1 started at 0900, on the shores of Toguchi Beach south of Torri Station. We were weighed down with 35 pounds of gear each, shoes laced up and water in hand. Our goal, the shores of Cape Manzamo. That day would comprise of light rain and overcast skies, none of which hindered a good picture opportunity. Passing over bridges and through small towns held images that will burned into our memories forever. First day distance 21.8 Kilometers.

Big Hike Tents
Day 2 started earlier than the last, around 0700, on Seragaki Beach with the classic Okinawa rain showers. With rain gear donned we set off for our next destination, Kyodo, located on the southern outskirts of Nago. Hiking through Onna Village and conquering Route 58 was in its own way surreal. This route has been driven a countless number of times, but when you slow down to 3 MPH, you see the people, the buildings and architecture, and finally the nooks and cranny's of our small island. Second day distance 14.5 Kilometers.

Big Hike Sidewalk
Day 3, like the previous, started early, with coffee on our backpacking stove and the tuna and tortilla concoction we lay claim to inventing. Our mission today was hiking through the spralling city of Nago, which we would find to be a touch of reality and the only large city we would see along our route. Walking north on Route 58 and catching the Northeast bound Route 71, we weaved through the city blocks, took pictures, indulged in the sounds of the city knowing that in a short time, this somewhat of a metropolis would be in our rear view. Third day distance 18.0 Kilometers.
Day 4, we left Yagaji Island campground (2200 Yen for two campers, two tents, two camping sites which we had our choice over the entire park). I have to point out, if you want an awesome camping expierience, look no further than this large flat green piece of grass with a small but wonderful staff. We camped at the edge of the beach, just feet away from a natural footpath leading out to an ominous but intriguing island/outcropping. We left Yagaji Island bound for Okuma where in our planning, our wives and my friend's daughter would meet us. We wandered the streets, peered into the maze of jungle, taking pictures, waving at local farmers who seemed to think we were from another planet. Fourth day distance 23.5 Kilometers.

BIg Hike Camping
Day 5. The best feeling came when we left Okuma with day packs weighing a trivial 10lbs, all with the sunshine on our shoulders. We had conquered this far, and within 20 kilometers, we would have successfully completed our trek to the Cape. The last 20km was very rural and the small villages we visited were few and far between. Bus stops became sights for sore eyes and our stopping points. After a quick handfull of trail mix and extra water we would hit the road. Day five distance 19.4 Kilometers.
As we approached the entrance to Cape Hedo with the wandering tourists, camera's in hand, I asked myself and of my fellow hiker "What will you say to people when they ask why you walked this far just to turn around and go back to your house, your work, the emails….reality?" Although we chuckled at not knowing what we would say, I found my answer 72 hours later from a mountaineering documentary based on the life of George Mallory in 1917. In his words, he made it perfecly clear in a speach about his persuit in hiking Mount Everest, he said "Because it's there".

Big Hike Duo
So we made our way past the monuments and the tourists to the Northern most portion of the park and after a countdown we laid our hands on a northern fence post marking our arrival and our completion to our journey. Making our way over the jagged rock, we found a geocache fitting of a momento to leave commemoritive of our trip. Our shoelaces.
Sidewalks line the roads all the way North until you get within 7km of Cape Hedo in which it turns into misc wide shoulders and intermittent side walks.
If you decide to take a day hike or try and tackle the full 97.2 Kilometers, it will not be something you regret. We are forever grateful for the good weather, the hand shakes, the Family Marts, and sights and sounds of our small island. As always, good luck and be safe!