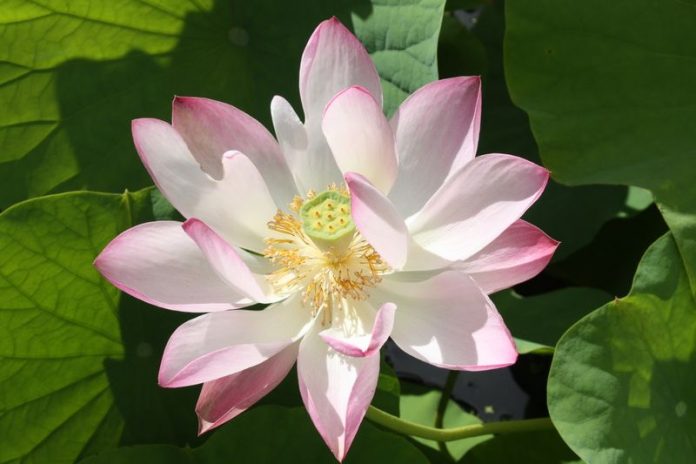 CONTRIBUTED BY MARY RICHARDSON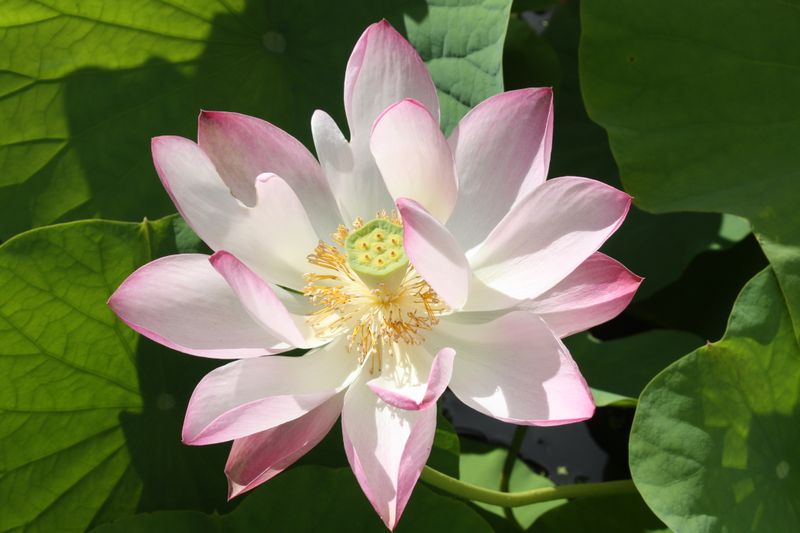 Bios on the Hill is a forest and nature park located near Onna Village.  I especially recommend it for children, but last weekend my husband and I went as a childless couple and we had a fabulous time.
 There is a huge array of things to do and see. At the entrance, they give you a map of the park, which is Japanese, but it's easy to figure out and plan your time there. Some of the main attractions include:
Water buffalo cart rides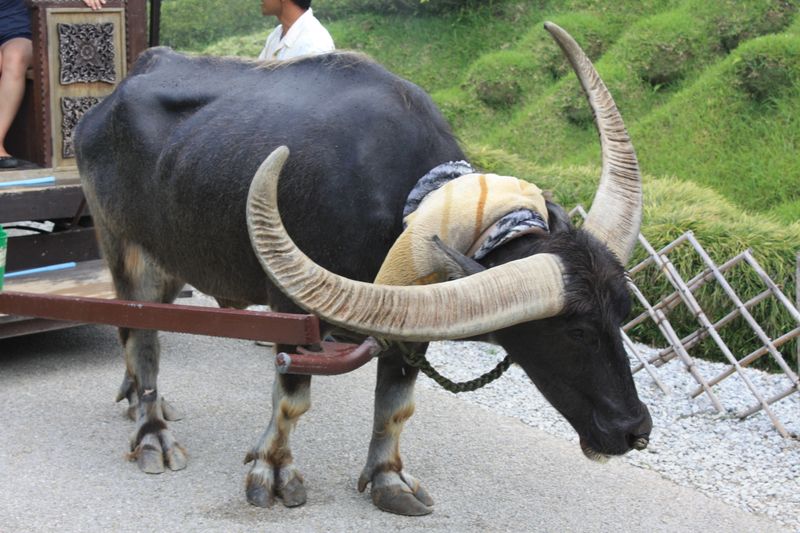 Lily ponds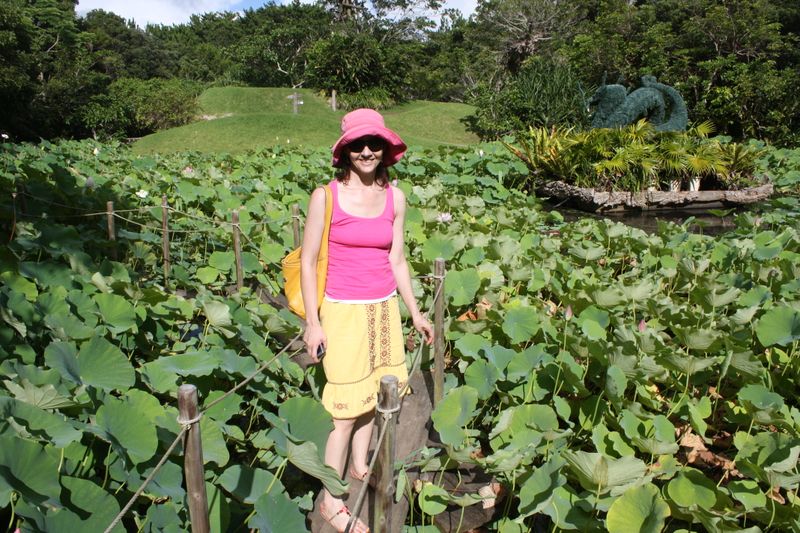 Stilts – Everyone except for me seemed to be able to balance on them.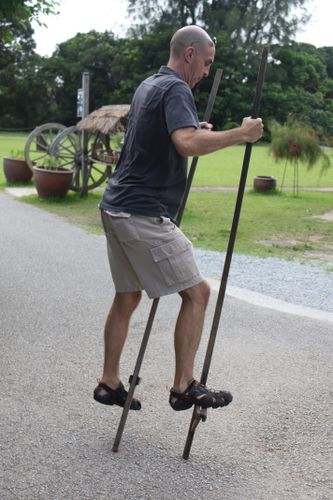 Goats and pigs with leashes so you can take them for a walk!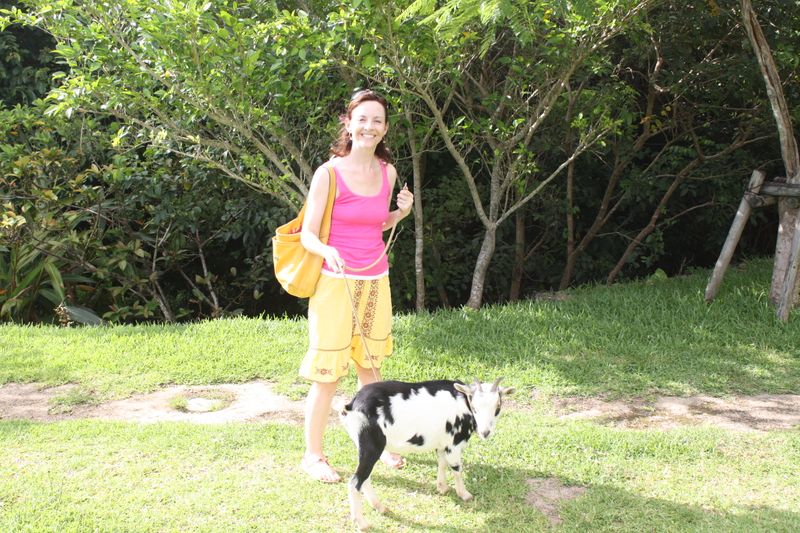 A Giant Swing—we had to wait while four Japanese grown men got their fill of this!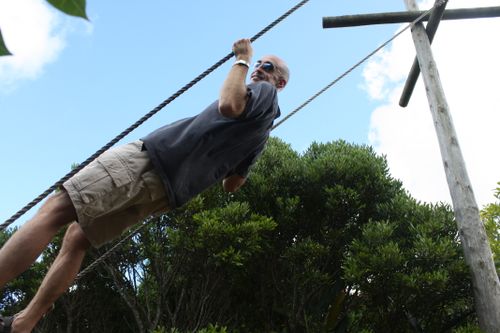 Lots of butterflies! Amazingly, this butterfly perched itself on my finger and let me carry him around for a long time.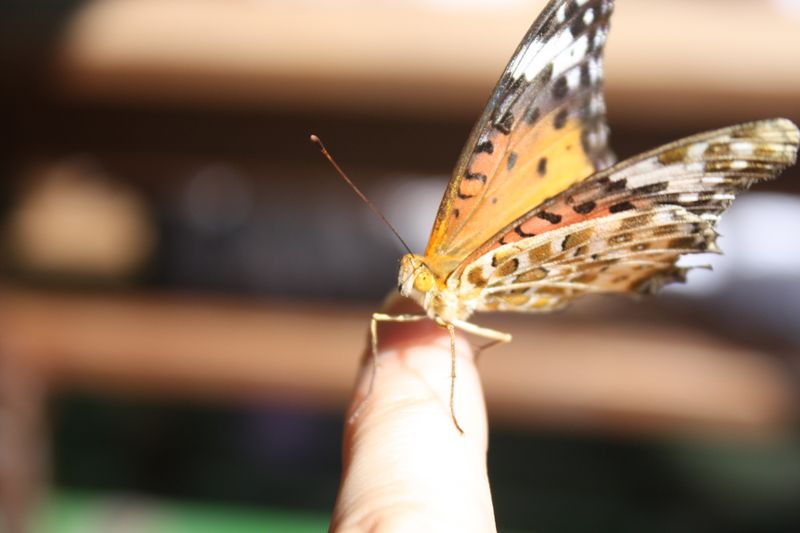 In addition, there are exotic plants and orchids to view and buy, slides and treehouses, canoe and standing kayaks (for an extra charge; quite expensive), and these dragons to cool you down during the steamy Okinawan summer… they spray a heavenly cool mist every hour or so.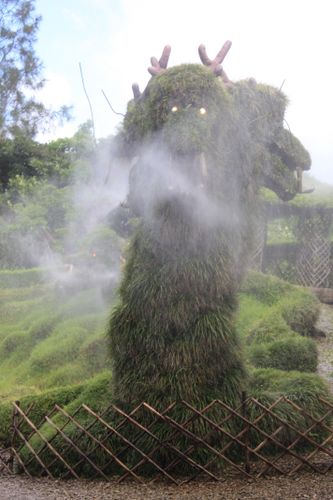 We also paid extra (~600 yen/ person) for a 25- minute boat ride of a small riverbank. It was a nice break from the heat and we saw some neat things, but the entire tour was in Japanese, so most of the interesting commentary was completely lost on us! When you purchase your entrance tickets to the park, you can buy or opt out of this ride.  
Bios also has several restaurants and snack shops selling sandwiches, rice balls, fruit drinks, etc. It looked like you could also pack a lunch from home and have a picnic if you wanted.
We had so much fun this day that we made a video travelogue of it. You're welcome to check it out!
---
Bios on the Hill
Cost: Adults: 690Y entrance only/1,200y entrance and boat ride. Children 4 yrs to high school: 350Y entrance only/700Y entrance and boat ride. There is a discount for groups of 20 or more.
Hours: 0900-1800 (last entrance is 1700)
Phone: 098-965-3400
Address: Japan, Okinawa Prefecture, Uruma, Ishikawa Kadekaru, 961
GPS Coordinates: 26.4223169689, 127.795901907
Directions:
Take the expressway north to Exit 6. Go to the second light and turn right (onto 329) Go through the tunnel and turn right at the light just after the tunnel. (there is a green & yellow sign that says Bios on it on the corner) This is the 6. Go a little ways and you will see a sign for the Royal Garden Hotel. Turn left here. Go up the hill on a very curvy road until you see another green & yellow sign with Bios written at the top. Turn left at that sign. You will follow a very curvy narrow road a little ways and dead end into the parking lot.
From Kadena: Turn right out Kadena gate 1. Just after the Renessiance Hotel you will see a sign for the 6. (this is the 6 that will turn to the right. You will pass three roads that say 6 to your left.) Turn RIGHT onto the 6. Go straight (don't turn off this road even if it says the 6 goes a different way) You will see a sign for the Royal Garden Hotel. Turn right at that sign. Go until you see a green & yellow sign with Bios written at the top and turn left. If you get to the hotel, you missed it. Go back down the hill.