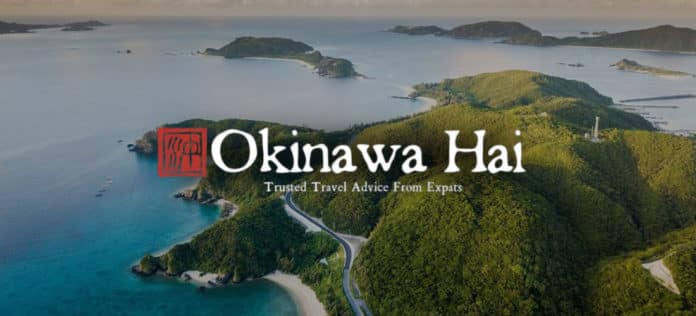 CONTRIBUTED BY KAHO
I need readers' help on this request as I do not have all the necessary information!  I'd appreciate it if you could pitch in and provide the info. to us in the comment section especially on where to get tables, chairs, bouncy houses, canopies, etc.  Any input will be appreciated!!
I was wondering if you could write a post on doing birthday parties here on island.  We have done 3 bowling birthday parties and now Owen wants to do a birthday party at home.  Where do you get supplies (tables, chairs, bouncy houses, canopies, party plates, invitations, and goodies)?  He is turning 6 and I dont even know where to start looking.  Bowling alley is so easy as they do it all for you (including invites!)
Party Supplies
Oriental Trading Company is a popular company for party supplies.  I personally have never ordered from the company myself, but many people have suggested this company for party supplies. It seems that they have pretty much everything you need to have any type of parties.
I would also try 100 Yen shops to look for some party supplies.
I do not know where people go to rent tables, chairs, bouncy houses, and canopies.  If you know of the information on this, please share the info. with us. Thank you!
Places to have a birthday party
If you live on base, you probably have enough space to have a party at home, but if you live off base, you might want to go somewhere outside to host a party due to the limited space.  I am not a great party planner, but I have friends who are very creative, so here I am going to write about places where my friends had their children's parties. We had a great time, so I say that I recommend those places for parties.
Mona Kids Jungle is an indoor play area located right by Camp Kinser.  It is a neat place to host a party for little kids.  There is a lounge area for adults to sit and watch kids play.  There are also two little party rooms you can rent and you are allowed to bring in food from outside.  Kids can play in the indoor play area first and then you can bring them into the little private room to have some snacks.  You do not have to worry about the weather since it is an indoor facility.
WAGO – aka Family Fun Land
WAGO is also an indoor amusement facility with two different play areas for little kids and a game area for big kids and grown-ups.  There is a party room/space you can reserve which is very spacious.  The party room is right next to a Japanese fast food stand of WAGO, but you can also bring in your own refreshments and they could provide water and plastic cups.
TEE HOUSE PARK ON KADENA
This is a neat park for a party.  It has a couple of covered areas with tables and benches where you can serve food and drinks.  If you rent a bouncy house, you can place it next to a covered area.  Kids can also play at two different playgrounds of the park.  It can get very windy depending on a season, but if the weather is nice, it is a fun place to have a party.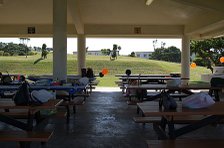 Sunabe Baba Park aka Dolphine Park
If you live near the sea wall or close to Kadena Gate 1, this is a cool park to have a party for kids.  It has a covered area behind the palyground with tables and benches.  This sitting area has a little more privacy than the playground area, so you do not have to worry about strangers coming to the table.  (At least we didn't have that problem.)  There is some open space next to the tables, so if you want, you can do some games.  There is a small beach behind the park, so if the weather is nice and hot, kids can play in the water, too.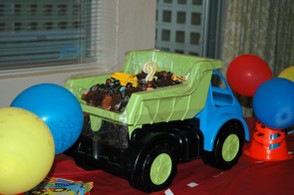 If you could share birthday party ideas and places to get supplies on Okinawa, that will be wonderful.