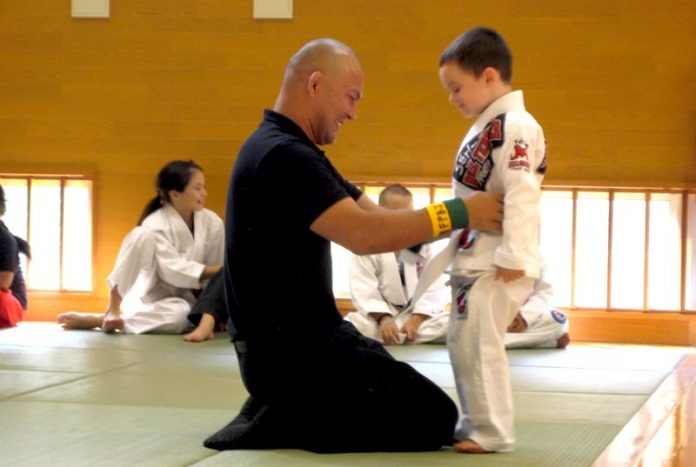 CONTRIBUTED BY HEATHER SHAFER
Parenting is not always a bowl of cherries, especially when you have an energetic, in-your-face, rambunctious, and all around difficult five year old son.  Don't get me wrong, I love my children, but they can be quite the handful.
Recently, I stumbled upon the new Brazilian Jiu-Jitsu class at the Courtney gym — Fredson Paixao Brazilian Jiu-Jitsu Okinawa (FPBJJO for short).  My son took interest immediately and even though we were at the gym for a different activity, my son convinced me that he would behave if I let him watch the Jiu-Jitsu.  I reluctantly agreed because it was easier than trying to make him sit next to me for an hour.  So, my wild-child son ventured over to the door of the practice to observe.  To my amazement, he sat there the entire time, quietly, patiently, with a smile on his face the entire time.
Afterward, I spoke with the Professor, (the Brazilian Jiu-Jitsu teacher) Ivan Sakamoto, the Marine who helped start the class, and a few other parents. They convinced me to bring my son to the next class as a trial to see how he would do.  So, he went to the next class and my son was lit up with excitement the entire time, and before we knew it, he was the newest member of the class.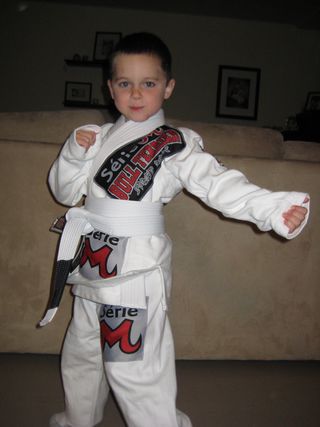 Ever since my son has been going to FPBJJO, his aggression at home has diminished, and his all around behavior has improved beyond my imagination. He finally found a productive and positive outlet for all of his energy.  Further, my husband decided to join the adult class, which is right after the child class. He didn't have a Gi (the uniform) so he used his cami's instead.  My husband, who is a fitness guru, said that it is the best workout he has ever had on a regular basis, and that muscles he didn't even know existed were sore from the practice.
Brazilian Jiu-Jitsu is a martial art sport that focuses on grappling and ground fighting primarily for self-defense.  The wonderful thing about Brazilian Jiu-Jitsu is that no matter the size or strength of the person, he/she will be able to successfully defend themselves against a stronger or bigger person, by using BJJ techniques.
The Professor, Ivan Sakamoto, is from an area in Brazil near the Amazon.  He is the brother of Fredson Paixao, a nine time Brazilian champion for BJJ and a five time World Champion.  He is currently a fighter in World Extreme Cage-fighting and is recognized world-wide.  Ivan Sakamoto began training with his brother at the age of 13 and earned his black belt in December 2008.  He came to Okinawa because his wife is from Okinawa.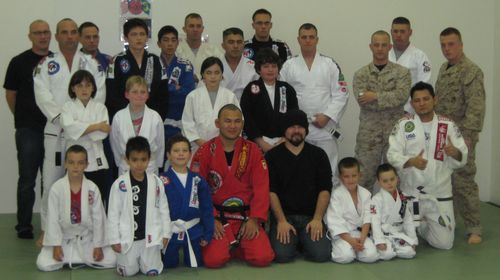 He currently teaches Brazilian Jiu-Jistu at Kadena for adults on Monday, Wednesday, and Friday from 7:00 p.m. to 9:00 p.m.  He teaches at Camp Courtney on Tuesday, Thursday and Saturday.  The class for children is from 5:00 p.m. to 6:30 Tuesday and Thursday, and 2:00 p.m. to 3:00 p.m. on Saturday. The adult class is from 7:00 p.m. to 9:00 p.m. on Tuesday and Thursday and 3:00 p.m. to 5:00 p.m. on Saturday. The ages for the children's class is 5 to 14 (at the discretion of Ivan), and the adult class starts at age 15. It costs $50 per month for children and $80 per month for adults. If you have questions about signing up please contact the Risner Gym or the Courtney Gym. The first class is free and is for you to test the water and the Professor to observe you or your child.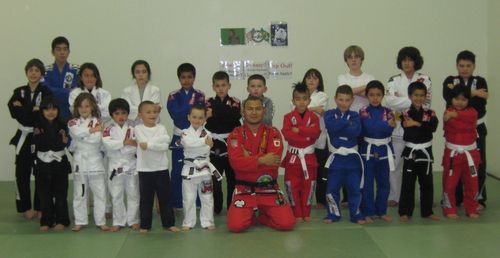 The great thing about FPBJJO is that it is for EVERYONE!  BJJ is for anyone in any physical condition and there is quite the diverse group that attends. Ivan Sakamoto and some other BJJ instructors hold competitions regularly – the next is in March.  He is also coordinating an Okinawa Open in Okinawa City (with participants from mainland Japan) in May.  For more information you can find him on myspace at https://www.myspace.com/ivan_sakamoto_jiujitsu.
I highly recommend FPBJJO to anyone young or not-so-young.  The program is amazing, Ivan Sakamoto and his family are amazing, and the group of fighters he is training are like a family.  This is a sport that the whole family can participate in.