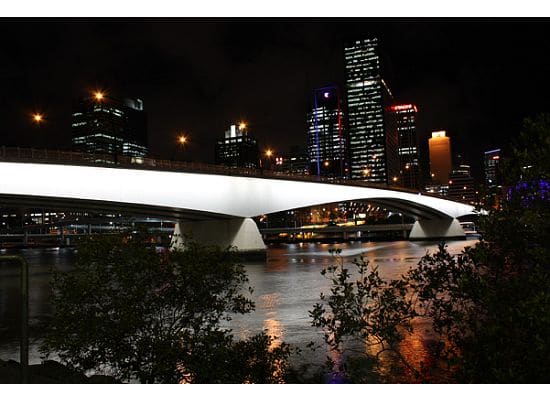 CONTRIBUTED BY ELIZABETH DE JESUS
Koalas, kangaroos, boomerangs and didgeridoos — this is what you can expect to see on a visit to Brisbane, Australia.  Nature and animal lovers will be enchanted by what this part of Australia has to offer. If you don't really consider yourself much of an animal lover, you will after this trip!  Best of all, when traveling from Okinawa you bypass the jetlag you would experience if you went down under from the States.
Brisbane is in Queensland, Australia, and is located near the Gold Coast.  It's about 12 hours by car from Sydney and, while I had originally planned to visit Sydney, I am very glad we opted for a stay in Brisbane.  Hugging a koala was a childhood dream of mine and a big reason I wanted to visit Australia.  The handling of koalas by the general public is banned in New South Wales (Sydney) but is still legal in Queensland (Brisbane).
There is so much to see in Australia:  the Sydney Opera House, the Great Barrier Reef, the Outback. However, if Australian wildlife tops your list of things to see while down under then Brisbane is the ideal center point for your vacation.

Brisbane has a lot to offer in the city: The Queen's Street Mall (which has a Target…you heard me…a Target!), Southbank Parklands and Brisbane City Beach.  That's right, they built a beach complete with white sand and life guards, right in the middle of the city! You've got to love those Aussies.
Brisbane is also in close proximity to the Crocodile Hunter's Australia Zoo. Unlike any zoo to which I've ever been, the Australia Zoo offers a very interactive, up-close, hands-on experience.  Their belief is that if you can have an experience with an animal up close, you will be more active in aiding with the conservation of that animal and its habitat.  This includes giving elephants a bath, having birds zoom around your head in the stadium show and having free reign in the kangaroo enclosure.  The kangaroos were surprisingly docile and ate right from our hands!  A day at the Australia Zoo would not be complete without yelling "Crikey" with the crowd in the Crocoseum  in memory of Steve Irwin.  While I have always been his fan, I left with a renewed appreciation of his work to conserve Australia's beautiful and unique wildlife.
While you can see, and even get your photo made with, a koala at the Australia Zoo, Lone Pine Koala Sanctuary, most well-known for its photo ops with koalas, is rated one of the top-ten zoos in the world.  It is the largest koala sanctuary in the world and has attracted many celebrities from Taylor Swift to the Pope. Located just outside Brisbane, it is a tranquil animal sanctuary easily reached by city bus or ferry. Like the Australia Zoo, Lone Pine also has a very large kangaroo enclosure and there is no fence between you and those magnificent marsupials.
There was a lot more we did on this trip: Visiting the O'Reiely's Rainforest Retreat in Lamington National Park where our tour bus had to stop to let kangaroos hop across the road.  We, also, visited the Brisbane Botanical Gardens, the Newstead House and stumbled upon this aboriginal man playing a didgeridoo at the Queen's Street Mall.  However, the highlight of the trip for my family was the hands-on interaction with Australia's wildlife.
When?:  We went at Christmas which is a great time to go as it is in the middle of Australia's summer. Australians barbeque and go to the beach for Christmas so it was a unique experience.  I can recommend the trendy Hotel Ibis Brisbane for its absolutely wonderful location within walking distance to all the main attractions in the city of Brisbane.
How?:  We booked the trip with ITT on Camp Foster.  They took care of everything including our visa to get into Australia.  We met at the bowling alley the day of our flight and a bus took us along with our travel coordinator, Chris, to the airport in Naha.  Chris got our entire group through all the airports, layovers and paperwork we needed to go through and he stayed with us the entire tour.  It was truly a relaxing experience having someone else take care of all the details.
How much?:  Since we booked through ITT, we paid one fee that covered airline tickets, hotel, daily breakfast, transportation, tours once in Australia and another hotel in an overnight stay on the way home in Taiwan. Prices can vary by the season and ITT offers trips to Australia more than once a year.  Your best bet is to contact them for a price.
How long?:  Our tour was 10 days.  It's a long flight (about 8 hours) so a couple of days are spent on travel there and back.  For us, it was the perfect amount of time. ITT did a good job scheduling tours and free days in Australia so it was always enjoyable and relaxing.
Kid Friendly?:  We took our two children who are 9 and 12.  Most of the people on our tour were families with children, from teenagers to infants.   I highly recommend this tour for kids.  It was, in fact, the best family vacation we have ever taken.  After living four years in Europe my kids are use to our trips involving castles and cathedrals so for them to have the opportunity to get up close and play with Australia's animals was awesome.  Our hotel was located in a kid-friendly area of Brisbane, as well, with lots of parks and playgrounds.