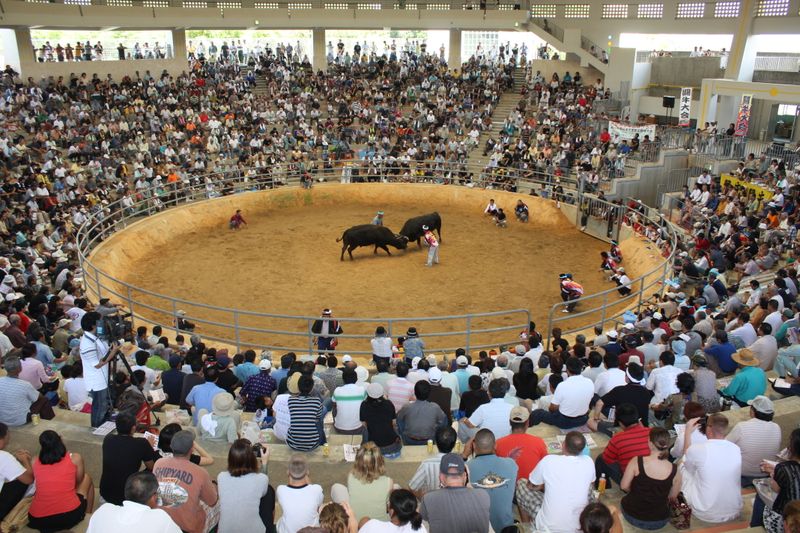 CONTRIBUTED BY MARY RICHARDSON
A few months back, my husband and I attended a bullfight in Okinawa, of all places!
Now, I've been to traditional Spanish style bullfights before and came away less than enthusiastic about recommending the gore or violence I witnessed there.
However, that was not the case here. The local Okinawan event we witnessed was NOT disturbing in the least. I highly recommend it!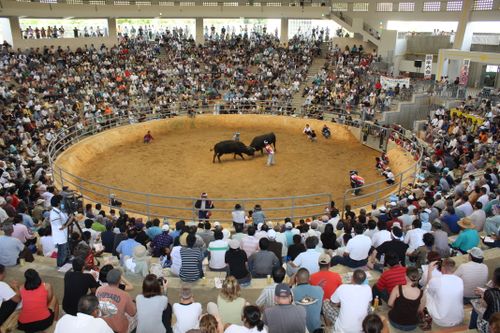 On the contrary, it turned out to be an oddly energizing, lively, and fun event for adults and children alike.  We saw tons of families there with little children. It was also great for people watching, eating grilled meats, and seeing locals in their element! Unlike many spectator sports in the states, there was no beer to be had anywhere.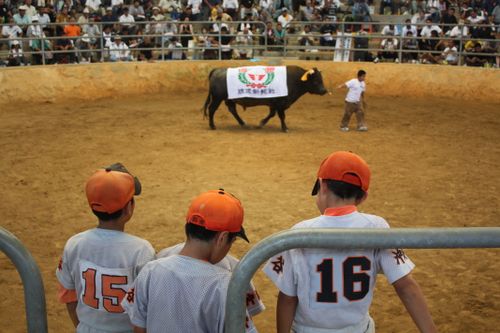 I'm certainly no expert on specific rules and particulars of Okinawan bullfights or what makes them different than say, Spanish ones. Feel free to read these other articles, if you're interested.
But I will say that from my novice perspective, the Okinawan bullfight seemed kinder and gentler than its European variant.
The fight started off with the bulls locking horns. The whole time there was a team of handlers right out there in the ring taunting, yelling, and directing the bulls towards each other.
Sure, there was some grunting and chasing and a few tense moments when one bull got cornered or pushed up the side of the ring, but the fight ended peacefully when one bull simply turned and ran. It was not a fight to the death, and we did not see a single drop of blood.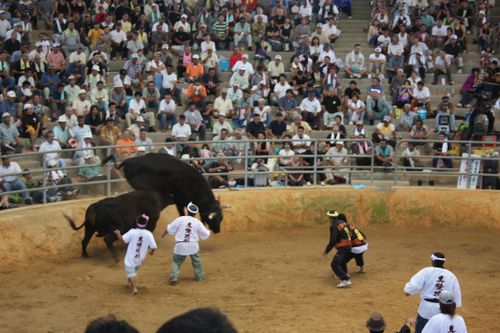 In my opinion, the best part of the event was when a bull was declared the victor.
Imagine jubilation and cheering in the crowd and great fanfare. A huge bottle of Awamori was awarded to the winner.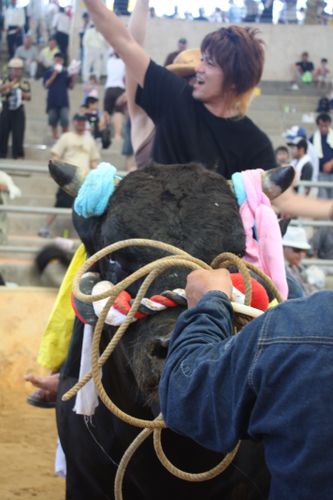 In addition, the little son or daughter of the lead handler was placed on top of the bull and rode alone around the ring. Truly an amazing sight!
A team of handlers had to hold these tiny guys on!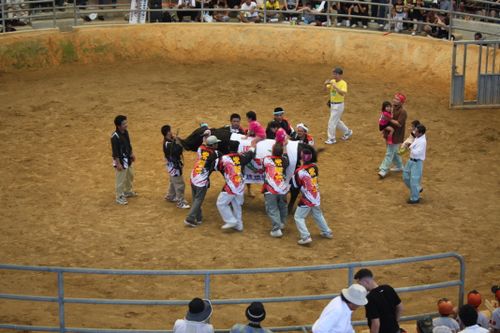 Another exciting moment was after the tournament when everyone stormed the ring and we were able to get up close and personal with the bulls.
Gingerly making contact with the overall winner bull was well … a little scary!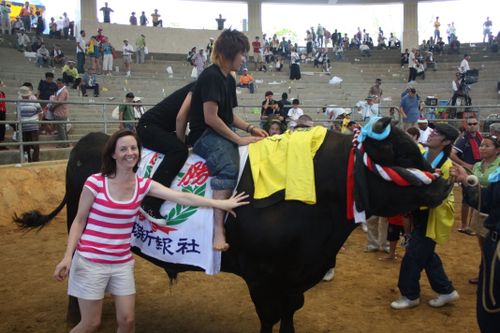 Whoops…I must have done something to make the bull mad…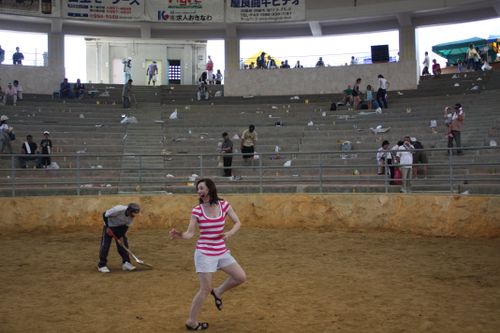 I don't know if children pay the same as adults. However, we were about an hour late, and they only charged us 1500 yen per person.  The whole event only lasts about 3 hours.
Like our blog?
Grab a T shirt or souvenir from our shop. Or click through to Amazon using one of our links and do your usual shopping. It helps us keep the site going. Thanks for your support! Cheers

Directions:
Take 58 North towards Nago. Pass Kadena AFB, continue straight, and look for Rte 73 on your right. Take 73 toward Ishikawa. Keep going until you see the dome on your left. The dome is large, grayish, and round on your left. The area is very rural, and there didn't seem to be  an official parking place apart from spaces on the street. We essentially parked in a field and walked to the stadium. The stadium is covered, but the perimeter is open-air, so pack a hat and wear sunscreen.