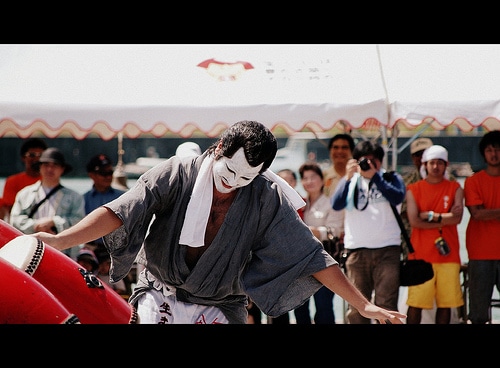 Bunka-no-hi is celebrated on November 3rd of each year, which is this Monday.
CONTRIBUTED BY JANNINE MYERS

Photo of Festival Dancer by Pamela Oliveras
Next Tuesday, the 3rd November, is a national holiday in Japan. Known as Bunka no Hi, or Culture Day, it is perhaps one of the less exciting holidays for some, and yet it is undoubtedly a day that deserves special recognition, for it was on this day in 1946 that the post-war constitution was established in Japan.
Culture Day therefore symbolizes an air of change, a relinquishing of past mistakes and a move instead towards all things that offer peace, hope, and happiness. Relevant to this process is the preservation of Japanese culture and traditional arts through annual celebrations.
Throughout Japan, typical Culture Day events include art exhibits, award ceremonies, and various types of festivals and parades. The Feudal Lord's Parade for example, is an annual event held in Kanagawa Prefecture to exhibit the type of clothing and costumes worn during the Edo Period (about 400 years ago). And in Tokyo, the most prestigious cultural and academic achievement awards (bunka kunsho) are presented by the Emperor himself at the Imperial Gardens.

 Imperial Garden photos by Jeanine Czubik
In Okinawa you can visit Shuri Castle for their annual Culture Day festival. This event will run from 1pm to 8pm, both in and around the castle, as well as in front of the prefectural Museum. If you're not able to make it to Shuri Castle on a weekday however, you can still enjoy many other ceremonial events which will be taking place today and tomorrow. For those of you looking for some great photo opportunities you won't want to miss the Ryukyu Kingdom Royal Procession; this two hour Kokusai Street parade will commence at 3pm on Sunday, and will showcase up to 1500 Okinawans in Ryukyu Dynasty costumes.

Shuri Castle photos by Jeanine Czubik
Also being held in Naha City this weekend, is the Hatagashira Festival, a two-day cultural event featuring eisa performances, a folk dance parade, and booth displays. If you wish to attend this event, you will need to make your way to Shintoshin Park in Omoromachi.
To find out about other cultural events going on, scour your local newspaper and magazine resources, or call Kadena ITT or MCCS Tours+. If you have any Japanese friends with high school-aged children, ask them about their upcoming Bunka Sai (Culture Festival), and let them know you're interested in attending. Or just keep an eye out this weekend for large crowd-gathering events and chances are you will have stumbled upon some type of culture festival.