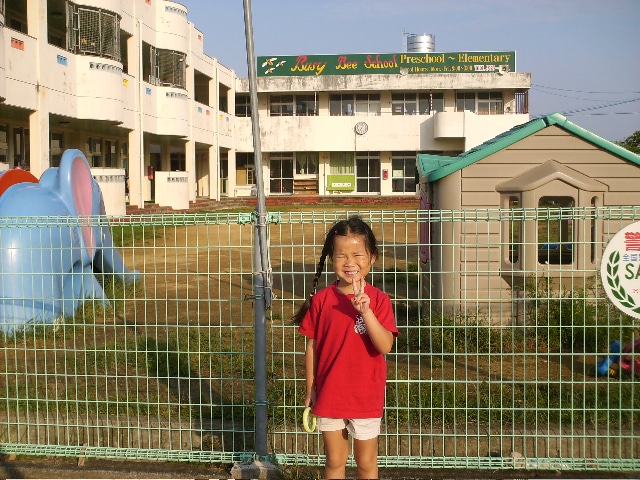 For all you parents looking for a preschool that suits your kids, we're hoping to add a little something to aid in your search. Parents of children who attend various preschools on island have filled out a series of questions about the schools for the benefit of the rest of us. We welcome more than one voice on each school since everyone has a different experience, so please feel free to add in your two cents in the comments.
If your child attends a school that has not been reviewed on this site, please contact our Submissions Manager for the template.
CONTRIBUTED BY LORI CLEYMANS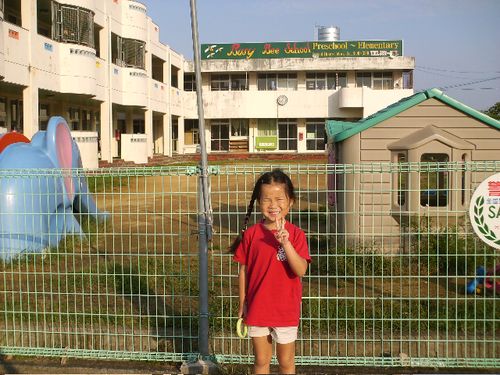 Name of the school:  Busy Bee International School – Affiliate of Future Society
Address: 1 Chome-13-2 Kitamae, Chatan, Nakagami District
Phone: Educational Director Mike Martin: cell: 090-9781-5308; office: 098-935-4751
Email: info@busybee-school.jp
Website: www.busybee-school.jp
Ages Accepted: 2 years -3rd grade
Ages of Your Kid(s) in this School:  5 Years Old
Where is this school located?  Foster Legion Gate, Across From Johnny's Used Car Lot
Contact Information:
What is the maximum number of students that your school has?  180 Children
What is the current number of students?   95
Is enrollment open/year-round enrollment or per semester?  Year-around
Does my child have to be potty-trained to attend?  No
Can I bring my child in for a pre-enrollment visit? Yes, the actually like the parents and children to check it out before enrolling
Days and hours:  Monday – Friday, 0630-1800
What are the school's hours?  0815-1530
Is the school on a Japanese or American schedule?  DODDS Schedule/American
How flexible is the school with pickup and drop-off times?   They try to accommodate the parent's schedule as much as possible.
Costs:  Yen Only
What are the registration fees?  50,000 Yen for Normal School Year – 10,000 Yen for Summer School
What are the tuition fees?  45,000Yen/Month
If any, what are the assessment and school supplies fees?  Varies depending on the grade
Are any discounts offered for referrals, siblings, volunteering, working there, etc.? A discount of 5% is applied towards tuition of each additional child enrolled
Is there a late-pickup fee?  Yes, 400Yen/Hour after 1800
How and when does the school require payment? Registration/Book fees in June. Tuition and other costs on via either cash or bill paying service
Parent Involvement and Interaction:
Does the school encourage spontaneous visits from parents?  Yes, if you make advanced arrangements to insure no major interruptions to the classroom schedules
How do you communicate with parents?  Newsletters, periodic notifications and emails
Is there a daily report or other process for informing parents of what children did during the day (naps, BMs, snacks, etc.)?    Parents/students are provided a classroom schedule that outlines the times for the various subjects being taught.
Are there parent/teacher conferences?  Yes, during the 1st and 3rd Semester, conferences are held.  Additional conferences or discussions can be held depending on the need.
Classroom Structure and Size:
How are the kids grouped? Mixed ages / grouped by age?  Mixed ages determined by acquired skills in both English and Japanese
What's the teacher-child ratio in each group? (Eng: English   Ja: Japanese)
Toddlers – 12 students, Teachers – 1 each Eng/Ja
Pre-school – 14 students, Teachers – 1 each Eng/Ja
Pre-K – 11 students, Teachers – 1 ea Eng/Ja
Kindergarten – 14 students, Teachers – 1 ea Eng/Ja
First Grade – 22 students, Teachers – 2 ea Eng/Ja
Second Grade – 8 students, Teachers – 1 ea Eng/Ja
Third Grade – 6 students, Teacher – 1 ea Eng/Ja
Multi-Age – 6 students, Teachers – 1 ea Eng/Ja
How many full-time teachers do you have? How many assistants?  14 Full-Time teachers – No Assistants
What is the school's educational philosophy? Is the school program developmentally-based or does it have an academic focus?  The school believes each child has the potential to develop into a successful person and that being mulit-equipped in a second language can help increase their success.
Is there a playground for the children to play on?  Yes
What do the children do on any given day?  They work on their skills in the academics of both English and Japanese subjects, develop their creative skills; via art, music, speaking and athletic abilities.
Are there extracurricular activities or field trips? Yes
How does the school discipline children? Various methods are used for discipline: Time-outs, writing assignments and other measures if necessary.
How does the school comfort children?   With love and attention
Final Comments or Observations about the School:  
My daughter has been attending Busy Bee for 2 years now (Pre-school and Kindergarten) and will be sending her there for 1st grade as well.  She enjoys going to school every day.  Her teachers have worked with her individually to help her excel in many areas and she has picked up the Japanese language very quickly.  Her first week there, she cried because it was new and different and she didn't understand some of the students.  But now she gets upset when I pick her up because she wants to stay at school!
She is much more advanced than the students on base, which is why we chose to keep her off base.  They learned to read in Pre-School and her teacher now works with her on sentence structure, advanced math and she writes/reads/speaks Japanese.  I'm very impressed with how much she has learned.
In addition to the regular curriculum, they did a speech/talent show this year, participated in an art contest that was run through the Kadena schools, had holiday parties for Halloween, Thanksgiving, Christmas, Valentine's Day, and St. Patrick's Day.  At the Christmas concert, they had Santa Claus visit and all of the children performed songs/dances.  They have an option for your child to take swim lessons (extra cost) and piano lessons (extra cost).  My daughter has been going to the swim lessons (a bus picks her up, a Busy Bee teacher comes along) for the past year and she has really enjoyed it.  I will keep her in swimming next year as well.  For the older children, there is an orchestra and they are really good!
Overall, I'm very impressed with this school.  I wish we weren't PCSing next year since I know it will be tough to find something as good as Busy Bee.  I would recommend this school to anyone.