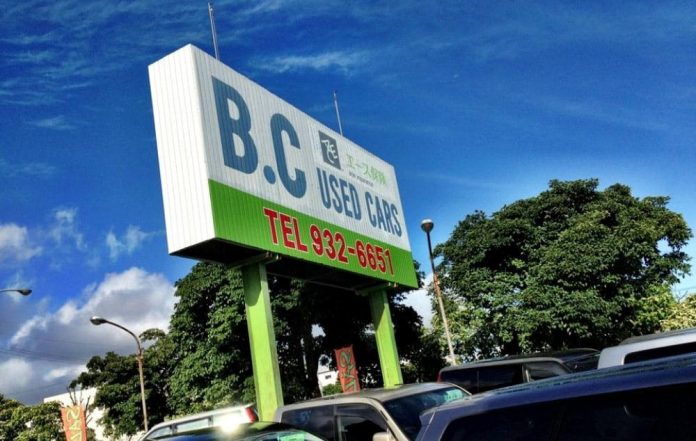 CONTRIBUTED BY SHELL BURGER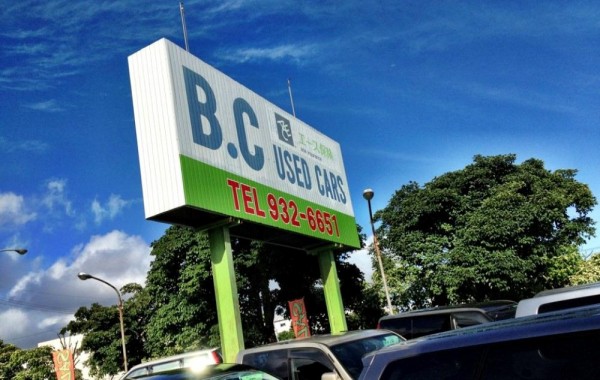 When we first arrived on-island last June, one of the first things we wanted to do was buy a car. We felt badly constantly asking our sponsor for rides to places—especially since we have a two-year-old and kept having to install and uninstall her car seat every time we needed a ride. Luckily for us, the day we spent looking around at cars had us ending at BC Motors. There are many possible options when looking for a car on-island. You can purchase from an individual via bookoo, the lemon lots, or classifieds, or you can check out one of the dealers like BC Motors. Since we planned on being on-island for several years, we wanted cars that were a little newer and that would last awhile.
We stopped at a couple of different lots, but for some reason kept returning to BC Motors. The friendly customer service we received from our salesman, Reggie, was unparalleled. Comparing car salesmen here on Okinawa to ones back in the states, I would have to say I prefer Okinawa. Reggie wasn't pushy and answered all the questions we had without making us feel like we had to buy from him. He even suggested we check out their other lot on Highway 58 to see if they had other cars we liked better.
I had done research back in the states on the different types of cars available on-island so I knew exactly what I wanted. How did I research used cars, you ask? Since several of the various car dealerships have websites, I perused them for a couple of weeks, watching the availability of certain cars. I then took the make, model, and year information and started googling away. My goal was to find a family-friendly vehicle that would be safe, fuel efficient, and would be easy to maneuver through some of Okinawa's back roads. I ended up deciding I wanted a Honda Spike probably a couple of months before arriving on island. Luckily I found my "Millennium Spike," as I lovingly call my car, at the BC Motors just outside gate 2. Although most vehicles on-island tend to be pretty neutral in color, mostly whites and silvers, I was coerced into going after my bright red spike by my husband. By purchasing a bright color, I don't have problems locating my car in parking lots.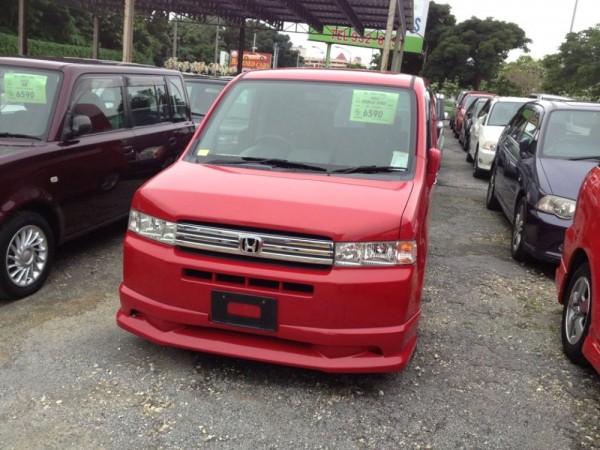 My husband wasn't as prepared as I was on what he wanted to get. As with most people arriving on-island, he wanted to treat the car-shopping as an adventure and see if he could find a hidden jewel. If you haven't guessed, I am the planner/organizer of the family, but since this was going to be his car and not mine, I wanted him to get what he wanted. He was looking at the Daihatsu Naked, but after our salesman showed us his personal Naked (since they didn't have any available at the time) and he saw how small it actually was, he changed his mind on it. He started looking around more and narrowed it down between a couple of options, and finally decided to go with a Toyota Altezza Gita. Since he's a photographer, he wanted a family-friendly car with a decent trunk to hold all of his gear. The Gita provided that perfectly.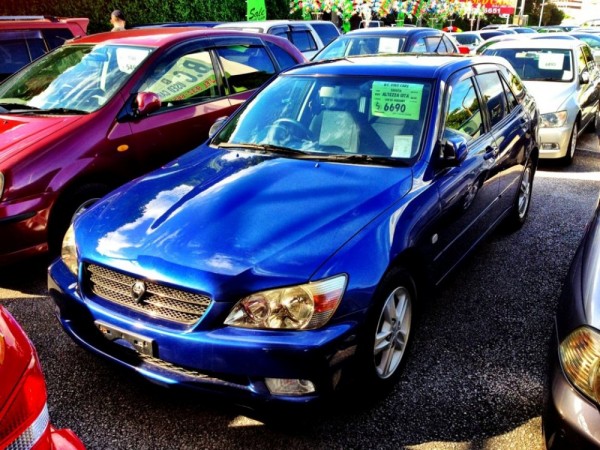 Because we decided to purchase both our cars from BC Motors, our salesman gave us an additional discount beyond the matching of $1,000 down. I am not sure if they normally offer an extra discount, but I would recommend asking if you are buying more than one car from the same dealer. My motto is, "It never hurts to ask." 
In addition to getting newer vehicles at BC than what we would have gotten from an individual, we also received a one-year warranty with each car—and the warranties do work. Our cars have not had major problems with them, but when my ABS light came on all I did was take my car in and they fixed the problem at no charge. They even provided me with a loaner while they worked on my car.
Unfortunately, you won't be able to test drive any of the vehicles at a lot, partly because they don't want the liability and also because they typically pack cars in the lots like sardines. However, they will complete the JCI before you get the car, and if any problems are noted they will fix them. Plus, you still have the year warranty, which you don't get when buying from a person. So if anything crops up later you can bring it in.
Buying a car from a dealer will cost a little bit more than if you buy from an individual, but most dealerships offer 0% financing for 18 months; at least that is what they offered at BC Motors. Our cars ended up costing us about $5,000 each, which is honestly not bad if we stick to our plan of staying on-island for several years. Also, since we were staying in Kadena lodging when we first arrived on-island, we were able to walk out gate 2 to the BC Motors located there to finalize our purchases and pick up our cars, never having to ask our sponsor for multiple rides.
When you go to purchase your car, you will need to already have your SOFA license. You will need one SOFA license for each car that you plan to purchase. Once you start the paperwork to purchase your car, it will take a couple of days for the car to be prepared and go through JCI. For us, we signed the paperwork and provided our deposits on Wednesday and received our cars that Saturday. The dealership also is a one stop shop; they have "American" insurance companies located there and take care of all the paperwork for it. 
Another bit of information: if you are the sponsor taking someone around car-shopping, some dealerships provide sponsors with referral money once a car has been purchased. I believe it is the dealerships' way of encouraging referrals and repeat business. This is an added perk if you are a sponsor.  
Whether you are a planner like me or a treasure seeker like my husband, I recommend treating your car hunting as a chance to have an adventure. And don't forget that once you get your car, you can make it your own with a little creativity. My "Millennium Spike" was born after I found the perfect stick family. Yes, I am a nerd, and proud of it. May the force—or in this case, adventure—be with you.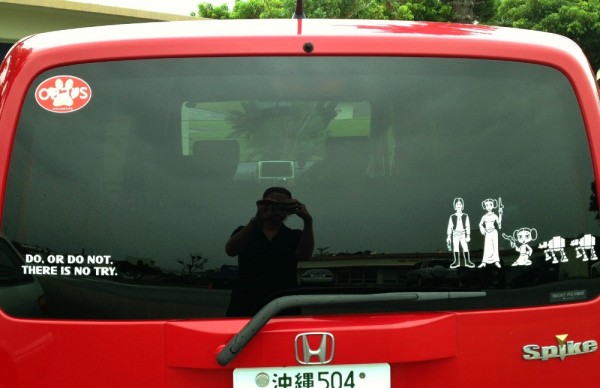 Hours: 9:00 a.m. – 6:00 p.m. daily
Phone: 098-932-6651
Payment: Cash (USD) and Cashier's Checks
Directions:
Gate 2 Location– from Kadena go out gate 2, dealership will be on the right.
Chatan Location– from Kadena go out gate 1 turn left, continue down the road when you see RT 24 the BC Motors sign will be on the Right hand side of the road.
Address:  
Gate 2 Location – 4-23-43 Uechi, Okinawa City, Okinawa, Japan
Chatan Location – 1-1-14 Mihama, Chatan, Okinawa, Japan (NOTE: map below shows this location)
Website: BC Motors