CONTRIBUTED BY KATRINA RAYMOND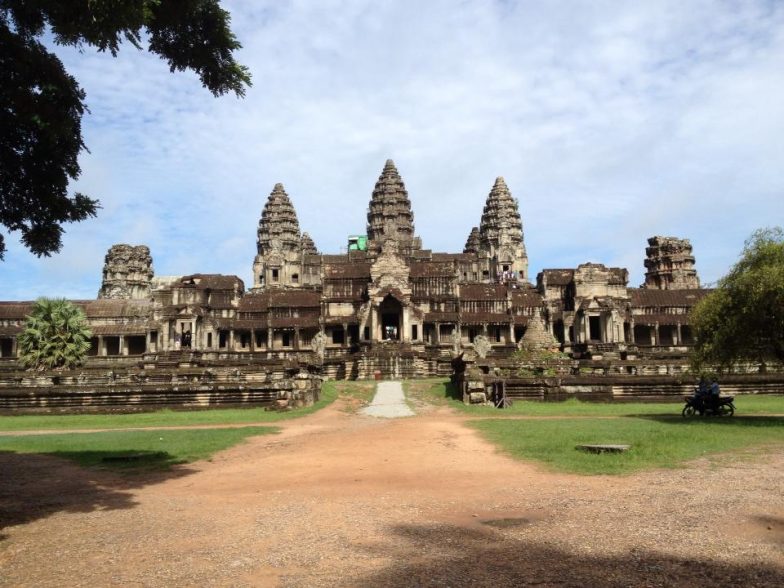 We flew from Okinawa to Siem Reap for five days on Asiana Airlines. We booked a guided tour through IACE Travel on Kadena.
The hotel we stayed at was the Tara Angkor, which was centrally located. The staff at the hotel were amazing, and on arrival we were greeted with cool towels and tea. The rooms were large and spacious. We shared a triple and found it the perfect size for everything we brought. The hotel has a full-service spa, which was pricy based on Cambodia standards. When I say pricy, a one-hour massage cost $25 versus $18 in town. The spa was gorgeous and inviting. The pool area and court yard are picture worthy. We were on tours most of the time so no pool time was really available.
We went during Memorial Day weekend and the weather was doable. They told us it was the start of the rainy season. It rained at night and a few spurts during the day, but not enough to ruin the days. Again, we had a private tour and it was nice to sit in the air conditioning when we were trekking through temples.
The time frame we went was perfect, as I was able to get nearly every picture with no one in them. It was hot and humid, but nothing like Okinawa humidity. I wore a dress one day and was not allowed into a temple because my dress was sleeveless. So when packing, bring capris, Bermudas and tees.
Another note: English is widely spoken and the U.S. dollar is preferred currency, but you can get the Riel if you like from small vendors.
You will notice the people are nice and accommodating to your every desire. I wanted to ride elephants and they made that happen. Right down from Angkor Wat complex is a place where monkeys live, and we were able to feed them twice on our stay. The monkeys really didn't care for the bananas the children were selling so I recommend the different fruit from market for them. Lychees are cheap and they enjoyed them the most. We also ventured to the temple where the painters lived and watched them paint. The paintings were amazing and really affordable–less than $50 for a huge one!
We went to the dinner theater one night and it was a great experience. The last day was a free day so we went shopping and also went to Tonlé Sap Lake. That was an experience in itself. The people live, bathe, and wash dishes in the lake. The lake experience is not something I would recommend if you have not done your research on the region as most of the people living on the lake are Vietnamese and living in poor conditions.  It was $20 for the tour and lasted about an hour. We saw an alligator farm at the end (more like alligators piled in a small pen). All-in-all the experience was great.
On another note, if you decide to drink the fresh coconut please do in moderation. Apparently it's a natural laxative!
The whole tour cost a little over $1200, but it was all-inclusive: every meal, tour, plane ride and experience. I brought right at $250 cash and was able to buy everything I wanted with that.