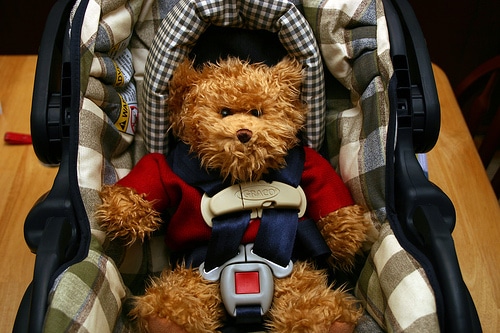 CONTRIBUTED BY HEATHER GELORMINE
Car seats.  Those of us with infants and toddlers know that they are a must.  When I gave birth to my son two years ago I wasn't allowed to leave the newborn ward with him until a nurse had inspected his infant car seat to be sure it was properly set up for him.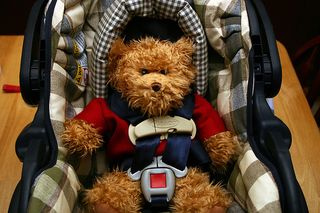 Car seat regulations across the United States are varied, but nearly all require that infants under twenty lbs and younger than twelve months old ride in a rear-facing seat.  Toddlers can sit front-facing and in three- or five-point harness systems up to forty lbs, but after that regulations are spotty.  The National Highway Traffic Safety Administration, as part of the Department of Transportation, now states that all children under eighty lbs. and 4'9″ in height should sit in a booster seat; nearly all car manufacturers agree that the safest place for a child under the age of twelve to ride is in the back.
Until I arrived in Japan, however, I had no idea that the US laws I've come to understand and enforce with my own children are not nearly as present here.
Our first encounter with Japanese confusion regarding car seats came at our layover in Osaka, where we landed after our thirteen-hour flight from San Francisco.  Because we're a military family and have traveled by air frequently to visit our families while stateside, my husband and I purchased car seat backpacks for our kids' seats.  When traveling domestically, we often checked them with our luggage and were not charged for these against our bag totals.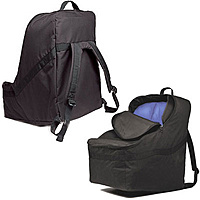 Coming over here, though, we opted to bring those seats on the plane with us.  We each carried a bulky car seat on our back, our carry-on bags on our fronts, and hung my then four-year-old daughter's small backpack and my then twelve-month-old son's diaper bag on the back of his stroller.  We must have been a spectacle walking through the airports.  In the end it was worth it; my kids had seats they were comfortable sitting in on the very long flight, and better yet, they were restrained from getting up when they wanted.  Was it a hassle?  Oh yeah.  Would we do it again?  You bet.
But it seemed that there was a bit of confusion at the check-in counter in Osaka.  Our highly gracious – and highly confused – airline counter workers wouldn't allow us to put those car seats on the plane with us.  When we tried to check them, we were initially told that we had too many bags and would need to pay a fee for them.  Thirty minutes later we finally convinced them that we weren't going to pay to check those carseats, but it was a confusing situation in a very foreign country.
And then we arrived on Okinawa and I finally understood where that confusion came from.  Carseats are just not as regularly utilized here as they are in the US.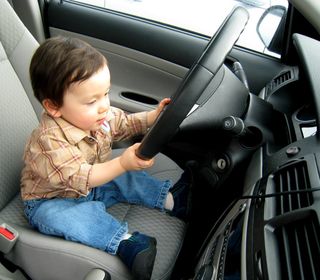 I don't think I'll ever get used to the sight of driving next to a car where an unbuckled parent or grandparent is holding an unrestrained infant on his or her lap – in the front seat.  I'll probably never get used to the sight of toddlers and children standing up and moving around inside cars, or even seeing infant car seats buckled into the front seat.  This is not anything I've ever seen with such a regular occurrence as I have here.
It's important to remember, however, that although Okinawans do not seem to adhere to the same car seat practices that we're used to stateside, on all US military installations we're still required to follow US traffic laws.  That includes making sure that all passengers (and drivers) are wearing seatbelts, and buckling all kids under 80 lbs. and under the height of 4'9″ into size-appropriate car seats and booster seats.
Coming here with our carseats – especially our very large convertible carseats – was an adjustment.  We purchased two cars, one of which was a small Toyota Celica and into which both carseats together wouldn't have fit in the back seat.  We also had to teach ourselves to buckle the car seats into the pre-LATCH system cars using just the lap belts.  Now that my daughter is in school and participating in extracurricular activities, it's a hassle installing her car seat in my friends' cars when we carpool.  But she's not yet big enough for a backless booster and she's still small enough that she fits safely in the car seat we purchased when she outgrew her infant seat.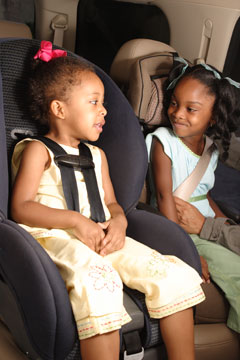 What I'm trying to say is that although using getting your children's car seats here from the US and getting used to using them in older vehicles can be a hassle – and the temptation to do as we see so many of our host nation's citizens doing – it's in your kids' best interests to keep them in car seats and booster seats as long as possible.  If space in your vehicles is in short supply and a smaller child will need to sit in the front, be sure that any airbag systems have been disabled and that his seatbelt is properly adjusted.
What about you?  Were you shocked to see babies and kids riding unrestrained when you first arrived on island?  Or had you been better prepared for that sight than I was?