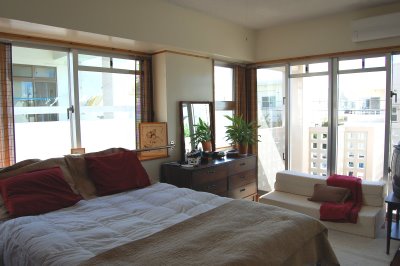 Living overseas has its challenges, and a commonly agreed upon one is finding that perfect place to live. To help those of us who are curious about the different options for living on Okinawa, readers have answered some of the most frequently asked questions about on-base housing. If you live in an off-base house that has not yet been featured on this site, please contact our Submissions Manager for the template. 
Here's a great link to access, too, if you're on the fence as to whether to live on-base or off-base.


1.  What's the name of the city where you reside?  Kaiho, Okinawa City
2.  What's the general area (i.e. North, Central, South Island)?  Central
3.  Is there a special name that is associated with your area? (i.e. Sunabe, Kadena Town, Naval Kadena, etc.).  Kaiho
4.  What is the nearest military base and accompanying entrance (aka Gate) to your home and what is the approximate driving time to that military base/gate?  Kadena AB Gate 2 about 20 minutes, Camps Courtney and McT about 25 minutes, Foster about 20 minutes
5.  What DODDS school district is your home zoned for?  Is there a schoolbus system available?  We homeschool, so I don't know anything about the buses or schools…
6.  What is the nearest highway or main road to your home?  Hwy 85 (Awase Bay Street) and Hwy 20 (Gate 2 street if you go far enough toward the Pacific)
7.  Please describe the "feel" of your neighborhood (i.e. pet-friendly, child-friendly, safety, spaciousness, predominantly "Japanese" or "American", urban, rural, etc.).  Predominantly Japanese; although the houses are close together almost everyone has a yard with garden, many people have dogs, there are always Japanese children playing in the streets, my DH likes to say it is just enough noise to know that our children aren't going to bother anyone when they are out in the yard.
8.  Are there places of service in your neighborhood within walking distance such as restaurants, convenience stores, laundromats, bakeries,coffee shops, parks, etc.? Manta Park with wide open field and two story roller slide and a climbing structure, many small restaurants/cafes/bars, Union, 2 different SanAs, and several convenience stores within walking distance, but it doesn't feel urban or busy. Gushikawa Jusco Mall and brand new Nitori department store within 1mile, walking distance to Awase Fish Market
9.  Please describe the style of your home (i.e. Westernized, traditional Japanese, detached family home, townhome, etc.).  It's a Japanese style, 2-story home.
10.  Please provide general information about your home such as the rent, square footage, number of bedrooms and baths, special amenities, etc.)  210,000 yen, I don't know the square footage, 2 bedrooms (master is very small, but still fits our queen bed and one dresser, has large closet; other bedroom used to be two rooms, so it's HUGE and fits all three of our children very comfortably, plus upstairs is a covered porch running across the width of the house), and 2 very tiny but adequate half baths, with a separate room downstairs for the shower and bathtub (Japanese style tub, very deep, only for soaking), the laundry room has stacking machines, a sink and vanity with storage. There are three a/c units upstairs and three downstairs. We have a double size tatami room, which has solid sliding walls to go in the middle, if we needed the space, say for house guests. Oh and there are solar panels on the roof, we are told that they provide 60% of the electricity for the house. A new Japanese friend who saw the inside of the house says that it was added on to (the master bedroom and extra closet space and a built in desk behind the kitchen) to create enough space to be appealing to Americans. It worked.
11.  Are there any special accommodations or tasks that you've had to complete to make your home useful such as purchasing transformers, appliances, etc.?  No transformers, we bought a few outlet adapters and plug buses/surge protectors for the three pronged appliances we brought; we borrowed the fridge, I don't know how it's plugged in. We also didn't need dehumidifiers b/c the a/c units take care of that. What has been an issue is that there is only one outlet in the kitchen. DH has rigged a plug bus and few extension cords, however, I am still limited in what I can run simultaneously (ie microwave and convection oven is a no-go, but convection oven and rice cooker is okay)
12.  What costs are there associated with living off a military base and how do you pay for those costs? Fiber optic internet (9000 yen per month), gas and water (sporadic), electricity (see note about solar, highest summer bill so far 35300 yen running AC with doors open, thanks kids), garbage (3000 yen/per month); we set up GI Billpay rather than run around to the convenience stores
13.  How is parking provided for your home?  2 cars fit in the driveway, there is a gate that we can close at night or if we are gone all day, the street is too narrow to park on it, although some neighbors do
14.  Are there any outdoor spaces or yards provided for your home?  Yes the yard is all grass, roughly 15 feet by 15 feet with an aluminum storage shed provided, and 4 foot cinderblock wall all around.  Sometimes the owner comes around to mow, sometimes my DH gets to it.
15.  What housing agency did you utilize to find your current home? Central Housing
16.  Are you satisfied with the maintenance services that are provided for your home?  Yes, between them and the owner of the house, who has been by a time or two, everything gets taken care of.
17.  Finally, what advantages and disadvantages do you feel has been your experience living off a military base here in Okinawa?  Also, please feel free to add any COMMENTS that you feel would be helpful to others about living off-base.  It would definitely be easier to live on base, but I feel we are living a much richer life, with more chances for personal growth out in town. There are times since we moved here two months ago, when I have wished it was easier, and if I had younger children, or a husband deploying, I might have chosen differently. So my advice is 'know your comfort zone'. It's not for everyone, but it is well worth the small struggles, if you think you can handle it.
---
If you live in on-base housing OR off-base housing that has not been featured on Okinawa Hai, or in housing that has been renovated since its last post, please contact our Content Manager for the on-base housing template and instructions on how to share your little slice of Okinawa with the rest of us.