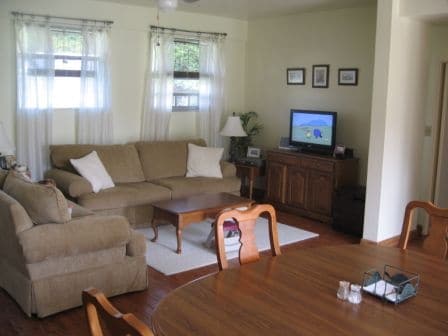 Living overseas has its challenges, and a commonly agreed upon one is finding that perfect place to live. To help those of us who are curious about the different options for living on Okinawa, readers have answered some of the most frequently asked questions about on-base housing. If you live in an on-base house that has not yet been featured on this site, please contact our Submissions Manager for the template.

Here's a great link to access, too, if you're on the fence as to whether to live on-base or off-base.
CONTRIBUTED BY JANINE
1.  What military base and nearest accompanying entrance (aka Gate) is your home located on?  Kadena near Gate 2
2.  What area of the island is your home located on (i.e. North Island, Central Island, etc.)?  Central
3.  What is the name of the neighborhood in which your home is located?  Stearley Heights
4.  Generally speaking, most on-base homes are approved for occupancy based on government or military rank.  If you would like, please provided the range of ranks that your home is approved for?  Not sure, but my husband is 0-4.
5.  What DODDS school district is your home attached to?  Is there a school bus system available?  We are located two blocks away from Kadena Elementary and three blocks away from Stearley Heights Middle School.  All the kids walk to school since there is no bus system for the homes in this area.
6.  Please describe the "feel" of your neighborhood (i.e. pet-friendly, child-friendly, level of safety, spacious, etc.).  We are extremely fortunate to live in this area.  It is the closest thing to the suburbs back in the states.  This may even be nicer since there are no fences (you must install your own chain link fence if necessary for children/pets).  There are several pets in the neighborhood and most people drive slower because of all the children.  I feel safer here than I do in the states!  Again, we are very fortunate to have such a spacious home and lawn.  We often host the parties since most people don't have as much space as we do here in Okinawa.
7.  Please describe the style of your home (i.e. detached home, townhome, apartment, duplex, etc.).  Detached home
8.  Please give general information about your home such as age, square footage, number of bedrooms and baths, number of stories/levels, special amenities, etc.).  I'm guessing the house is 40 years old?  It's definitely old, but the Kadena base has recently made some very nice upgrades.  We have brand new carpeting in the bedrooms and new wood (looking) floors in the dining/living area.  Plus, they've just installed new countertops in the kitchen.  The homes in this neighborhood generally have 3-4 bedrooms.  Our three bedroom, 2 full bath home has very spacious bedrooms, where most of the four bedroom homes typically have smaller bedrooms.  Most of the homes are one story; however, I've noticed a few with basements that were built into the steep hills here.  Perhaps those are for larger families?  I should also mention that we have individual HVAC units.  I think other bases are set on a large system, so they aren't able to turn their AC on until the Public Works station allows.  This may be something to consider when house hunting.
9.  What places of services are available near your home such as restaurants, parks, shops, commissary, playgrounds, etc.?  We are within easy driving distance of the commissary, exchange, Chili's and Burger King on base.  We are within walking distance of the school parks.  We have to drive to anything off base such as the beach.
10.  How is parking provided for your home?  We share an uncovered driveway with our neighbor that is able to hold at least four cars total (2 wide by 2 deep).
11.  Are there any outdoor spaces or yards provided for your home?  Yes, we have a huge front yard and back yard.  Our home is the only one that I've seen that has come with built in concrete tables in the back.
12.  What do you feel is special about your home or neighborhood – what makes it feel like "home" here on Okinawa?  Again, we are the minority to have an individual home with such a nice yard.
13.  Generally speaking, on-base housing provides for the costs of rent, utilities, and appliances.  Have there been any fees or special expenses that you have had to pay for while living on a military base?  We pay for our own monthly phone, cable, and internet.  The only other expense to consider would be purchasing a lawnmower/weeder or hiring a lawncare service.  (It's difficult to know if you should bring your lawncare equipment because you don't know if you'll have a yard until you get here and housing tells you what is available.)
14.  Are you satisfied with the maintenance that is provided for on-base housing?  Kadena has always been great about maintenance calls.  They seem to come within a day or two assuming it wasn't an emergency.  Oh, I should mention that most of these homes do have problems with leaks in the roof due to their age.  Maintenance has just redone several roofs and installed new HVAC units in some of the homes.
15.  And finally, please provide any thoughts on the advantages and disadvantages of living on a military base here in Okinawa?  Also, please feel free to add any COMMENTS that you feel would be helpful to others about living off-base.  I am so happy that we were offered a home on Kadena.  This base has so much to offer and it's located nicely with regards to the rest of the island.  I recommend base living if you have children (since it's difficult to know if you'll have English speaking kids or parks near you out in town).  Although, you have to be diligent about getting out in town in order to experience the local culture (you tend to stay on base since everything you need is here).  However, if we didn't have kids I'd love have a smaller apartment to be within walking distance of the ocean with possibly a view.  I think I'd also learn more about the culture if we were submerged in the town more.  So, it just depends on your priorities!
---
If you live in on-base housing OR off-base housing that has not been featured on Okinawa Hai, or in housing that has been renovated since its last post, please contact our Content Manager for the on-base housing template and instructions on how to share your little slice of Okinawa with the rest of us.