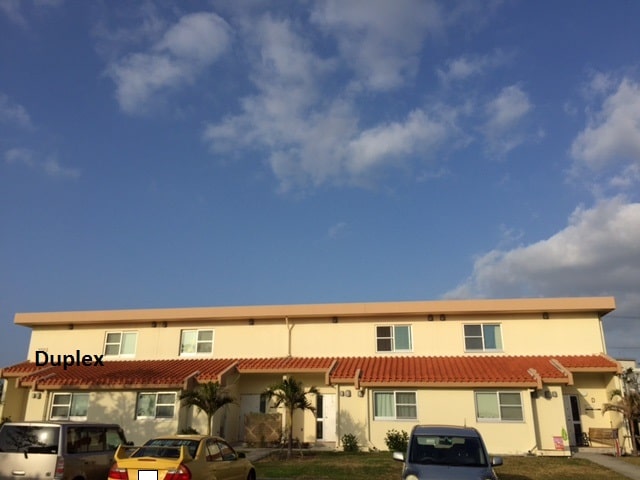 Living overseas has its challenges, and a commonly agreed upon one is finding that perfect place to live. To help those of us who are curious about the different options for living on Okinawa, readers have answered some of the most frequently asked questions about on-base housing. If you live in an on-base house that has not yet been featured on this site, please contact our Submissions Manager for the template.

Here's a great link to access, too, if you're on the fence as to whether to live on-base or off-base.
CONTRIBUTED BY TAMMARA SOARES
1.  What military base and nearest accompanying entrance (aka Gate) is your home located on? Camp Shields
2.  What area of the island is your home located on (i.e. North Island, Central Island, etc.)?  Central
3.  What is the name of the neighborhood in which your home is located?  O'Donnell Gardens
4.  Generally speaking, most on-base homes are approved for occupancy based on government or military rank.  If you would like, please provided the range of ranks that your home is approved for?  I believe there is a mixture of enlisted and senior enlisted members throughout housing.
 5.  What DoDDS school district is your home attached to?  Is there a school bus system available?
Elementary PK-2: Bob Hope Primary (located on Kadena)
Elementary 3-5: Amelia Earhart Intermediate (located on Kadena)
Middle School: Kadena Middle School
 High School: Kadena High School.
 Buses are available for all four school. Bob Hope Primary and Amelia Earhart Intermediate students ride the same bus as the schools are located in the same place.
6.  Please describe the "feel" of your neighborhood (i.e. pet-friendly, child-friendly, level of safety, spacious, etc.).  O'Donnell Gardens is very nice, quiet at times, with many friendly neighbors. This base is very safe, in the summer you can find many kids running around at the many parks located on the base.
7.  Please describe the style of your home (i.e. detached home, townhome, apartment, duplex, etc.) My home is a duplex style home, with a living area downstairs and bedrooms upstairs. On the base there are also multiplex homes. These homes have two apartments on the bottom floor, and two apartments on the top floor. These are two bedrooms with one bathroom. The third style is similar to a multiplex but larger. These homes have three bedrooms, two bathrooms
8.  Please give general information about your home such as age, square footage, number of bedrooms and baths, number of stories/levels, special amenities, etc.) My duplex includes 3 bedrooms, 2 ½ baths, a living/dining room, family room, with a patio out back. We have a storage closet inside the house under the stairs, a storage unit outside in the front, and some storage in the back where HVAC and water tank are.
9.  What places of services are available near your home such as restaurants, parks, shops, commissary, playgrounds, etc.?  Small Shoppette on base with video rental, baseball field, many playgrounds. The opposite side of the base has a gym, a restaurant (Bama's), coffee shop, Navy Federal ATM and Fleet Gift Shop.
10.  How is parking provided for your home?  
My area of housing has two assigned spots for each house and a total of 6 visitor spot that 8 homes share.
Some homes throughout the base only have one assigned spot.
 11.  Are there any outdoor spaces or yards provided for your home?  We have a small front and small back yard. Multiplex homes split the yards so that the top floor has the front yard and the bottom floor has the back yard.
12.  What do you feel is special about your home or neighborhood – what makes it feel like "home" here on Okinawa?  O'Donnell Gardens is out of the way, quiet, everyone is friendly, and there are children of all ages so every child has a friend. Living where we live makes me feel like we have family.
13.  Generally speaking, on-base housing provides for the costs of rent, utilities, and appliances.  Have there been any fees or special expenses that you have had to pay for while living on a military base?  Telephone and cable/internet. You also need to bring/purchase a microwave if you would like one.
14.  Are you satisfied with the maintenance that is provided for on-base housing?
Very happy, prompt service.
15.  And finally, please provide any thoughts on the advantages and disadvantages of living on a military base here in Okinawa?  Also, please feel free to add any COMMENTS that you feel would be helpful to others about living off-base.  One of the advantages of living on base is that we have a nicely renovated home. We are just 5 minutes from Kadena gate three if we need anything that the shoppette does not have. Our kids have friends to play with, off base that may be difficult unless you live in a heavily American populated area with a park or yard. Off base you may also encounter language barriers. On base all utilities are already included whereas off base it is a separate bill from the rent (a flat rate is given for utilities off base, separate from rent) and may get expensive during the summer months.
One disadvantage to living on base is that you don't feel like you are in Okinawa. The culture off base is amazing. Learning the lifestyle and seeing the beauty of Okinawa is easier done when already off base, and depending on where you live off base, you can often walk to many places where as, if you live on base, you need to drive. That said, living on base does not restrict your adventures off base, unless it is past curfew.
---
If you live in on-base housing OR off-base housing that has not been featured on Okinawa Hai, or in housing that has been renovated since its last post, please contact our Content Manager for the on-base housing template and instructions on how to share your little slice of Okinawa with the rest of us.