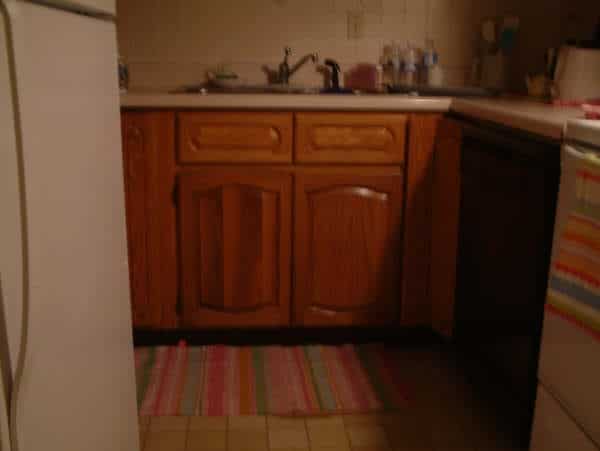 Living overseas has its challenges, and a commonly agreed upon one is finding that perfect place to live. To help those of us who are curious about the different options for living on Okinawa, readers have answered some of the most frequently asked questions about on-base housing. If you live in an on-base house that has not yet been featured on this site, please contact our Submissions Manager for the template.

Here's a great link to access, too, if you're on the fence as to whether to live on-base or off-base.
CONTRIBUTED BY LORI

kitchen
Living On A Military Base:
1.  What military base is your home located on?  Plaza housing-Camp Butler/Camp Foster
2.  What area of the island is your home located on (i.e. North Island, Central Island, etc.)?  Central
3.  What is the name of the neighborhood in which your home is located?  Upper Plaza
4.  Generally speaking, most on-base homes are approved for occupancy based on government or military rank.  If you would like, please provided the range of ranks that your home is approved for?  04 and above
5.  What DoDDS school district is your home attached to?  Is there a school bus system available?  Elementary kids are bused to Stearley Heights Elementary; bus picks up at 6:47am.  Bus drops off at 2:15 pm.  Middle school is Lester and Kubasaki High School.
6.  Please describe the "feel" of your neighborhood (i.e. pet-friendly, child-friendly, level of safety, spacious, etc.).  very kid-friendly, spacious, and pet-friendly.
7.  Please describe the style of your home (i.e. detached home, townhome, apartment, duplex, etc.).  detached home; one story; built in 1964
8.  Please give general information about your home such as age, square footage, number of bedrooms and baths, number of stories/levels, special amenities, etc.).  1200 square foot; 4 bedroom, 2 bath, outdoor attached shed, walk in storage closet inside, and large laundry room, and yes: the famous one-butt kitchen is true!
9.  What places of services are available near your home such as restaurants, parks, shops, commissary, playgrounds, etc.?  Butler O Club, AFN tower, Shoppette, Boy and Girl Scout Hut, playground, open fields to play and Box Sledding, neighborhood pool open from end of May through early September
10.  How is parking provided for your home?  One spot but plenty of room to park on the side
11.  Are there any outdoor spaces or yards provided for your home?  yes
12.  What do you feel is special about your home or neighborhood – what makes it feel like "home" here on Okinawa?  Friendly neighbors, neighborhood get-togethers
13.  Generally speaking, on-base housing provides for the costs of rent, utilities, and appliances.  Have there been any fees or special expenses that you have had to pay for while living on a military base?  cable and phone, you must cut your own yard or hire a yard ninja
14.  Are you satisfied with the maintenance that is provided for on-base housing?  Yes; one call and they come
15.  And finally, please provide any thoughts on the advantages and disadvantages of living on a military base here in Okinawa?  Easy living, kids can be kids and play outside, sense of community
---
If you live in on-base housing OR off-base housing that has not been featured on Okinawa Hai, or in housing that has been renovated since its last post, please contact our Content Manager for the on-base housing template and instructions on how to share your little slice of Okinawa with the rest of us.