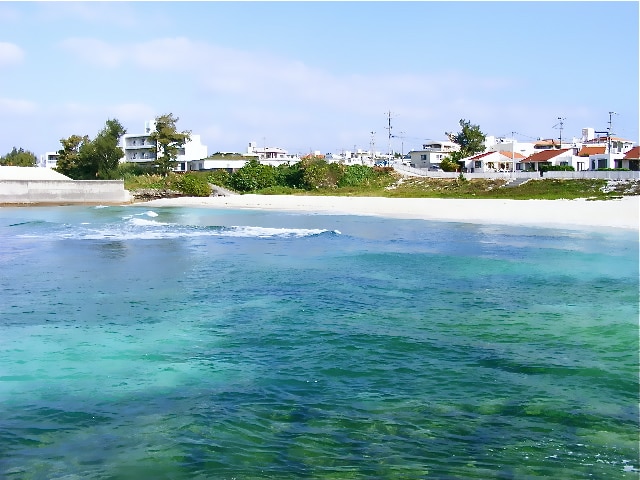 Living overseas has its challenges, and a commonly agreed upon one is finding that perfect place to live. To help those of us who are curious about the different options for living on Okinawa, readers have answered some of the most frequently asked questions about on-base housing. If you live in an off-base house that has not yet been featured on this site, please contact our Submissions Manager for the template. 
Here's a great link to access, too, if you're on the fence as to whether to live on-base or off-base.
CONTRIBUTED BY MARISA
1.  What's the name of the city where you reside?  Yomitan-son
2.  What's the general area (i.e. North, Central, South Island)? Central, Western side of the island.
3.  Is there a special name that is associated with your area? (i.e. Sunabe, Kadena Town, Naval Kadena, etc.).  Sobe, Yomitan-son (Sobe is the "district" within the village of Yomitan)
4.  What is the nearest military base and accompanying entrance (aka Gate) to your home and what is the approximate driving time to that military base/gate?    We're about a 5 minute drive from Torii Station's back gate.  From Torii's Main gate we're about a 10 minute drive.  We are approx 20 mins to Kadena AFB and about 30 mins from MCB Camp Foster.
5.  What DODDS school district is your home zoned for?  Is there a schoolbus system available?
Our home is zoned for schools on Kadena AFB: Bob Home Primary School – Amelia Earhart, Kadena Middle School, and Kadena High School.  There are school busses, but our son is still in preschool and doesn't attend DoDDs yet, so we're unsure of the bus schedule.
6.  What is the nearest highway or main road to your home?  Hwy 6 (running through Yomitan) is very close.  Approx 5 minutes.  Hwy 58 is approx 10-15 minutes away.
7.  Please describe the "feel" of your neighborhood (i.e. pet-friendly, child-friendly, safety, spaciousness, predominantly "Japanese" or "American", urban, rural, etc.).   I would describe the neighborhood as quiet, quaint and a mix of Japanese and Americans.  The street we live on has approx 6 or 7 houses and is across the street from a small white sand beach and kitty corner to the Yomitan wharf / port.  There is a small park next to the house for children, but ultimately it is a beach-ish area.
8.  Are there places of service in your neighborhood within walking distance such as restaurants, convenience stores, laundromats, bakeries,coffee shops, parks, etc.?   A boulangerie, a patisserie, sushi restaurants, a farmer's market, some convenience stores, and a San-A & Max Value grocery stores.  A park with slide, swings, and a baseball park as well.  The Pancake House, Jakkepo's, is a walk away.  There is also a coin Laundromat within walking distance (though why you'd walk with your laundry… I'd never do it, LOL).  The Alivila hotel, with its EXCELLENT Chinese dim-sum buffet, is about a 15 minute drive away.  The Yomitan Pottery Village is about 15 mins away.
9.  Please describe the style of your home (i.e. Westernized, traditional Japanese, detached family home, townhome, etc.). Single Family detached home with a nice sized gated yard across the street from a beach.  It is a traditional Japanese home: Japanese oven, washer/dryer.  The floors are hardwood and there is a tatami mat room off the living room with shoji doors (the wood-latticed paper variety).  The hardest part of adjusting is the kitchen (size and style of appliances, no dishwasher, level of cabinets — HIGH!, and lack of space), the washer/dryer (SMALL), and the bathrooms (Western style toilets, but the layout will take some getting used to).  There is also very little built-in storage in comparison to the on-base house we lived in before.  There is a definite need for additional armoires, cabinets, hutches, etc.
10.  Please provide general information about your home such as the rent, square footage, number of bedrooms and baths, special amenities, etc.).  Rent is approx 250,000 a month.  Square footage is 1,100 sq ft.  3 bedrooms.  2.0 baths.  Tatami mat room adjacent to the living room.  2 bedrooms upstairs, each have LARGE walk out decks.  The yard is gated.  There is a sandy beach across the street.  There is a park next to the house.  Parking for 2 cars, tandem.  There is a waterfall feature / pond in the backyard visible from the living room.  There is a deck off the living room on the 1st floor.  There is a lack of storage, and negatives are definitely the kitchen and washer/dryer as I mentioned in #9.  But the location is A++++ and that is my sacrifice to have such a gorgeous backdrop to come home to.
11.  Are there any special accommodations or tasks that you've had to complete to make your home useful such as purchasing transformers, appliances, etc.?  We have a few transformers we use.  I'm considering buying a toaster oven.
12.  What costs are there associated with living off a military base and how do you pay for those costs?   Besides rent, our costs include: electricity, water, gas, trash, cable, internet, and phone.  Electricity is HIGH.  But we were told to estimate our utility costs for elec, water, gas, and trash and are reimbursed for those expenses.  Cable, internet and phone are on us, but these are expenses you would pay if you lived on base.  Indirect costs to living off base – I end up stopping off at the Japanese grocery store more often than before, where food prices are higher.  I end up paying more for gas for the cars, given the longer drive.
13.  How is parking provided for your home?  We have parking spaces for 2 cars, tandem style.  There is street parking for guests.
14.  Are there any outdoor spaces or yards provided for your home?  We have a yard, gated.  A park next to the house.  A beach across the street.  There is also a baseball field close by.
15.  What housing agency did you utilize to find your current home? Tokuzato
16.  Are you satisfied with the maintenance services that are provided for your home?  Yes, they've been very responsive.
17.  Finally, what advantages and disadvantages do you feel has been your experience living off a military base here in Okinawa?  Also, please feel free to add any COMMENTS that you feel would be helpful to others about living off-base.   We've lived on base for almost 3 years.  We've scoured the island for our 'perfect' piece of it, and we scouted this area for almost a year before we found that a house opened up.  The location is EXCELLENT and worth the extra time to drive.  Our former home on base was clean and adequate but Spartan and antiquated (read: OLD).  The lack of privacy and personal space has been very difficult on us.  There's also that feeling that we have this opportunity to truly live in a different culture and country, and we weren't doing that by living on base.  We want, and we want our son, to experience what it is like to live somewhere different.  Can I live without my Maytag for a few years?  Sure.  Will it be worth it to be able to say that I had the chance – and took it – to live across the street from the East China Sea in an adorable house in Japan, and to be brave enough to deal with the "Non-American inconveniences" that accompany it?  Yes, I think so.  & I'm looking forward to it!
---
If you live in on-base housing OR off-base housing that has not been featured on Okinawa Hai, or in housing that has been renovated since its last post, please contact our Content Manager for the on-base housing template and instructions on how to share your little slice of Okinawa with the rest of us.