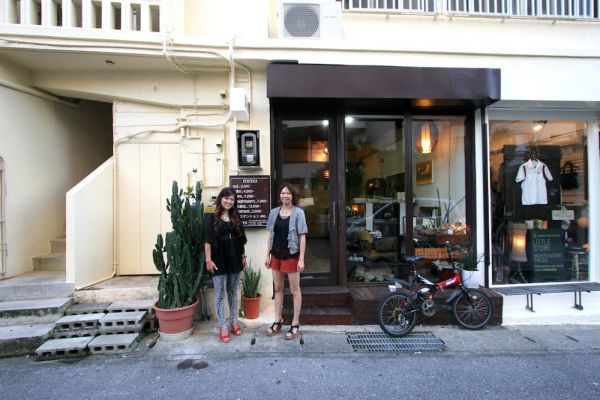 CONTRIBUTED BY ANGI BRZYCKI

Charm Exterior
This is slightly embarrassing to admit -but one of the first things I noticed about the friends I made within the JET Programme community of Assistant Language Teachers here in Okinawa was how cute everyone's hair was. I thought it was sweet too when I asked everyone where they cut their hair and they would all answer the same person, 'Tomoko.'
Tomoko Pantry has had her hair salon, Charm Hair Studio for over 7 years in the trendy area off of Ukishima street near Kokusai Dori in Naha. Her husband, Paul Pantry, may be familiar to some of you.  He's the owner of restaurant, Rize (temporarily closed) and the Canadian bars, The Eager Beaver and Rehab.

Charm Interior
Going to see Tomoko is always a treat. It's more than just a haircut. She really takes the time to create a style that works for you and she also massages your head and shoulders in the process. Not to worry about trying to explain what you want in Japanese either- Tomoko's English is great. My personal favorite thing about Tomoko is the permanent smile on her face as she cuts my hair. She really loves her job and the proof is how great you will look when you leave her shop.

Charm Chair
The prices are very reasonable too. Cuts are 3,500 Yen, Color treatments are 4000 Yen, and Straight/Curly Perms are 7,000 Yen.
Directions:  Getting there is fairly easy if you know how to get to Kokusai Dori. The most recognizable location would be the Lawsons on Kokusai dori. The only problem is that Ukishima street is a one way street. You can't drive into it, only out. It's best to find parking on/around Kokusai, walk and turn on that street… take a right if the Lawsons (on Ukishima street) is north / left if it is south. It's a great narrow street with little shops and boutiques. As you walk there will be a little 4 way intersection. At the intersection make a left. Charm is located on the left side. It is about a block away from Ukishima Garden.
Address: 2-5-24 Matsuo Naha City
Phone: 098-868-3003
Hours: Tuesday – Sunday 11- 8 (last appointment), Closed Mondays
Payment:  Yen and Credit Cards Accepted.