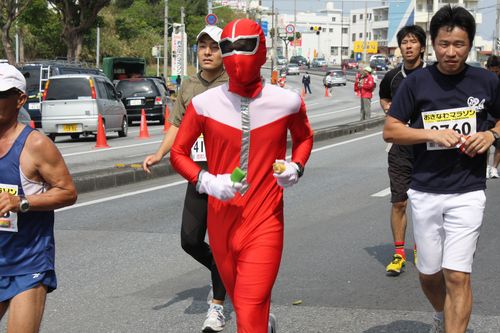 This post was originally published on February 26, 2010. We're pulling it out of the archives so that maybe this year you can help cheer on our runners.  This year's marathon will be held tomorrow, February 16th.  The full marathon begins at 9am and ends at 3:15pm; the 10k road race begins at 9:30am and ends at 11am.
CONTRIBUTED BY MARY RICHARDSON
Join the local community and support runners in the Okinawa Marathon 2010. The race is on Sunday March 7 from 9:00 am to 3:15 pm, ending at Comprehensive Park in Okinawa City.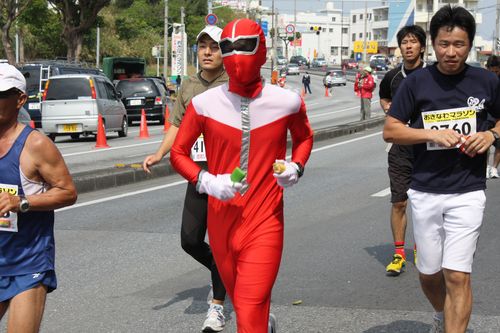 Last year, we had a blast standing along the race course, cheering on runners and observing all the funny costumes. You'll see the whole range of outfits from super heroes to the infamous Goya man, who seems to make a showing at every athletic event! It's definitely an interesting cultural experience and it's all free!
In addition to spying fun costumes, it's really fun to interact with local Okinawans and see how they show support for marathoners. In the States, when I did the Rock and Roll Marathon in San Diego, spectators gave us snacks of oranges and peanut butter sandwiches and even hosed us down if we got too hot.
Not so in Okinawa. Here, you'll see grannies handing out pickled plums and other salty offerings to weary runners needing a boost.  There will also be children doing dances and lots of pets along for the occasion.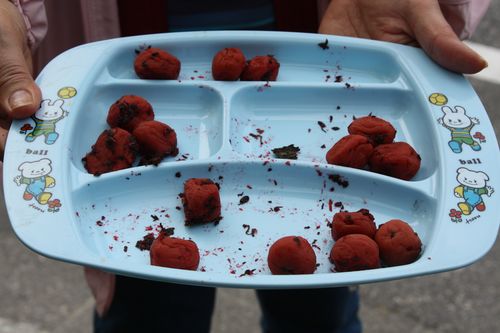 Some popular places to stand on the course include Gate 2 street outside of Kadena and patches along Plaza Housing near the 331. There are also spots along Chatan and Camp Foster. For full marathon route, check out
the course map
here.
We were so caught up in the excitement that we even made our way to Comprehensive Park to the finish line. What exciting foods do Okinawan marathoners eat to recharge after running 26.2 miles? You'll just have to go and see for yourself.