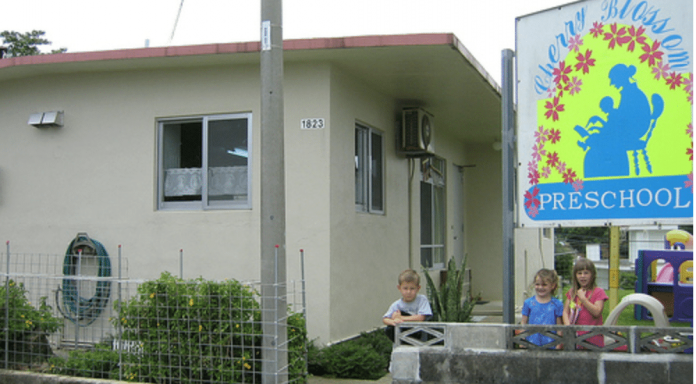 For all you parents looking for a preschool that suits your kids, we're hoping to add a little something to aid in your search. Parents of children who attend various preschools on island have filled out a series of questions about the schools for the benefit of the rest of us. We welcome more than one voice on each school since everyone has a different experience, so please feel free to add in your two cents in the comments.
If your child attends a school that has not been reviewed on this site, please contact our Submissions Manager for the template.
CONTRIBUTED BY CHRIS MORSE
Name of School: Cherry Blossom Preschool
Address: No. 1823 Parkside Terrace, 269 Ogido, Kitanakagusuku-son
Phone: 098-935-2780
Email:  info@cherryblossomsch.org
Website: www.cherryblossomsch.org
Ages Accepted: 2 months to 3 years
Ages of Your Kid(s) in this School: 3
ADMISSIONS & ENROLLMENT:
What is the maximum number of students that your school has? 35-40
What is the current number of students? 36
Is enrollment open/year-round enrollment or per semester? Open year round but it tends to fill up in the Fall.
Does my child have to be potty-trained to attend? No.
Can I bring my child in for a pre-enrollment visit? Yes.
DAYS & HOURS:
What are the school's hours? Full Day 8:30-3:00; Half Day 8:30-12:00.
Is the school on a Japanese or American schedule? DODDS schedule.
How flexible is the school with pickup and drop-off times? Flexible but with a 350 yen per hour charged outside of regular hours.
COSTS:
What are the registration fees? 15,000 yen.
What are the tuition fees? Full day 40,000 yen; Half day 30,000 yen monthly
If any, what are the assessment and school supplies fees? 20,000 yen.
Are any discounts offered for referrals, siblings, volunteering, working there, etc.? There is a sibling discount.
Is there a late-pickup fee? 350 yen per hour.
How and when does the school require payment (in yen, dollars, etc.)? First of the month in yen.
PARENT INVOLVEMENT & INTERACTION:
Does the school encourage spontaneous visits from parents? Yes, parents are welcome anytime.
How do you communicate with parents? Is there a regular newsletter, or a notice board? There is a notice board for events and announcements. Parents can speak with the teachers before and after class anytime.
Is there a daily report or other process for informing parents of what children did during the day (naps, BMs, snacks, etc.)? You usually have a verbal report of what happened.
Are there parent/teacher conferences? Yes.
CLASSROOM STRUCTURE & SIZE:
How are the kids grouped? mixed ages / grouped by age? By age.
What's the teacher-child ratio in each group? 18-20 to 2.
How many full-time teachers do you have? How many assistants? Four full time.
What is the school's educational philosophy? Is the school program developmentally-based or does it have an academic focus? Academic.
Is there a playground for the children to play on? Yes and many toys and riding toys.
What do the children do on any given day? What's the general schedule/routine? Music and singing, playtime, lesson or experiment, and worksheets.
Are there extracurricular activities or field trips? Yes.
How does the school discipline children? Generally time-outs are given.
How does the school comfort children? Hugs and comforting words.
FINAL COMMENTS OR OBSERVATIONS ABOUT THE SCHOOL:
Cherry Blossom and more specifically its leader, Miss Tita, are very concerned with providing the best education for your child possible. The school itself may look humble, but the learning of the children is not. My daughter started at age three, and did not really know her letters yet. Now she knows all of them and the sounds they make.
For the Christmas pageant the older children had memorized songs, musical performances and dances. I was so impressed with what they were able to accomplish in a short time. There is music every morning and my daughter is constantly singing new songs.
When my daughter developed some behavioral issues early on, Miss Tita worked with us to achieve some changes for the better. She only wanted the best for my child and was supportive about the things I needed from her to help my daughter in school and at home.
In sum, I highly recommend Cherry Blossom to any parent searching for an academically oriented pre-school.