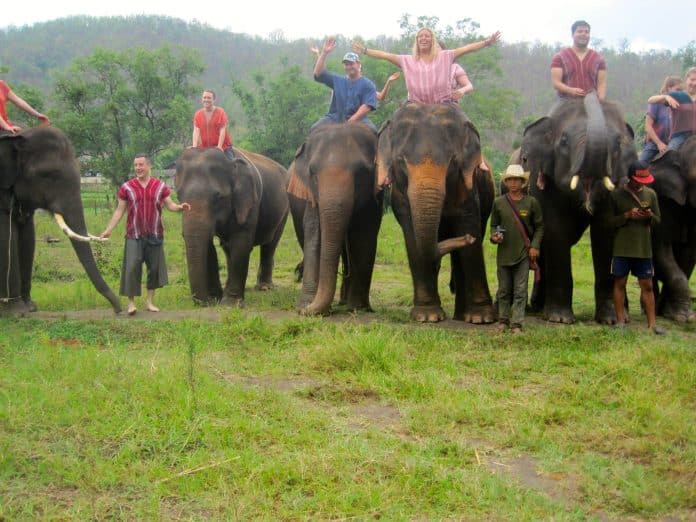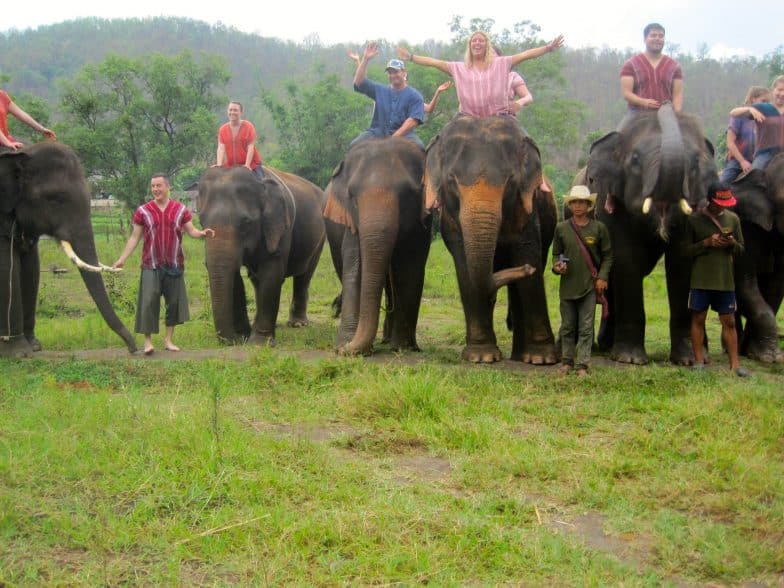 CONTRIBUTED BY KELSEY HUGHES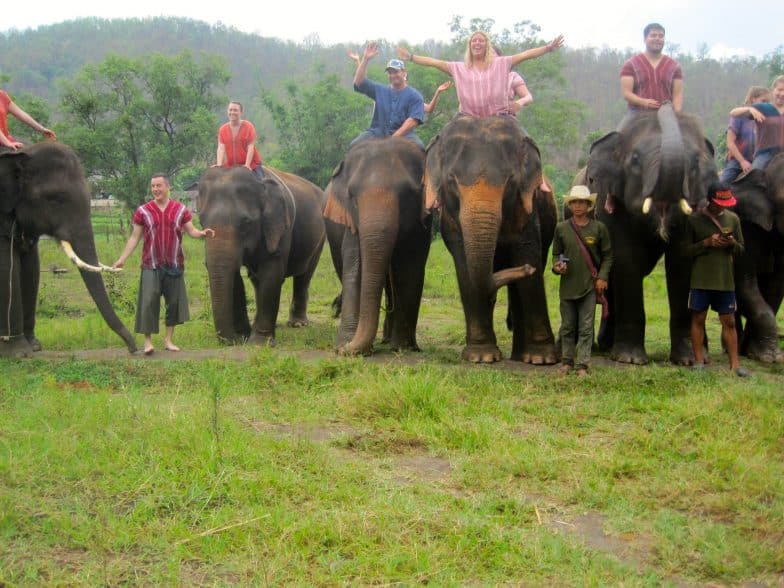 Spending a day with elephants was the only thing my husband insisted we do on our recent trip to Chiang Mai, Thailand. Since we were going to be there for his birthday, I figured I couldn't say no. So once we booked our plane tickets and hotel, finding out where we could spend "a day with elephants" was next on the list.
Riding elephants is a sensitive subject. I did not want to get stuck at a tourist trap where elephants were being mistreated and making money was the primary concern for the business. I spent hours reading travel blogs and company websites and even asked a few well-traveled friends for advice. All of these things lead me to Ran-Tong Save & Rescue Elephant Centre. Ran-Tong is an elephant conservation center that only offers bareback riding and does not use bull hooks to control the elephants. They are all about saving the elephants! Ran-Tong offers half-day, full-day, or two-day riding programs, as well as care programs and even a no-ride program. Their morning half-day experience seemed perfect for our busy travel schedule. As an added bonus- making a reservation on their website was super simple!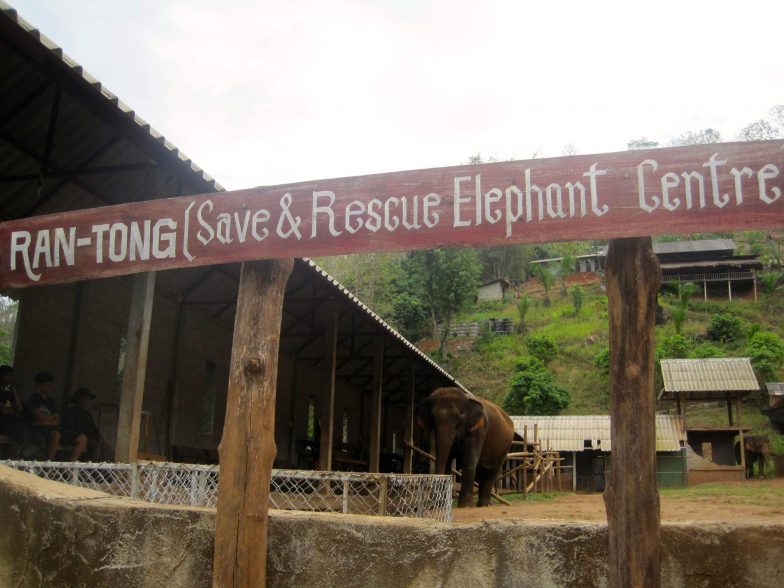 On the morning of our visit to Ran-Tong, their luxury van picked us up from our hotel at 7:00 a.m. We continued to pick up more passengers until our 13 person van was full. After stopping at their office in town to pay, we drove for another hour outside of town to the rescue center. Soon enough, we were pulling up to an open, grassy field in the foothills. All that was left was a short walk on a dirt road until we were finally with the elephants.
Our guide for the day gave us a brief introduction to Ran-Tong. We learned that all of the elephants are rescued from labor-intensive jobs, like logging. They are paired with one mahout (elephant trainer) for their life at Ran-Tong. Their mahout takes care of them day and night and the elephants learn to trust and listen to their mahout. All of the elephants are directed by voice commands, which we were expected to learn and use. Luckily, the mahout would walk along with us on our ride to help out and also take pictures.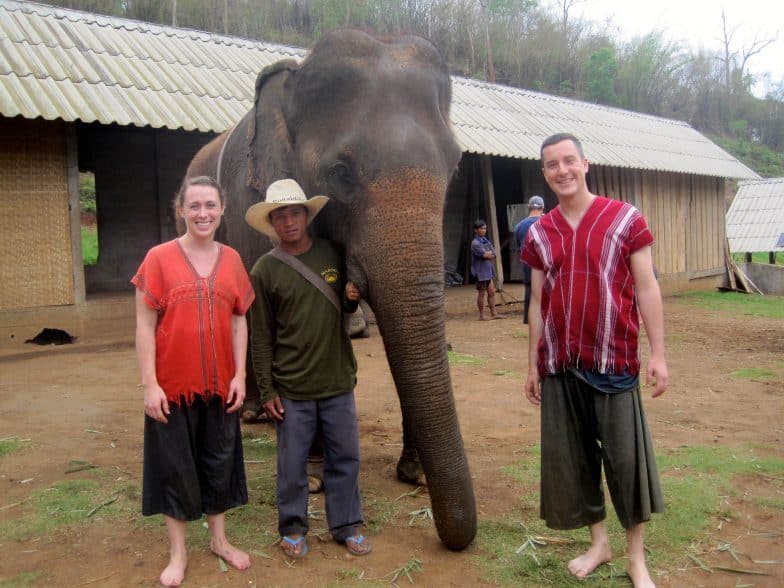 You can buy a photo package from Ran-Tong, but our mahout took so many pictures of us on our own camera for free, that this was not necessary. We were then given traditional clothes to change into and stored our clothes, belongings and shoes (they recommend riding barefoot) in their lockers. The changing rooms and showers are very rustic (think a little hut on top of logs) but it's all part of the experience. We were going to be riding elephants, after all! Once everyone was changed, we learned which elephant we would be riding and their commands (forward, back, left, right, stop, lay down). My husband and I chose to do a 2-person, elephant ride, so we were sharing Madilong, the oldest elephant of the group. We were anxious to meet her and our mahout, so we quickly grabbed a bunch of bananas for her and walked over.
As soon as she was finished eating, our mahout yelled the command for her to lie down and helped us climb on. Climbing onto an elephant is challenging, but our mahout helped. Once we were situated, which took a few minutes and some adjusting, we started moving. The first few minutes of riding were a little nerve racking. Elephants are big animals and I was sitting on her front shoulders, so every step she took made me rock a little. Luckily, Madilong was not about to move very fast and took some coaxing to climb up and down the hills. I think she would have preferred to just stand and eat the grass with us on her back!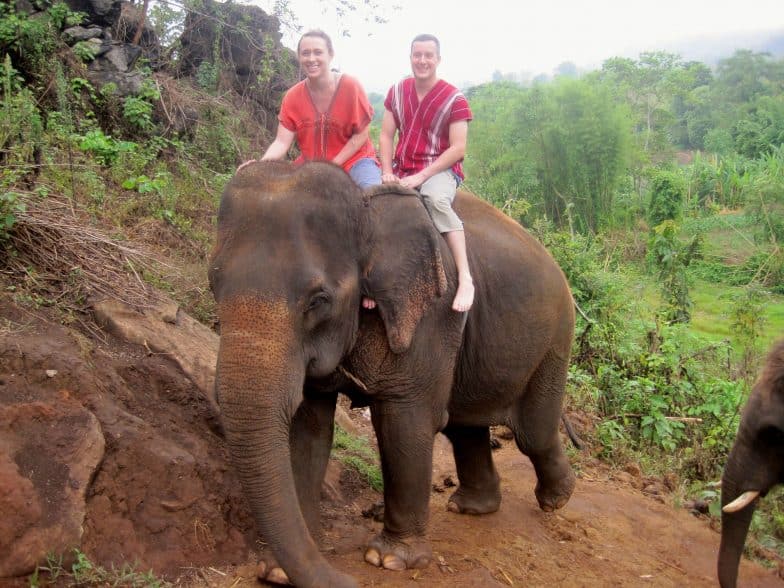 The ride circled the elephant camp, but it was gorgeous none-the-less. We got to enjoy the beautiful views of the valley as we climbed a nearby hill. The ride concluded with giving the elephants a bath in the river. I don't want to ruin all of the surprises, but let's just say I was really glad to have a change of clothes back at the camp!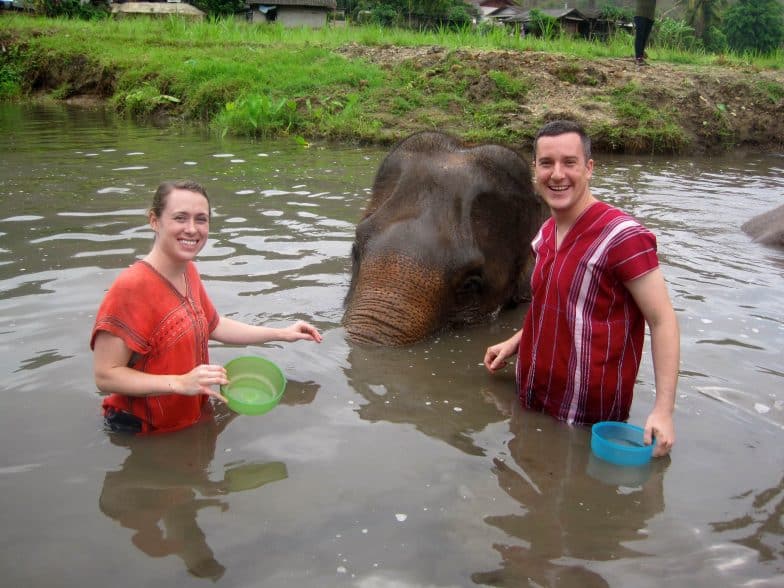 The morning visit includes lunch, which was prepared by our guide and surprisingly delicious. We were given a short time after lunch to purchase the professional photos that were taken and look through the trinkets that the locals were selling. It wasn't long before we were saying goodbye to Ran-Tong and making a quiet ride back to town. Both my husband and I agreed that the half-day was the perfect amount of time for us. I don't think my hips and behind could have taken a longer ride. We arrived back at our hotel at 2:30 p.m., very ready to take showers, but also euphoric about the amazing morning we had had.
Ran-Tong Save and Rescue Elephant Center was better than I could have imagined for our elephant ride. It was so obvious that they truly care for these animals and their happiness. The elephants only give one or two rides throughout the day and are kept in a few different open areas. Profits go towards supporting the center as well as providing the elephants with medical care and food. As you can imagine, elephants eat a lot every day! I felt safe during our ride and really enjoyed getting to know the elephants. It was an experience that we will never forget!
Elephant Ride Prices in Thai Baht
(USD conversion accurate as of date of publication) 
Half-Day Morning or Evening Visit
1 elephant- 1 person: 3,000 baht per person ($85.00)
1 elephant- 2 people: 1,600 baht per person  ($45.00)
Full-Day Visit
1 elephant- 1 person: 4,500 baht per person ($127.00)
1 elephant- 2 people: 2,400 baht per person ($68.00)
Two-Day Visit
5,500 baht per person (Minimum 2 People) ($156.00)
10,400 baht per person (Private elephant) ($295.00)
Prices for other types of packages available on website
Website: https://www.elephant-training.com/
Email: rantong_cm@hotmail.com