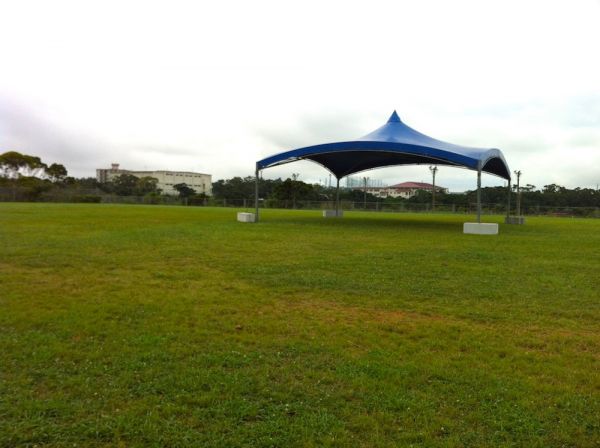 CONTRIBUTED BY JORDYN PUGH
The rumors are true, my friends! After many long years of waiting and wishing and hoping, the military finally has provided an off leash dog park! I almost could not believe my eyes when reading the news on a status update from Karing Kennels, and was very excited to try it out.
My husband took our dog during the middle of the day on its first Sunday in existence and stayed for about an hour. By his account, there was only one other dog there when they arrived and around 10 when they left. I went on a weekday morning around 8 am and was the only person there, which I was expecting since that's when most people are at work or getting their kids to school.
Someone at the park had mentioned to my husband that the reason it's up near the Chibana golf course is because technically on-base laws dictate that all dogs have to be on leash, so an off leash park would go against that order. Perhaps since the Chibana golf course area is not on a fenced in/stop at the gate and show your ID base, but is funded and maintained by the military, it was deemed more allowable? I guess it makes sense, but people do have fenced in yards on some bases, so on that point I'm a little confused…. Heck, I'm not going to complain- this park is free, huge, and off leash!

Dog Park Shelter
Here's the skinny…
The Pros:
-It's an old soccer field, so it's HUGE! It was definitely a lot bigger than I was expecting.
-There's a big blue tent in the middle for all the dog parents to stay in the shade and talk.
-It's fenced in all the way around- perfect for off leash fun!
-Very convenient to Kadena, Courtney, McT, Lester and Foster.

Dog Park Gate

Dog Park Fence Hole
The Cons: (small potatoes, really!)
-The main gate does not latch fully, so if you have a rambunctious dog, it'd probably be best to keep him on leash until you're well into the park to avoid the gate opening and other dogs escaping to parking lot freedom. (Honestly it's nothing a bungee cord or inexpensive chain with a large carabineer couldn't fix)
-There is one little tiny hole for that owners of small dogs should keep an eye on- it's in the far back left corner, and leads to a sheer drop-off. (Could be easily blocked off with a spare board or cinder block.)
-There's no dedicated trash bin for waste bags, so be prepared to take your dog's land mines home.
-There's no fenced off area for tiny dogs like at some parks back in the states- but my husband said that there were all sizes when he took our pooch, and everyone got along fine.
-A little bit of a longer drive from Kinser.

Dog Park Pup
Recommendations:
-I'd definitely bring plenty of poop bags, even after a week of being open there were some doggie land mines left behind from others.
-In this upcoming Okinawan heat and insane humidity, my dog was definitely appreciative of a mid-playtime water break.
-Basic safety for you too- if you plan on being there for a while, think about bringing water for yourself. Dehydration is no joke for both you and Fido!
-I also recommend spraying a few squirts of bug spray before going too. After walking around the park for about 30 minutes, I had a few mosquito bites.
FYUI: The park is within close vicinity to some kind of farm that is home to cows, goats and chickens. If you catch the wind just right you will know what I mean….
On a more serious note, I hope it goes without saying that if your dog is aggressive towards other dogs, (i.e. needs a muzzle to walk into the vet's office…!) it might not be the best idea to bring him to the park. It's a wonderful, new place for our furry companions to run and enjoy each other's company, and it would be a significant disappointment to lose this park because of a tragedy that could have been prevented with good judgment.

Dog Park Rules
Hours: I assume it's open 24 hours- there do not seem to be stadium lights that would facilitate nighttime play dates.
Directions: Go out Kadena Gate 3, drive straight through the first intersection, and turn left immediately after the fire station. Drive straight into the gated complex (Chibana Recreation Area), drive past the old Chibana Pool, and it is the field right across from golf pro shop. Look for the field with a big blue 30×30 tent on it.
From Kinser it seems the best way is still probably north on 58 and either through Kadena gate 1 or by turning right onto Route 23 and following it around the base until you can turn right onto Route 26. You also might shave some time off the drive by taking a right at 81 (big hill by Foster) and following that as it merges with 330, then take a left onto 329, and again at route 26. Depending on the traffic it might be the same.