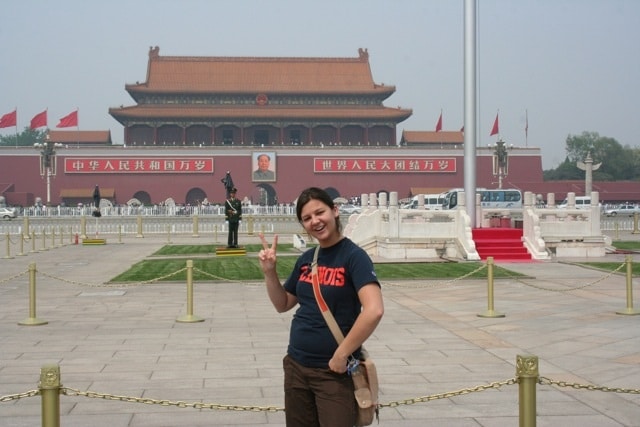 CONTRIBUTED BY JEN PRESTON
Spring is finally here! What an amazing place this island is!  We've been kayaking and snorkeling two weekends in a row over on Torii Beach.  Here's a fun tip:  rent a double kayak for $4 over at Torii Beach, then have your partner row while you hang off the end of the boat with your snorkel gear on so you can see everything below.  It's like an awesome underwater roller coaster.
So, I have a question from a reader:
"We are hoping to travel to Tokyo, with 2 young kids (4 and 2)  this summer.  Can you maybe do a post soliciting info on affordable places to stay if the New Sanno is booked, and things to do and see that kids would like besides Disney?"
I will look into this further, but is there anyone with useful information for our reader?
In other news, a girlfriend of mine, Melissa, just wrote me to tell us about her trip to China last month. Any of you heading there for the Olympics?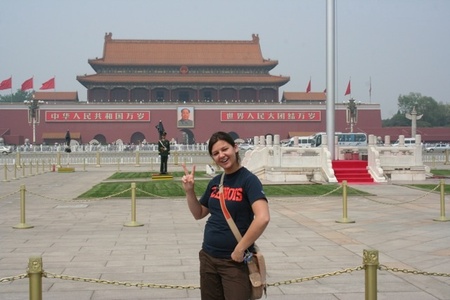 Melissa in front of the Forbidden City, trying hard to not look like a tourist.
1. Did you travel with people who had been there before, or with a group?  Was it intimidating once you got there?  Is english fairly prevalent?
I travelled from L.A. through Seoul to Shanghai by myself. In Shanghai I met an American friend who is now living here, so I never really had to struggle with the language barrier, because he speaks Chinese fairly fluently. Some people speak English, or at least recognize that I do not speak Chinese. Therefore they point at numbers/prices instead of talking. Without the language, the adventure would be much more limited, but by no means impossible. Most people seem to know enough English to get you what you need. . .still its good to know a few words. And always a good idea to pick up business cards of places you're staying, or wanting to go that have Chinese on them, so that you can just hand that to a cab driver to get where you want. That also applies to Beijing.
In Hong Kong, a vast majority of people speak English. When we first arrived though, our cab driver spoke neither English nor Mandarin Chinese. Still he managed to understand Harbour Plaza and got us to our destination. Every where else we went, people spoke English.
2. What has been your best spot so far that you've been to?
Hard to say the "best spot." But I will say the hutongs (alleys) in the Ho Hai section of Beijing were by far the most interesting places I have seen or hung around in in my life. So much Chinese culture, definitely a non-tourist region. Even I looked quite obviously out of place, being of non-Asian descent. But the food there was quite good, from both carts and restaurants. Most places I ate were definitely places I wouldn't consider eating at in L.A., but I wanted to real Chinese experience and I would say I got it. At night, we walked around the hutongs with cold beers and just enjoyed being outdoors walking around such a strange place. Despite it appearing to be one of the slummiest locations I've ever seen, I felt completely safe and un-threatened the entire time. We stopped into a bar (not by the foreigner bar strip section) and a group of Chinese invited us to join them. Probably one of the most fun nights of my life. A group of complete strangers, sharing tons of beer and food with us, and despite the complexities of communicating in broken forms of two languages, we managed to have a blast–laughing, drinking, sharing party tricks and cultural differences–really so much fun.
3. What's the best street food you've had?
Best street food  is a three-way tie, which I hope drives home the point that the street food here is quite delicious, despite looking like it might kill you. I will say that I generally avoid meat though. Anyway, the spicy fried rice has been sooo good. One cart in particular, but it moves around so its hard to find. Don't know what they're throwing in there, but it's got a spice/spices that make it one of the best tasting meals I've ever had. Next is what I'm going to call "waffle balls" which are some kind of waffle like substance, cooked in a sort of waffle iron and then separated into little balls, super sweet, super good. Finally, I have no idea what's in this thing, but its like a mix of a pastry, a breakfast burrito and an egg mcmuffin. Should also mention that all of the above street food, costs around one single dollar.
4. Where did you stay, and what was cost?
In Shanghai, I stayed at a friend's place. In Beijing I stayed at the Ho Hai Courtyard Hostel, I think it was around 15-20 US$ a night, and was pretty much the kind of accommodations someone could expect for that price, although, the staff was very friendly and the location and the set up, really made my trip to Beijing a truly Chinese experience. In Hong Kong, I stayed at the Harbour Plaza hotel in Kowloon. It was $175 per night, which seems like a lot, but after 5 days without a shower in Beijing hostel, I needed some five-star accommodations.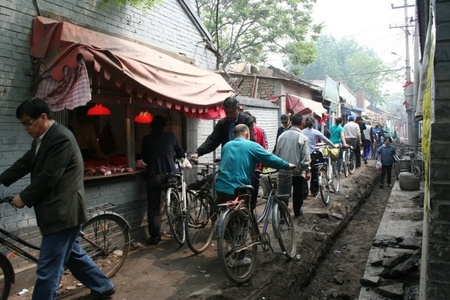 A hutong in the Ho Hai area of Beijing is under construction, yet people just keep truckin on through.
5. Is it Olympic madness there yet?
I don't know if I would call it madness, but the preparations are definitely apparent particularly in Beijing. So much constructions going on there from the hutongs to the Olympic park area, almost everything that looks remotely run down, is being reconstructed. Although, in a very weird way, hard to explain. It also appeared that sewage lines were going in underground in the hutongs, where almost every building was being re-bricked. I was in Hong Kong during the torch relay, but didn't go see it. No opposition or protest towards the torch here though. Oh, and Olympic knick-knack junk is available EVERYWHERE from the market, to the airport, to the hostel "lobby" to street vendors and so forth.
6. Where would you not go back to?
I don't think there is anywhere I wouldn't go back to. Everything I've seen has been so eye opening and amazing. I don't necessarily ever want to feel as disgusting as I did when I left the hostel, without having had a shower in five days, but I wouldn't trade the experience for a different one. It was too real, too valid, too important.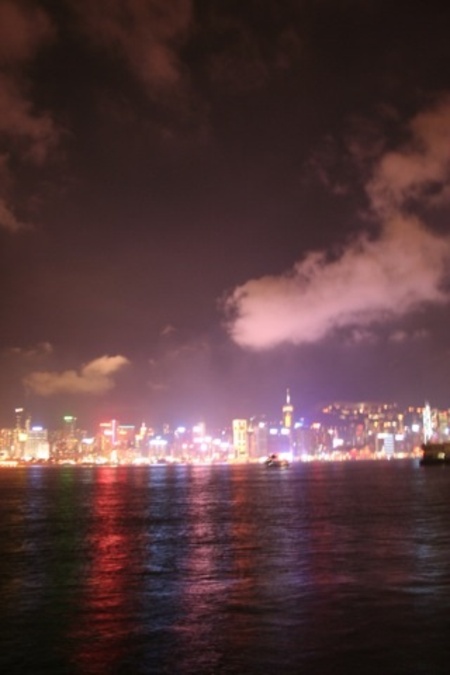 Night skyline of Hong Kong from Kowloon.
Thanks Melissa for the great read!
Readers, we'd love to hear from you…any trips you'd like to share with Okinawa Hai?  Please email me!