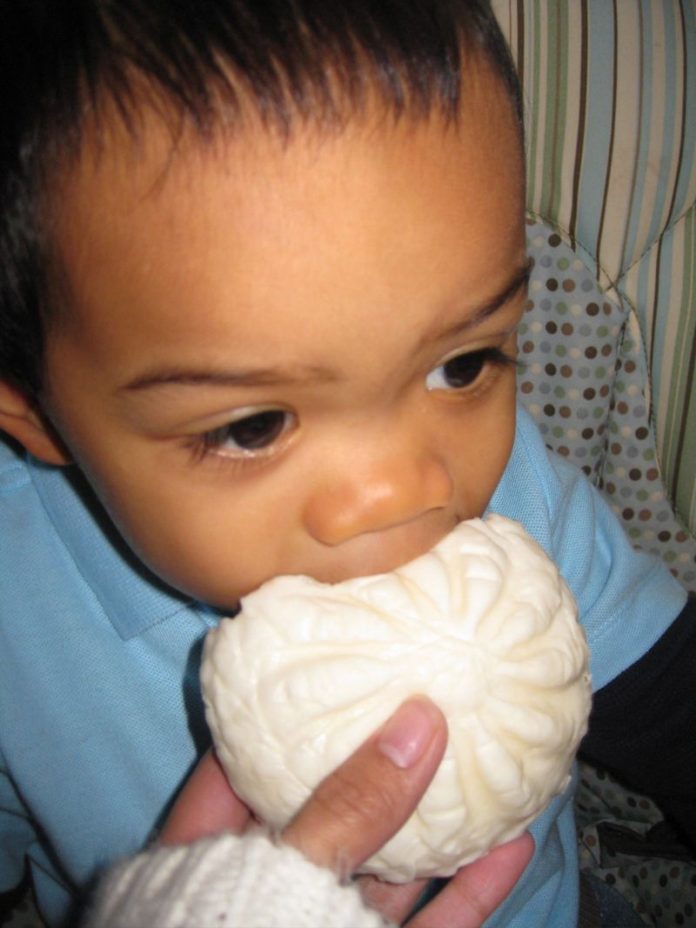 CONTRIBUTED BY KATHRYN CALAGUI
One of the things that I love most about Okinawa is how convenient it is!
I am originally from New York City, and what I miss most about New York are the steamed buns from Chinatown. Growing up, I called them siopao (show-pow), which means steamed bun in Filipino. In Okinawa, a steamed bun is called chuuka manjuu. I asked around where I could find them here, but no one really gave me a clear answer. To my surprise, I found them at Lawson's and in Family Mart. How convenient!! There's one of those on almost every corner!
I love chuuka manjuu. It is one of my most favorite types of fast food.  And my son loves them, too!
But what exactly is in a chuuka manjuu? Well, inside the bun, there is roasted pork sauteed with onions, garlic, ginger, and I believe there's some soy sauce in there, too. They have a variety of different buns with different fillings. If you are unsure what's in it, just look at the picture beside it, so you can get a general idea. I've also tried one that was "pizza" filled and it was equally delicious. (The one thing to remember when eating a steamed bun is to remove the paper lining underneath first. I've seen too many people make this mistake, so I figured I'd tell you first.)
So, if you're on the road and need a quick bite to eat, I highly suggest to making a stop at Lawson's or Family Mart. You'll usually find these little buns at the front counter right by the cash register.