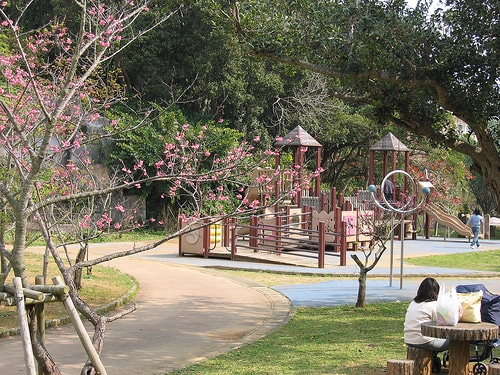 CONTRIBUTED BY JULIE BROWN AND JENNIFER STARCHER
Let me just start by saying, "Okinawans really know how to build a park."
Not long ago, I decided to take my daughter to Yaeshima Park, also known as Civic Center Park.  I was amazed as I entered the park.  It is broken into different play areas and is perfect for the child who wants a little bit of everything. There are three different play areas: There is a TODDLER PLAY AREA with a wooden slide.  Also there's a thrill-a-minute DROP SLIDE and a wooden treehouse attached to a ROLLERSLIDE.
There are picnic tables, plenty of trees for shade and plenty of grass to run and play.  The park is kind of stretched out so when you enter the park, just keep following the path and then you will find the slides and various play areas.
Needless to say, I was so impressed with the huge rollerslide that I decided to give it a try.  Not wanting to look foolish, I made my daughter ride with me so I could look like I was "helping her."  When I got to the top, I had to take a picture looking down the slide.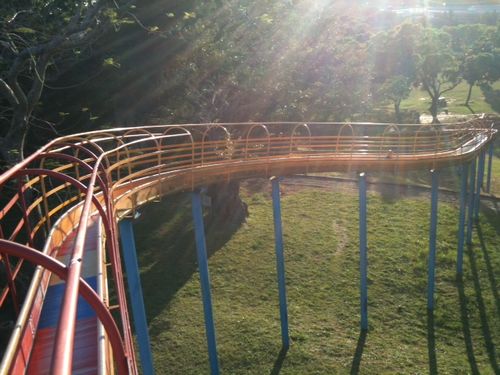 Then it hit me, why not video going down the rollerslide.  Here is a video of my daughter and I going down the rollerslide.  You can hear the rollers as you slide down, such a cool sound!  Be careful though because you will pick up enough speed at the end to get thrown off.  This slide was so much fun that I decided I didn't care who saw me and started sliding without my daughter.
I do suggest that when you go on a rollerslide, take a piece of cardboard to sit on.  It will help you to go faster and give you a little padding for your bottom.  We had so much fun and spent quite a while sliding on the rollerslide.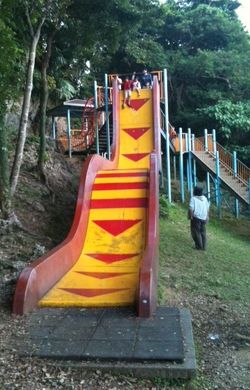 It started getting late so I decided we would go back to the drop slide and give it a try.  I must confess that when I saw this slide, it really scared me!  Then, I saw these little Japanese kids dropping from the top and I decided that I too must do this.  It is quite scary looking down but I finally got up enough nerve and made the drop.  It was indeed fun!  I did talk my daughter into sliding one time but that was it!
We had a great time and will be going back.  My daughter wants to pack a picnic lunch and stay longer next time.
In the Spring the cherry blossoms here are beautiful. In the summer, it's shady and cool. However, be sure to bring bug spray in the summer because the mosquitoes can be pesky.
Directions:  The park is just about few minutes from Kadena Gate 2.  Leave the gate and turn left onto 23 and then get in the right lane.  After the second light, there will be a right turning lane to turn into the Civic Center, turn there.
Parking:  This can be a challenge but there are three places that you can park:  in the parking lot at the Civic Center, on the street that runs beside the Civic Center and the park or there is a large parking lot just after the park.  When it is time for you to leave, I suggest you turn around and go back the way you came.  Don't try to find your way out.  The streets are very narrow and have lots of curves and turns.  I got lost for a while and somehow ended up on 329 heading toward Kadena gate 3!