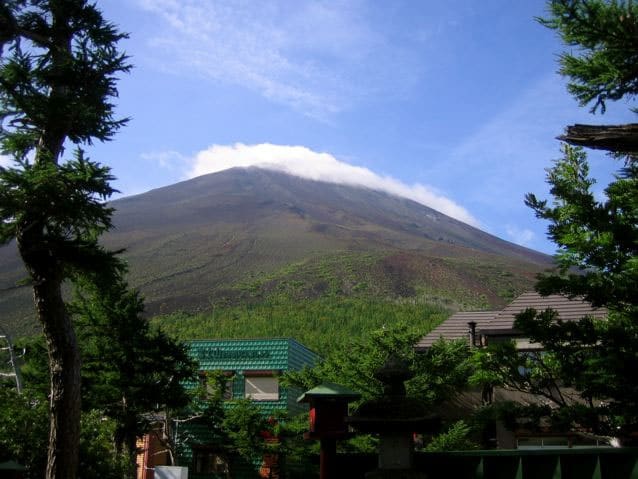 CONTRIBUTED BY DIANA MIDDLETON
"You are wise to climb Mt. Fuji, but a fool to do it twice." ~Japanese proverb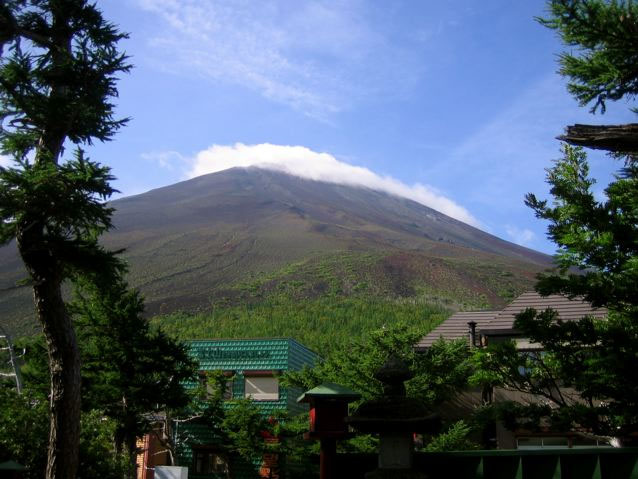 The Experience – Diana's point of view ~
Jeff and I started up the mountain shortly after 10 p.m. and it was easy going at first. It's difficult to see at night so a headlamp is a must. We hiked for a few hours with no problem and then all of the sudden I started to feel short of breath. I mean, it was slow-going for me. You should be aware of altitude sickness before climbing, which is what I was experiencing. My symptoms were shortness of breath, headache, and loss of appetite. I had to take constant breaks to catch my breath, which meant it took us WAY LONGER than needed to get to the top. In the end, it took us 7 hours to get to the top!! Jeff and I paid at the 8th station to take a nap for one hour. This was mostly for my sake, since Jeff was having no problems at all. And he was the one holding everything in the backpack. I carried nothing! (advantage of going with husband). I guess we could have bought an oxygen tank on the way up after I started experiencing difficulty breathing, but Jeff kept telling me, "Just a little more to go …" Yeah right! In hindsight, I would have paid for the oxygen tank and brought some meds just in case.
On the way up, some tour groups were turning around to head back down because of the strong winds. The hiking guides with them told us that the wind storms were too strong. Jeff and I sat and waited with some other hikers and decided to go for it. We had the right amount of layers to protect ourselves (see What to Bring below) so we were not cold.
Other than that, the hike was fabulous. Jeff and I witnessed the sunrise together and I'm not sure if I have the right words to explain its beauty. To watch it slowly rise from the distant horizon was something I'll never forget. To experience it with my best friend, my husband, my constant source of encouragement up the mountain, is something I'll never trade. Truly, it is as beautiful as you can imagine. We weren't quite at the top of the mountain when the sun rose, but we were close and the view was just as spectacular.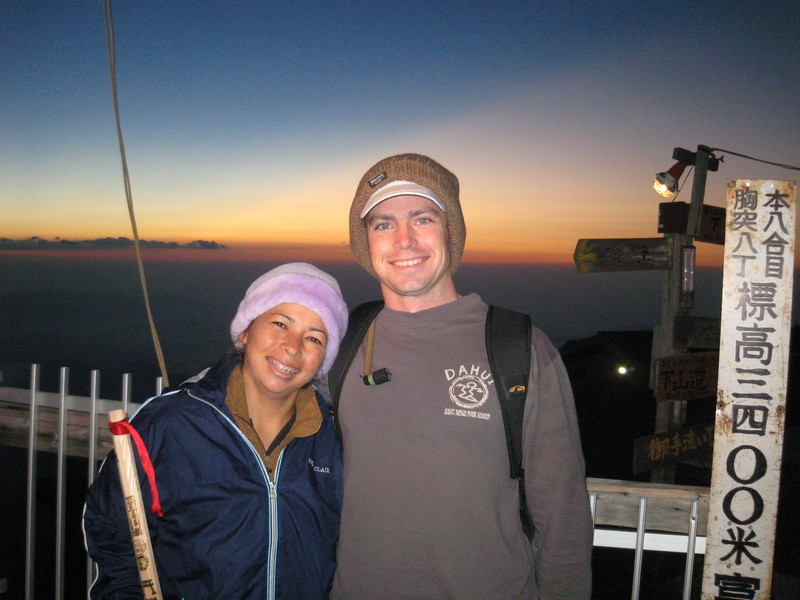 In the end, I would do it all over again (this time with an oxygen tank and/or meds in case of altitude sickness) and I wouldn't change a thing. I'm a stay-at-home mom in fairly decent shape. I don't exercise on a regular basis (as much as I should), but I get out for walks and lap swim when I can. You don't have to be in the best shape to climb, but it certainly does help. I believe we would have made it to the top faster if I hadn't gotten sick. It took us only two hours to get down thanks to my husband's need for speed. As we were descending all signs of my altitude sickness disappeared. It was definitely the altitude that made me short of breath. My husband had sore calf muscles for the next couple of days but I was not sore at all. I felt a little twinge in my thigh muscles for a couple of hours, but that's it. However, this is definitely a ONCE-IN-A-LIFETIME event for us! We agree with the old Japanese proverb referenced above!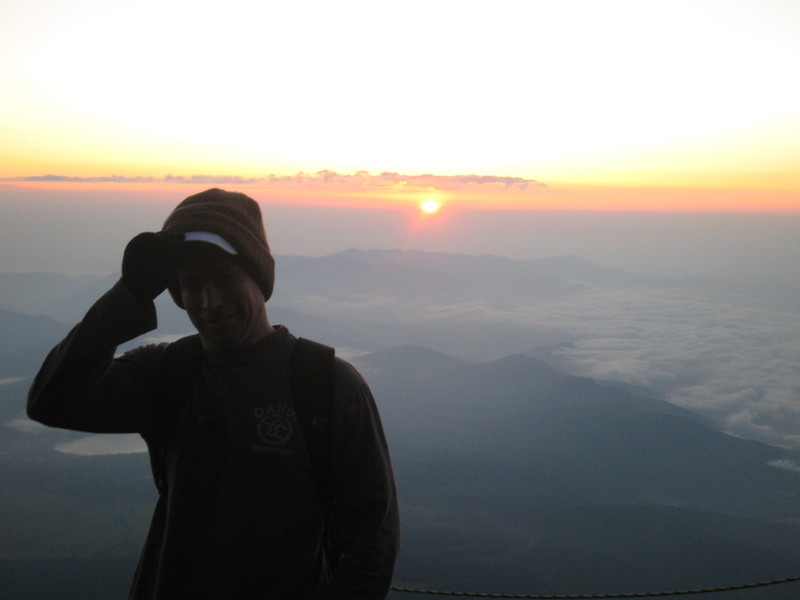 The Experience – Shiloh's point of view ~  (this is just a brief summary of her experience, to get more info, visit her blog)
"We started up the mountain some time after 10 p.m. and we had heard that it takes 5-7 hours to get to the top but it only took us 3.5 hours! That made for a lot of waiting time at the top and the huts don't open until 4 a.m., so I don't recommend going that fast unless you have super warm pants and shoes! There is food and drinks you can purchase all the way up but I only was tempted by a snickers and banana and had my own water and snacks."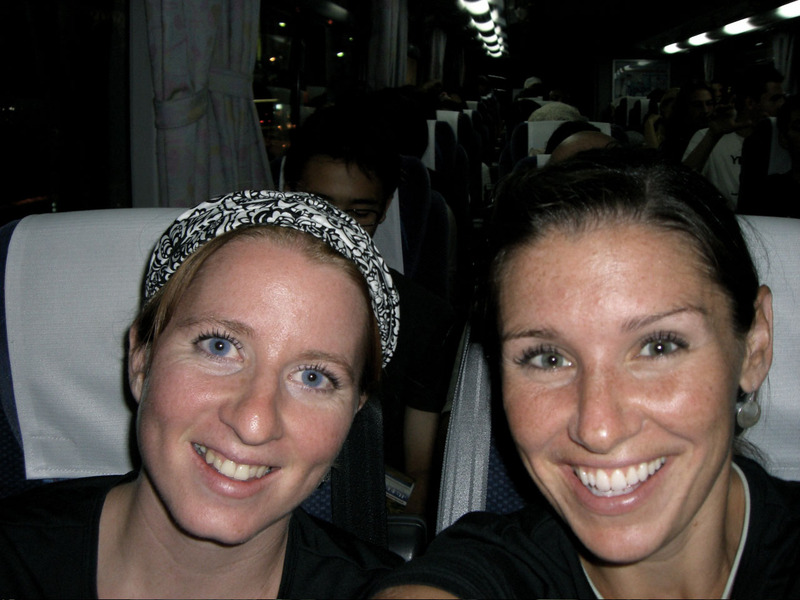 "When you hike back down, make sure that you follow the Kuwaguchiko signs because I've heard of people taking the wrong way down the mountain and getting very lost. It took us about 2.5 hours to get down and the earliest bus you can reserve leaves at 11 a.m. and I recommend getting the first return trip bus because we had to wait 4 hours for the first bus. I brought my own toilet paper but didn't need it, the bathrooms there had it but you have to pay to pee and the bathrooms are pretty scary."
"I am in decent shape (I work out 4-5 times a week) and you don't have to be in awesome shape to do it, you'll just have to take your time. I do not recommend the night rushed hike for children. I think even a 7-year-old could do it if they wanted to and did the daytime hike and not in a hurry. My exercising paid off because I wasn't sore at all during or any time after the hike. I kept waiting to get sore but never did. If you are looking for a nice way to 'get away from it all' and commune with nature, then this is not the hike for you! There were hundreds if not thousands on the mountain, it was a zoo! But a very great experience. The top is extremely windy, I wish I would have had a blanket (maybe an emergency one for my lower body) and we had two hand-warmers and those were awesome! Wish I had more for my shoes! I ended up using all my layers, and waist up I was toasty but my legs and feet did get cold at the top."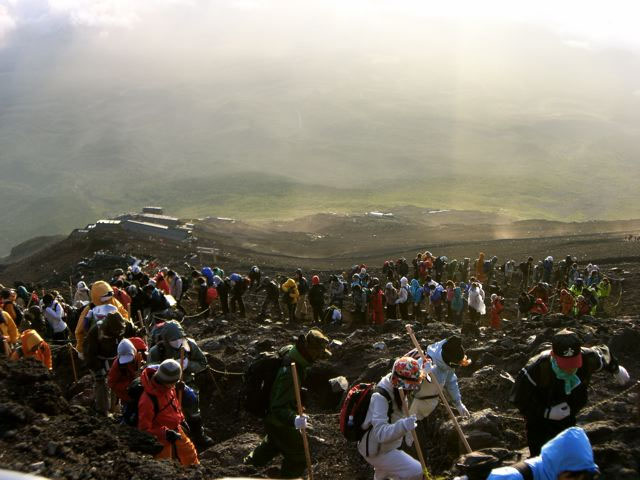 Facts about Mt. Fuji
• highest mountain in Japan at 3,776 m (12,388 ft)
• an active volcano, last erupted in 1707–08
• located between Shizuoka and Yamanashi prefectures, west of Tokyo
• can see it from Tokyo on a clear day
• frequently depicted in art and photographs
• for more cool facts visit here
Flight
I started looking for a flight about one month before our departure. This was in mid July for a trip in mid August. The most affordable flight I found was through H.I.S. Travel and it came to a total of ¥45,900 (roughly $459.00) roundtrip per person. Shiloh went through IACE travel (Navy travel agency located on Kadena) and her roundtrip tickets cost $480 per person.
Other places we both looked include: Skymark (need a translator for their website), ANA, and other travel agencies in the yellow pages. Both of us found that Kadena ITT charged an outrageously high price for their tickets.
Transportation from Airport to Lodging
Of course, this depends on where you fly in and where you are lodging. My husband and I took the Keikyu line from Haneda to Shinagawa Station (¥400 per person) and then bus #97 from Shinagawa Station to the New Sanno (¥200 per person). Things to look out for: The bus terminal was across the street from the station, which we would have never known without stopping at the information booth once off the Keikyu line at Shinagawa Station. Also, the bus stop for the New Sanno is at the Tengenji stop. If you're not either looking out the window for the huge New Sanno sign or on the bus' digital sign that shows the next stop, you'll miss it. Luckily, their signs are in both Kanji and English.
Shiloh and her friend took the Monorail to the Hamamatsucho stop (she recommends that you wait for the Hamamatcho express so you don't have to make any extra stops). It was ¥470 per person to take the monorail. Once at the Hamamatsucho station, she then took the Yamanote. lime green line (¥160 per person) to get to the Hibaya line and then took the Hibaya line (¥160 per person) to the Hiroo station/stop which is where you exit the subway and walk to the hotel.
Both of us pulled our directions off of the New Sanno and didn't run into any problems. It's amazing how much easier it is to get on the subway/train system when you're not worrying about what your children are doing at the same time! Do not be afraid to ask for directions even if you do not speak Japanese. I recommend taking along a simple Japanese translation book for emergencies. However, most attendants spoke enough English to direct us where we needed to go.
Lodging
For lodging in Tokyo, check out options mentioned in this post.
Shiloh and I both stayed at the New Sanno. Again, I called a month in advance to get the single room we stayed in—and that wasn't easy at first either. I had to keep calling every day to get the entire 3 nights worth of rooms. I think we lucked on this one. The cost of the room depends on your rank and the type of room you get. Shiloh stayed in a twin suite at $71 per night and we stayed in a twin room at $48 per night. I had reservations at Hardy Barracks and the Kanto Lodge as a standby.
Transportation from Lodging to Fuji
Transportation to the mountain's 5th station depends on where you are staying. Since both Shiloh and I stayed at the New Sanno, we used the same route. Basically, you call the New Sanno to reserve a bus ticket to the 5th station. This also must be made one month in advance due to the popularity of the hike among locals and tourists alike. The cost came to about ¥5,200 per person roundtrip.
Upon arrival to the New Sanno, the travel desk receptionist will give you clear directions on how to catch the subway to the Highway Bus Terminal. She will also give you a sheet with your reservation number that you need to give to the clerk at the station. Shiloh and I both found the map to the Highway Bus Terminal a little fuzzy so see the picture below of the bus terminal for those who choose to take this option.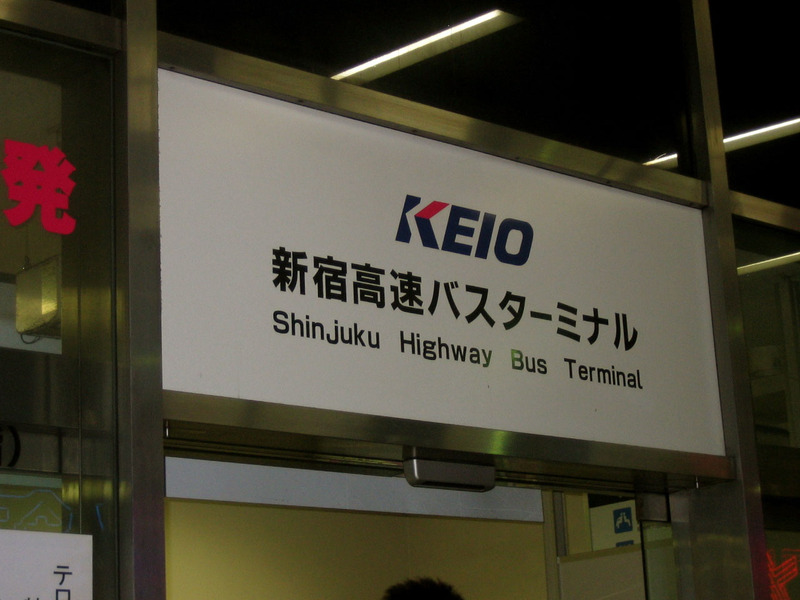 Once you get to the terminal, there will be a booth reserved especially for tickets to Fuji 5th station. Once you give the clerk your reservation number you will get your actual ticket to get on the bus. The bus driver will take your ticket later. Although the New Sanno reserved our return ticket as well, my husband and I also went upstairs and changed the return time to 11:00 a.m. (the earliest return time) and received our return ticket right there. This is a booth at the 5th station to get your actual ticket as well, but we heard that a lot of people try to get their return tickets there and it sells out fast. We highly recommend arriving early at the bus terminal (allowing at least 1.5 hours to travel from the New Sanno to the bus terminal, although you will get there way in advance).
If you are staying at the Kanto Lodge on Yokota, you could either take the shuttle to the New Sanno and then use the route mentioned above or check with their Outdoor Recreation Services to find out when their tours are going.
When to go (time and month)
TIME: Shiloh and her party and my husband and I both took the 7:50 bus to Fuji, which meant we arrived at the 5th station around 10:00 at night. This way, you can catch the sunrise while hiking up or while at the top of the mountain. However, depending on your mode of transportation and your goals, you can hike at any time. As we were heading out for the day, we saw many day climbers heading out (which we thought would be hard just because of the heat from the sun).
MONTH: Mount Fuji's official climbing season exists in July and August only, when there is usually no snow on the mountain. It is also typical for the weather to be mild and access to the mountain is easy (the above Highway Bus only goes to the 5th Station during these months). Also, the mountain huts are open only during these two months. Officials strongly advise inexperienced mountain hikers to climb the mountain during July and August only.
What to bring
day pack with a nice waist strap so your hips carry the weight
gloves (mountain hiking type, I bought mine at the ¥100 store)
hat (to keep your head warm and to block out the sun, we brought a cap and a beanie, which both came in handy)
proper top clothing (we dressed in layers: a short sleeve wicking layer, a long sleeve shirt, a thermal long sleeve and/or a fleece hoodie)
proper bottom clothing such as comfortable performance pants (Shiloh used some convertibles that zipped off to shorts when it got hot on the descent, hers were Prana brand, and her friend wore North Face pants, Jeff used some old convertibles that he had and I used some nylon pants that I bought at Uniglo)
change of socks (this helps if you sweat a lot—there's nothing like dry feet)
rain/wind clothing (we brought along a rain top and bottom set and although it didn't rain, it came in handy when it was cold at the top)
hiking shoes (Shiloh hiked in old running shoes that were broken in and had no problems, though I've heard some people do run into problems with shoes falling apart or getting blisters. Jeff and I hiked in hiking boots)
eye protection (ash and soot kept flying everywhere and that was another reason we kept stopping, some eye goggles would have helped us out a lot, Shiloh happened to have a bandana for her hair but used it over her face for protection)
water, water and more water (both of used a large camel back that fit into the backpacks)
headlamp, a must for a night hike!
camera
Excedrin (great for altitude sickness/headaches—which I did NOT have!)
moleskin (for blisters)
sunscreen
high energy food like beef jerky, trail mix, granola bars, fruit, etc.
large ziplock or plastic bag for garbage (Fuji has been experiencing problems with trash on the mountain and indeed, we found a few discarded trash items on the way up ~ be respectful of this natural beauty and leave with everything you bring)
Yen for anything you want to buy along the way (we brought along around $200 worth of yen, since we purchased the stick and the stamps along the way as well as lots of souvenirs for friends and family and some food from the restaurant at the bottom, we had some change leftover afterwards)
Package Deals
You can contact MCCS tours and Kadena ITT for package deals that include airfare, lodging and transportation (for the airport and for the mountain) at around $850-$900 per person. This is the way to go if you are hesitant on making all of the arrangements on your own and if you would like to go with others and/or make new friends!
Helpful Websites
Japan Guide
Global Compassion
Stripes (old information, but still gives you places to call for more info)
Final Words
Don't be afraid to do this climb. Get informed, prepare in advance (like planning to go in July when tickets might be more affordable), and you'll have fun. While you're here on Okinawa, what better way to add to those memories than to be able to say, "I climbed Mt. Fuji ~ the largest mountain in Japan!" Whether it is on a tour, with a friend, with your spouse, or even on your own–you CAN do it! Good luck and I hope this post helps. Thank you to Shiloh for sharing your experiences with us, too. I am sorry we missed each other by a day!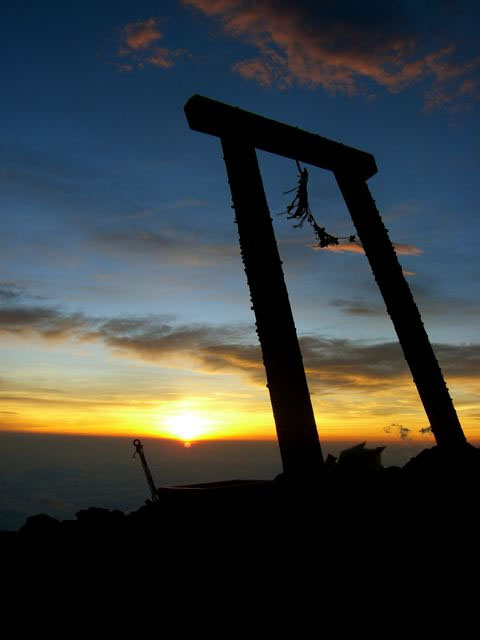 UPDATE (July 2011):
Daytime/Nighttime. ITT/MCCS/On your own. New Sanno/Yokota Kanto Lodge. There are many ways to arrange your trip to the top of Fuji. Recently my husband and I made our trip to the summit. I would call our version "No Reservations." Here's a quick rundown of how we did it.
We took Space A out of Kadena. At Yokota we were able to get a room at the Kanto Lodge (without a reservation-see the theme?). From our hotel room we started our trip to Fuji at 2:30 P.M. We walked to the Fuss train station, then rode the trains to Kawaguchiko where we were able to walk up to the bus terminal, and again without reservations, get on the bus to the fifth station. We bought a round trip ticket from the bus driver. We did not have to reserve a time for our return trip. We climbed from 8:00 PM until 4:40 AM. Our trip was a little longer than the average, but there were times when we could go no faster due to the amount of people on the trail. By 8:00 AM we were down at the fifth station and took the 8:30 bus down to the train station. It was about 2:30 P.M. by the time we walked back to our hotel room.
Our best source of information for this route was a piece of paper that we got from the Yokota Kanto Lodge lobby. Here it is in PDF format. It had detailed information on the train routes to take from Fussa Station (a 20 minute walk from the main lodge building) to the Kawaguchiko Station and on to the busses to the fifth station. Another booklet available on line is from Yokota's Out Door Recreation here.  It has lots of advice including directions so you don't end up on the wrong side of the mountain on the way down.
Ganbatte! You can do it!