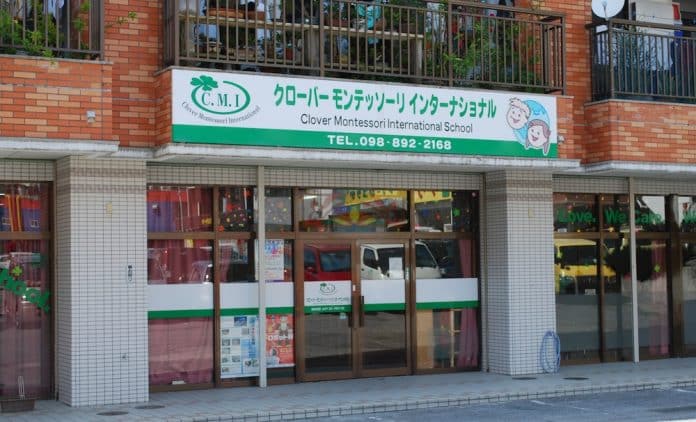 For all you parents looking for a preschool that suits your kids, we're hoping to add a little something to aid in your search. Parents of children who attend various preschools on island have filled out a series of questions about the schools for the benefit of the rest of us. We welcome more than one voice on each school since everyone has a different experience, so please feel free to add in your two cents in the comments.
If your child attends a school that has not been reviewed on this site, please contact our Submissions Manager for the template.
CONTRIBUTED BY CLAIRE BRAY COLLINS

CMI
Name of the school: Clover Montessori International
Address: 52 Aichi, Ginowan City
Phone: 098-892-2168
Website: www.e-cmi.net
Ages Accepted: 2-6 (Montessori program; after school care up to age 10)
Ages of Your Kid(s) in this School: 2.5
Where is this school located? Ginowan City, just off route 330
Admissions/Enrollment 
What is the current number of students? There are currently 14 in my son's class (2 to 3 year olds); the max for his class is 16. The Montessori program is open to children aged 1-6 years, there is an after school program for children up to 10 yrs, and an "extended care" option as well.
Is enrollment open/year-round enrollment or per semester? Year round, based on availability.
Does my child have to be potty-trained to attend? No
Can I bring my child in for a pre-enrollment visit? Yes. Their trial is three 90 minute sessions. We went 3 consecutive days from 9:30-11am (though they asked me to pack him a lunch and come later for the 3rd trial day "so he can eat with his friends")
Days and hours
What are the school's hours? 7:30 a.m. to 7:00 p.m. (including after-care hours). School day is 9-3:30; pick-up is between 3:30-4:00 p.m.
Is the school on a Japanese or American schedule? Japanese, though American/"Western" Holidays are introduced in class. They are closed Dec. 25, and (for 2011) there is a holiday break Dec. 28-Jan 4
How flexible is the school with pickup and drop-off times? You can drop-off your child anytime after they open for no additional charge, pick-up is between 3:30 and 4pm. Past 4pm, they charge 100 yen/10 minutes
Costs
What are the registration fees? One time payment of 30,000 yen includes all assessment fees & insurance, etc.
What are the tuition fees? Varies by age and program. *You can choose to enroll your child 1, 3, or 5 days/week for Montessori or anywhere from 1-5 days for extended care! Tuition for the school program ranges from 6,400 yen for 1 day/week 12 month olds, to 40,000 yen for 5 days/week for 2-6 year olds. My son goes 3 days/week from about 8-3:30 and we pay 25,200 per month.
If any, what are the assessment and school supplies fees? They will provide a supplies list for parents to buy (it is very reasonable—you probably have most of it already, and virtually everything can be found at the 100 Yen shop).
Are any discounts offered for referrals, siblings, volunteering, working there, etc.? 10% discount on both registration and on tuition for siblings.
Is there a late-pickup fee? 100 yen per 10 minutes, past 4pm
How and when does the school require payment (in yen, dollars, etc.)? Yen, no later than the 20th of each month.
Parent Involvement and Interaction
Does the school encourage spontaneous visits from parents? Observation is permitted, but if you want to "sit in" for an extended period they prefer it be scheduled to avoid crowding/conflicts etc.
How do you communicate with parents? I see other parents at school events and at pick-up/drop-off times. The students are predominantly Japanese (I think there may be 4 or 5 Western kids total). All the other parents I've met are very nice and patient with me and my limited Japanese ☺
Is there a daily report or other process for informing parents of what children did during the day (naps, BMs, snacks, etc.)? Each child has a notebook which travels in his/her backpack daily; teachers write about his/her day and include temps, BMs, how they ate, what he/she did that day etc. Kids are also weighed and measured monthly.
Are there parent/teacher conferences? Yes, annually, but parents can schedule a meeting if they feel the need. Report cards are twice per year.
Classroom Structure and Size
How are the kids grouped?  By age, generally.
What's the teacher-child ratio in each group? There are at least 2 teachers in each class and assistants who help out when/where needed. The youngest children (6 months-1 year) have 4 staff at all times. Also, the director, Mrs. Sesoko, is very active in the classrooms.
How many full-time teachers do you have? 2 per class, one English speaker and one Japanese speaker. How many assistants? There are several assistants (I'm not sure exactly how many). They seem to work in all the classes at various times, as needed. All the teachers and assistants at Clover know my son by name and he is happy and excited to see whoever greets us at the door each day.
What is the school's educational philosophy? It is Montessori. Is the school program developmentally-based or does it have an academic focus? Both. Clover is a Montessori, so developmental needs and abilities are very much a part of the program (especially for the younger students). However, this school is designed to teach English as a second Language to Japanese children (though they welcome everyone), so academic focus on language and related skills are emphasized.
Is there a playground for the children to play on? No. However, they do take walks daily, and have a P.E. instructor come to the school weekly (he brings a variety of equipment for exercise/play). They also go to local parks and have water play in the parking lot during summer months (my son loves this).
What do the children do on any given day? The weekly schedule includes various activities related to the following learning areas: Reading & Communication, Practical Life (self care, etc), P.E., Language & Phonics, Math, Sensorial Activity, Culture Science & Geography, Music & Creative Art, Show and Tell/ "Fun Day" and Story Telling (English and Japanese stories, alternating weekly. Parent volunteers come and read too).
Are there extracurricular activities or field trips? Yes! There are regular local field trips (as described above) as well as day trips to tour (for example) the Fire Station on KAB, Torii Beach Family outings, Easter egg hunts, school fundraisers and more. The school has 3 passenger vans at its disposal. A parent is generally asked to accompany kids on major outings.
How does the school discipline children? Discussion of the infraction & redirection with positive alternatives, teachers will "give a break" to a student acting out if absolutely necessary, but not isolate them in a "time out" as someone always sits with the child until they are ready to re-join the group.
How does the school comfort children? The staff at Clover is exceptionally caring and sweet. They give high-fives, hugs, and will hold/comfort an upset tot as necessary.
Final Comments or Observations about the School: We feel so fortunate to have found this school. I came across it during an online search (it is not listed in the English Oki telephone book). We were welcomed to visit, and the director spent a solid hour with me answering questions and asking questions about our goals/expectations, as well as how our son learns, plays and communicates etc. The combination of English and Japanese is perfect for our Tot; his peers are native speakers, but they are all learning together in English. Tot has never been in daycare or any out-of-home program, but we have not had a single concern with Clover from day one. The teachers are caring, supportive and communicative and (the biggest indicator) Tot is excited to go to school every morning, and he's all smiles when I pick him up.
FYI: The school does have a catering service that will provide lunch & a snack (Japanese food) for 270 yen per day. Advance notice is required, but you can choose to use the service as desired.
Also, there is an extensive photo gallery on the CMI website which shows school activities and pictures from various outings and events.
Directions: CMI is off of route 330, between 130 and 34. From KAB gate1: Take 58 South to 130 (just past Lester, there is a left lane on-ramp). Then go right (south) on 330, but get into the LEFT lane because after you pass MCAS Futenma back gate you'll have to turn left to stay on 330. Continue on 330 thru several lights (past the Ginowan City offices etc). Look for a "McDonald's in 2.2km" sign atop a bldg on the right. The turn for CMI is 0.9 kilometers from this sign! There is a light, and Ginowan Elementary School is on the right corner, a Kumon & a Pizza LA are directly across the street and there is a single pedestrian overpass just beyond the stoplight. Turn right here, and right again at the first alley (the color of the pavement changes at the turn). Look left; the school is the bottom floor of an apartment building. See map #22 in the 2010 Oki yellow pages (on route 330 find "G.S. Elementary"—it's on the corner).
Address: Dai 2 Marusei Mansion 1F, 5-2 Aichi, Ginowan City.